2017 Porsche 911 Carrera review and a spin around Denver
---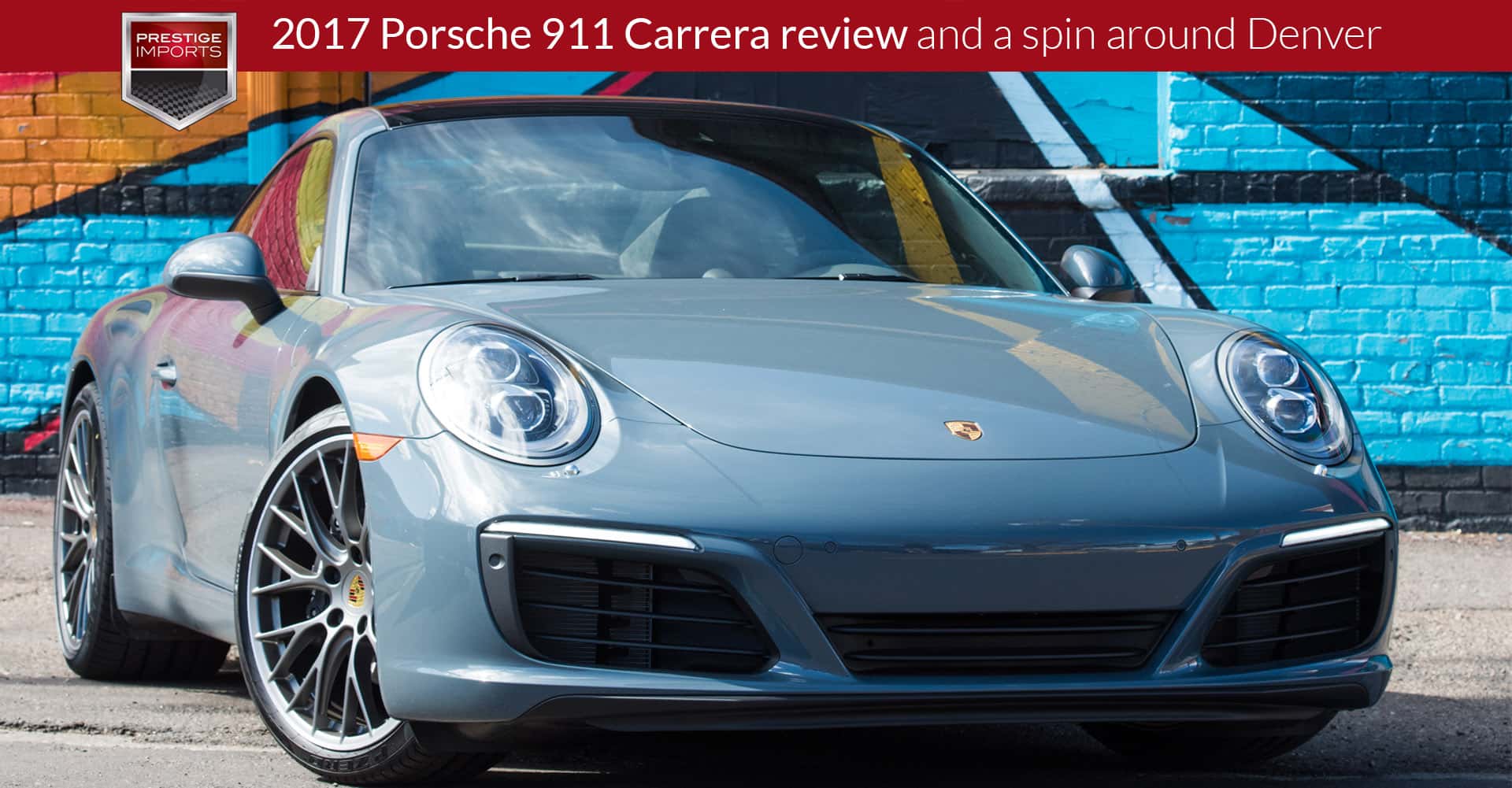 2017 Porsche 911 Carrera Review: Introduction
To the untrained eye, precious few vehicles exist in the Porsche fleet: the 718 (formerly named the Boxster), 911, Cayman, Panamera, Macan, and Cayenne. Technically, claiming that the Porsche brand produces six models would not be inaccurate. But, upon closer inspection, the German automaker manufacturers many varieties within each model; thus, the number of vehicles they actually develop for the consumer market, as of today, tallies fifty-two. Within the 911 line alone, Porsche offers customers a whopping twenty-two variants! Yes, my friend, that's an awful lot of 911s; I mean, one could say that Porsche offers veritable binders full of 911s.
And since the calendar recently turned to 2016, you know what that means: the release of automakers' 2017 models! (lol, go figure.) While Porsche began rolling out the ad campaigns for their new year's vehicles several months ago, those models are just now hitting showroom floors. As such, Prestige Imports received a handful of 2017 Porsche vehicles a couple of weeks ago. In order to guarantee everything was "ship shape," as high-seas marauders say, I took the keys to our 2017 Porsche Carrera and went for a quick spin around Denver. While cruising around the Mile High City in this rad whip, I also managed to snap a few glamour shots: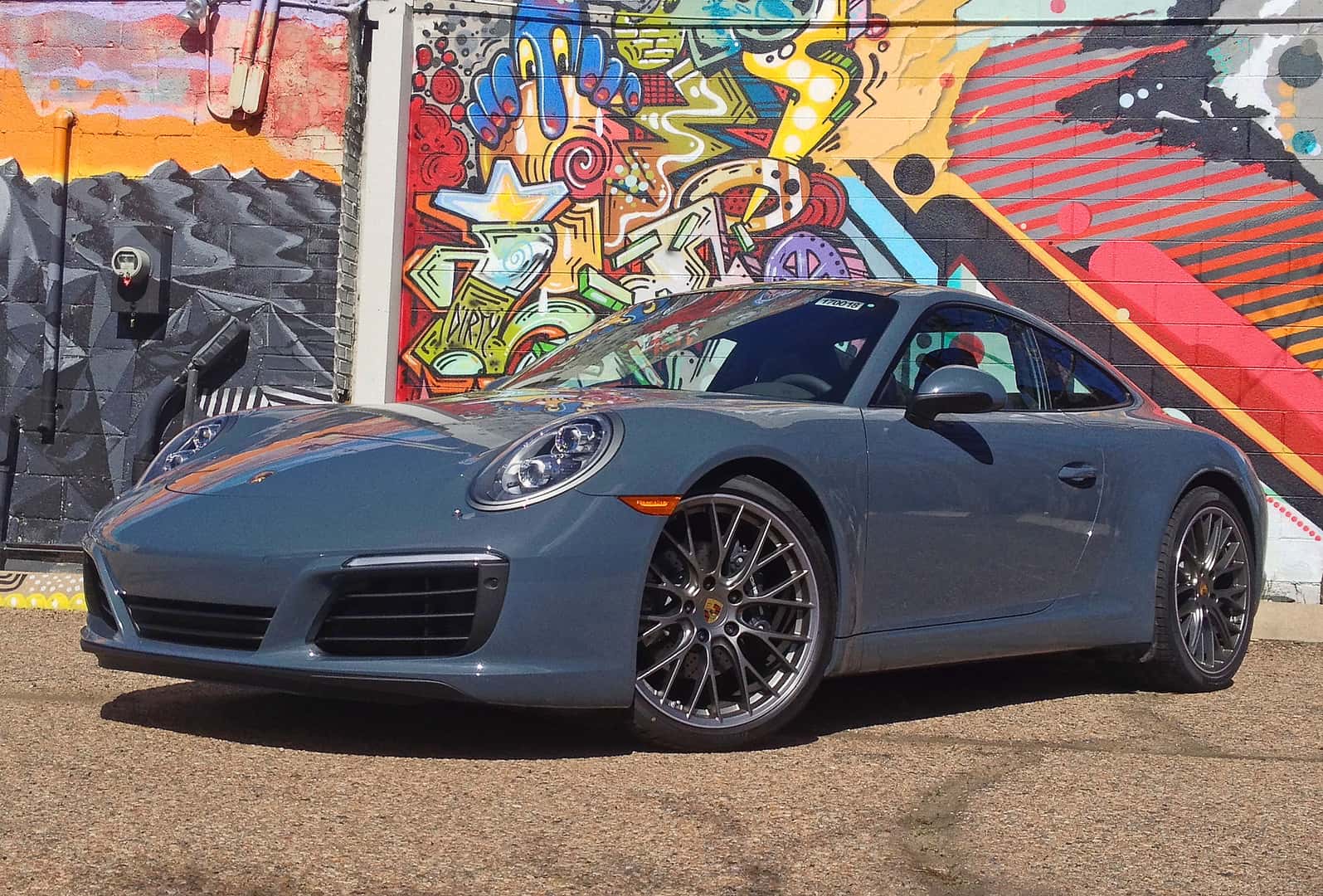 2017 Porsche 911 Carrera Review: What's New?
Indeed, this car is a beauty. If you're a fan of the exterior alterations that the 911 underwent in 2012 (identified by Porsche as the 991 version), then you'll love the 2017 edition. As Car & Driver points out, the 991.2 is a midcycle version, so its visual changes are minimal: "new headlights, new taillights, and a new touch-screen dashboard display." As someone who thinks the 2012, generational transformation from the 997 to 991 improved the overall look of the car, I'm pleased that the designers in Stuttgart left their chainsaws in the shed, so to speak.
You'll find the BIG change to this year's Carrera, though, underneath the bonnet. Although Porsche's iconic, rear script doesn't indicate the addition, the 2017 engine is now turbo-charged. While purists may lament the fact that the manufacturer phased out the naturally-aspirated engine, the results are impressive. As AutoWeek points out:
The rationale is obvious enough, rooted in government mandates to reduce CO2 emissions and improve fuel economy. Forced induction remains the best and maybe only way to reduce displacement and continue the horsepower increases buyers expect. The best news? The most fuel-efficient 911s ever are also more powerful, quicker and as agreeable as ever to drive
If that's not enough, Porsche also updated the Carrera with "standard adaptive suspension, optional rear steer, [and] a revised PDK transmission." So, I guess what I'm saying is: although the images of the new Carrera demonstrate how terrific it looks, they don't help describing how wonderful it is to drive. Speaking from first-hand experience, the 2017 Carrera zips off the line (ok, off the traffic light), boasts responsive handling, and rides comfortably.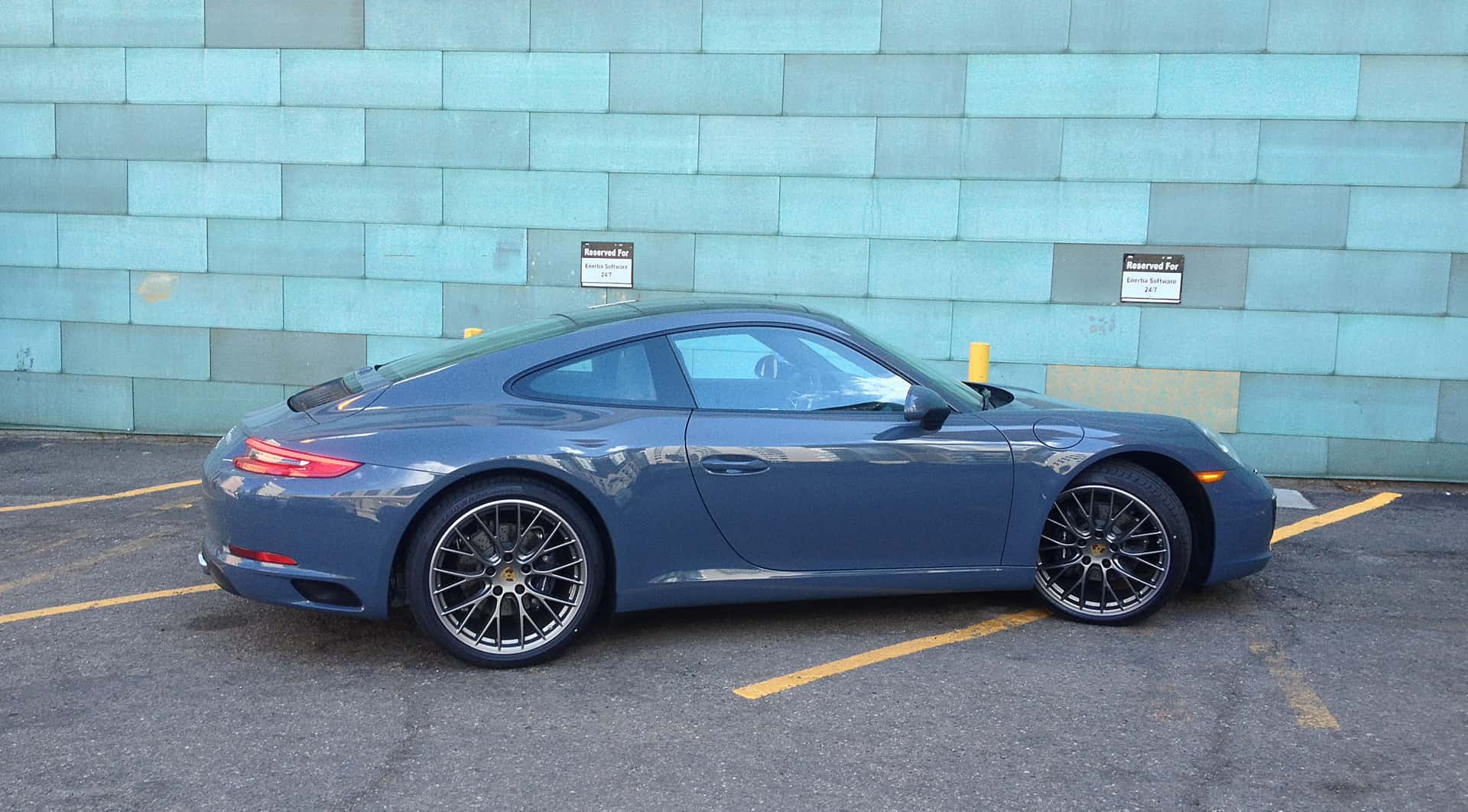 2017 Porsche 911 Carrera Review: On the road
Enthusiasts often will grumble about the flat-6 not "sounding like a Porsche" with the addition of a turbo-charger. But let me tell you, the new Carrera still sound like a beast. In fact, Edmunds.com goes even one step further in their admiration for the newly-designed engine and its corresponding sound:
Turbocharging has fundamentally changed the 911 Carrera's character. Gone is the quintessential and arguably uncouth clatter of the outgoing flat-6 engines at low speeds, replaced with a much smoother sound punctuated by the unmistakable whoosh of the turbochargers. The low-rpm power delivery itself is also smoother and torque-rich, as its torque is delivered from as low as 1,700 rpm up to 5,000 rpm.
No doubt, a few dedicated contrarians will complain about the alteration and its effects, but most reviewers and bloggers (I just cast my reflection on the computer screen a knowing glance) have found that the positives far outweigh any perceived negatives.
It's also worth noting that, while the Carrera I drove came outfitted with the PDK transmission, customers can still purchase this vehicle with a seven-speed manual gearbox (which, unfortunately, is not an option for most 911s). Sure, the PDK will offer you smoother, quicker transitions between gears, thus making your performance vehicle all the more superior; but I find something both exciting and charming about a stick shift. If you're anything like me, then rest assured there is still a Porsche on the market that meets your driving desires.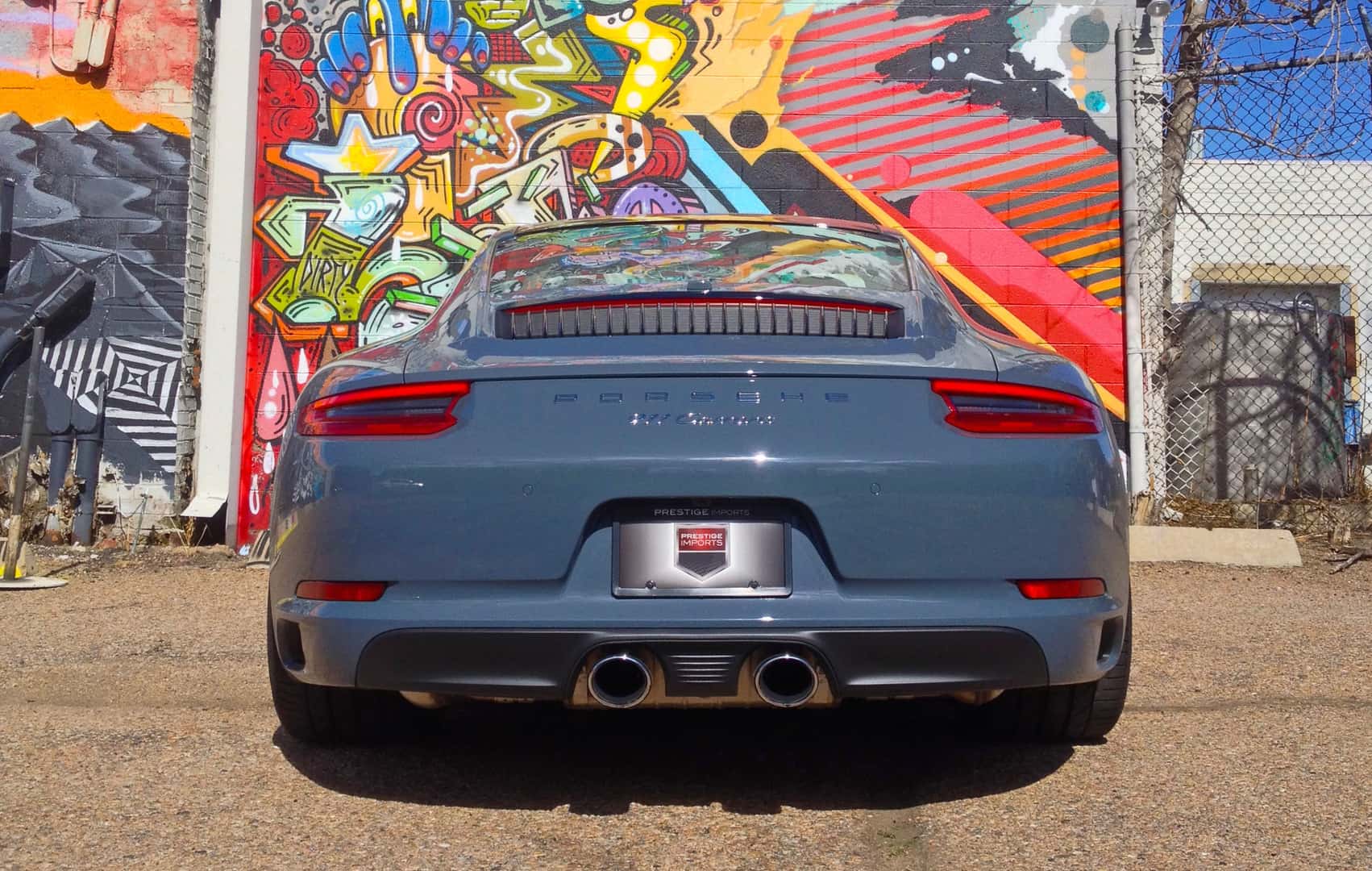 2017 Porsche 911 Carrera: Get one for yourself…
If you're interested in learning more about Porsche's turbo-charged engines, I suggest reading an article I wrote about them last year. It will provide a more detailed and technical explanation of the engine's inner workings. Additionally, if you're interested in some local and regional driving tours that would pair nicely with a new Carrera, read my post titled "Five Scenic Colorado Drives for your Porsche."
If you're in the market for a new luxury or performance vehicle, I highly recommend scheduling an appointment with one of our Porsche Brand Ambassadors. They can provide you with any additional information you'll need with regard to the 2017 Porsche 911 Carrera and take you out on a test drive. Prestige Imports is located just minutes from downtown Denver, at 9201 West Colfax Avenue between Wadsworth and Kipling. You can also call (833) 825-5423 to make an appointment.