Q: Where can I sell my car in Denver? A: Prestige Imports, of course.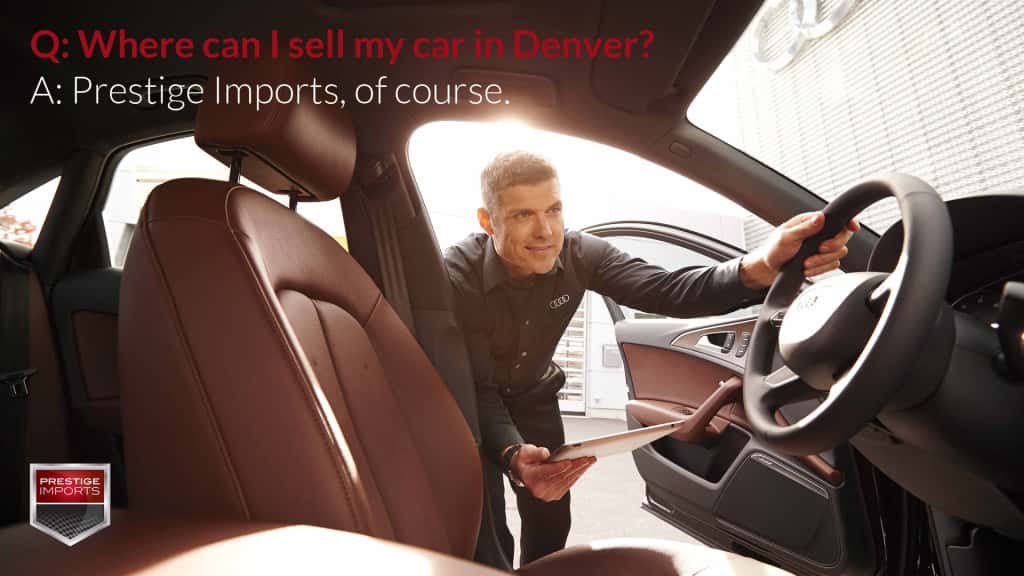 Where can I sell my car in Denver?
This question is easy to answer – almost anywhere – but it may be a little harder to get to the right answer. Currently the used car market in the Denver Metro Area, and all along the Front Range, is more competitive than it has ever been. There are a number of traditional dealers and used car specialists all competing for used car inventory. What does this mean to you, the private vehicle seller? Well, that late model vehicle sitting in your driveway is a valuable commodity. Now is the perfect time to turn that un-needed car into a stack of cash, or get the most that you possibly can in trade-in value.
Here at Prestige Imports, we believe that this is absolutely the best place to sell or trade your luxury or performance vehicle, particularly if it is a Porsche or Audi. Did you know that only a Porsche or Audi dealer can sell a used Porsche or Audi as "Certified Pre-Owned"? That means your late model Porsche or Audi vehicle is much more valuable to us than it is to any of the independent used car centers that have popped up around town. Even if your car isn't new enough to be a CPO vehicle, our customers expect to see a large selection of used Porsche and Audi vehicles on our lot, so it is imperative that we keep inventory levels up.
What if you don't have a Porsche or Audi to sell? We are still a great option for selling your late model luxury or performance car. We are a trusted member of the community and have been serving our customers from the same location for over 30 years. Our experienced Sales Managers will use the latest technology, combined with their knowledge of the Denver area luxury and performance car market, to ensure that you are properly compensated for your vehicle.
Why should you start your sales process with a Prestige Imports Appraisal?
It is Complimentary. The Prestige Imports Appraisal is free of charge.
There is no obligation. We are interested in purchasing your late model luxury or performance vehicle whether you buy a new car or not.
It is hassle free. You can schedule an appointment to be sure we are all set when you arrive, or you can stop by whenever it is convenient. Either way, we will get you in-and-out as quickly as we can.
You can start the process from the comfort of your own home. Read on to learn more.
Interested in selling your car to Prestige Imports? Keep reading… Our Appraisal process
The first thing we will do when you arrive for your Prestige Imports Appraisal is have you go through the independently opperated Kelley Blue Book Instant Cash Offer tool. This tool helps to establish a baseline value for your vehicle. From this initial number, our Sales Manager either adds or subtracts based on his thorough evaluation of the car.
Would you like to know the best part about starting with the KBB ICO tool? You can do it from the comfort of your own driveway. If you follow the steps to evaluate your vehicle before you arrive at Prestige Imports, it will only speed and simplify the appraisal process.
After our sales manager has the KBB  information in hand, he will commence with a complete evaluation of the vehicle. In particular, he will look for things like:
Aftermarket (non-OEM) parts and modifications
Collision or flood damage
Options and features (especially those not properly accounted for in the KBB ICO tool)
After the physical evaluation of the vehicle, our sales manager will take a close look at the CarFax Vehicle History Report to make sure that nothing has been overlooked.
The final step of the appraisal process is to compare your vehicle to similar vehicles in the local and national marketplace and to look at sales trends for that type of vehicle. We may find that your vehicle is in higher demand here in the Denver market than it is nationally, meaning that we are able to give you a better offer than the national KBB database would suggest.
Finally, after all of the information has been gathered, and the data analyzed, you will be presented with a written offer to purchase your vehicle. The offer will be valid for 15 days*, giving you the opportunity to go home and think things over before coming to a decision.
Pulling the trigger
When the time comes to actually finalize the sale of your vehicle, whether at the time of appraisal or a couple days later, there are a few items that you will need to bring along:
Payoff information for your vehicle (keep in mind that the sales process will go much easier if all title holders are present – more information in the FAQs below)
Current vehicle registration (to confirm ownership)
Your Driver's license (all titleholders will need to have their photo identification)
All keys, key fobs or remotes (keep in mind that these can be quite expensive, so if they are missing it can affect the offer price)
Frequently Asked Questions

Why is the retail pricing on your vehicles higher than the written offer you have provided?

There are a number of reasons for this. First, every pre-owned vehicle in our inventory goes through a thorough inspection in our service department. Based on the results of this inspection, the vehicles are fully reconditioned to meet our standards. Additionally, if the car is to be sold as a Certified Pre-Owned Audi or Porsche, there are additional standards that must be met and extended manufacturer warranties that must be applied. Finally, there must be a little profit built in to the final retail price, otherwise, we won't be able to keep the doors open.

Is your appraised price negotiable?

Our GM always likes to say "In the car business, everything's negotiable". However, we stand pretty firm on our appraisals. There is a lot of information and analysis that goes into establishing the appraisal offer, so there really isn't much room to negotiate.

All vehicle titleholders cannot be present, can we still complete the transaction?

This definitely complicates the process, it is usually possible to complete the transaction, but it would be best to contact a sales manager to clarify the process and details.

What if I am "under water" on my vehicle? (owe more than the vehicle is worth)

If you have "negative equity" in your vehicle, it may be possible to roll the remainder of your loan into the finance agreement on a new (or pre-owned) Prestige Imports vehicle. If you are simply looking to be "out from under" your vehicle, you could provide payment to cover the difference between the appraisal price and the amount you owe.
* Vehicle must be in substantially the same condition as when it was originally appraised.