Colorado Driving Tips – What should I do after an accident?
---
Editor's note: In this article we answer the question "What should I do after an accident?" and provide resources for Colorado drivers, specifically Colorado Porsche and Audi drivers.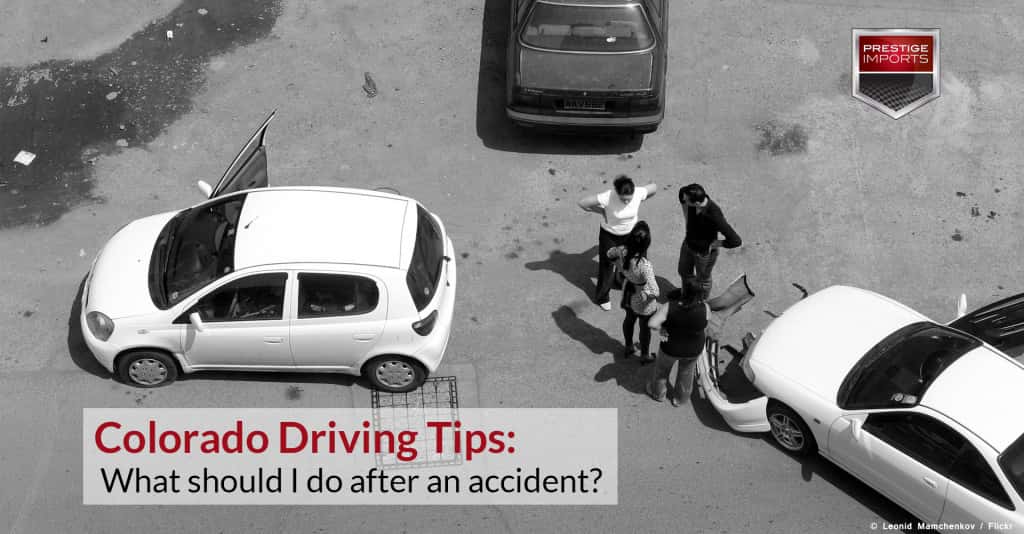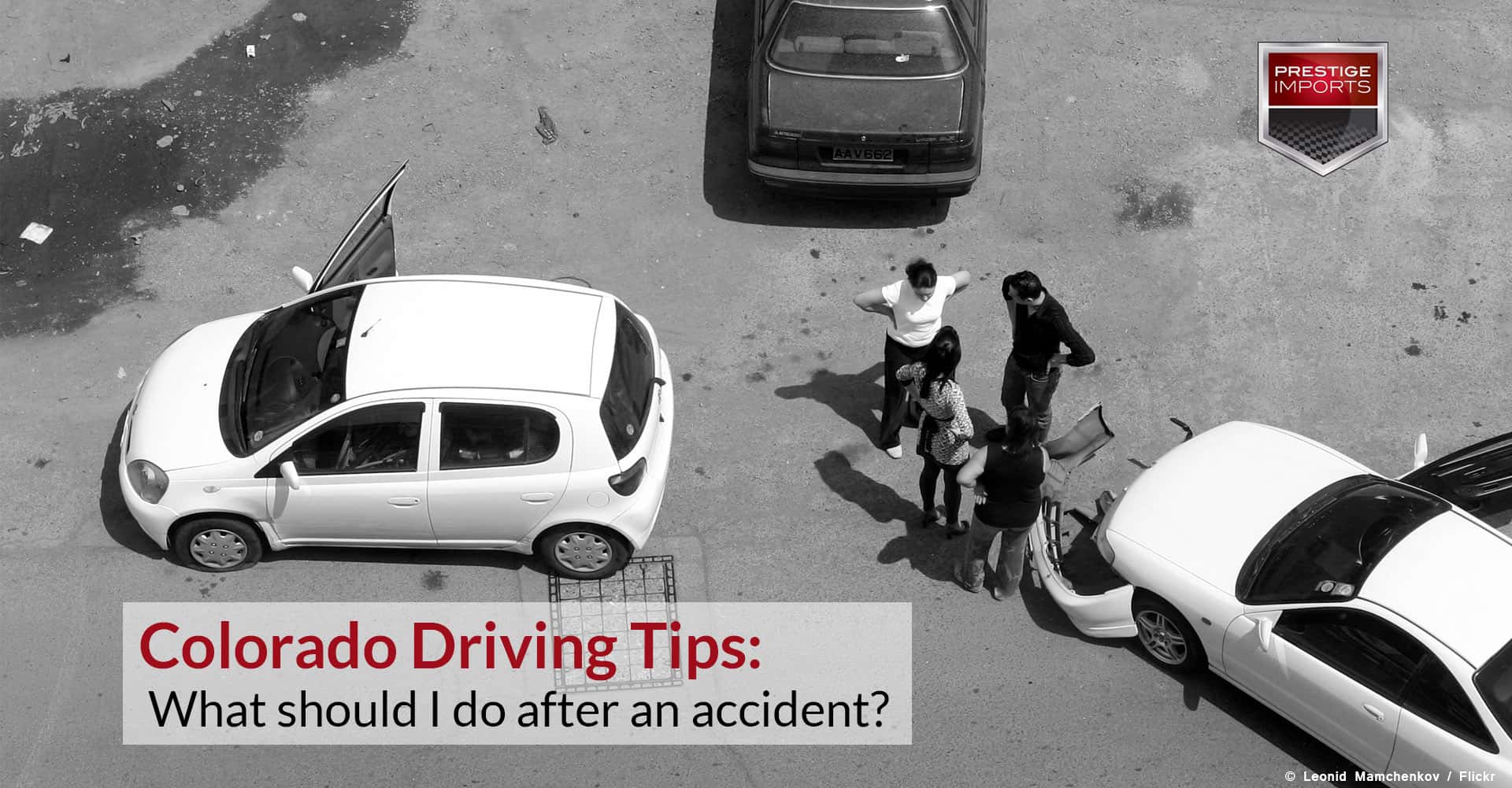 CRASH! You've just been in a collision. Hopefully it's a minor fender bender, but accidents are almost always traumatic. Your heart is pounding, adrenaline is pumping through your veins, and your mind has a million questions: Am I hurt? Is anyone else hurt? What just happened? Was this my fault? Will my insurance cover this? Am I going to be late? What am I suppose to do now?
First, take a deep breath. Make sure your vehicle is no longer in motion, then put it in park and/or engage the handbrake, and turn off the engine.
Take a moment to evaluate the situation. In the case of serious injury do not move your vehicle and stay in the car until emergency responders have arrived.
If you and those involved in the accident are not seriously injured (drivers, passengers, and pedestrians), and if the cars are still mobile, they should be moved to the side of the road and out of the way of oncoming traffic. Note: If the tires are obstructed or if the vehicle is leaking any fluid do not move the vehicle and wait for a tow truck. Turn on your hazards. Set out cones, flares, or warning triangles if you or any of the other drivers have them.
If anyone at the scene is injured, even if it seems minor, they should be checked by a health care professional.
Next, you should call the police. Even if the accident is minor the police report will be helpful in dealing with your insurance company. Let the police determine who, if anyone, was at fault for the crash. Do not sign any document unless it's for the police or your insurance agent. If the police are unable to make it to the scene you can file an accident report through the Colorado DMV – https://crash.state.co.us.
When the police arrive, they will facilitate the exchange of information, but if there is no police presence you should write down the following information:
Names, phone numbers, addresses and email addresses of all occupants and witnesses
Location
Insurance company name, policy number and phone number for other insurance companies
If emergency service responds you will also need to acquire a police report which should contain the contact information, officer name and badge number of the police officer
Make notes about the accident, including specific damages to all vehicles involved
If possible take photographs of the accident. It is important to have both details of the damage as well as images that show the scene. Note: A smartphone camera can also make it faster and easier to record all the documents and information from the list above.
Again, if the vehicle is severely damaged, the tires are obstructed, or the vehicle is leaking fluid it will need to be towed. You may have towing service available through the vehicle manufacturer, your insurance company, or AAA (if you are a member).
Audi Roadside Assistance: 1-800-411-9988
Porsche Roadside Assistance: 1-800-767-7243
After the police have completed processing the accident, or once you have filed your accident report, it's time to call your insurance company and file your claim.
After your insurance company has provided you their estimate you will need to schedule an appointment with a collision repair facility. Where you live, what you drive, and which insurance company you have will help you determine where to get your vehicle repaired. Some insurance companies have their own repair facilities, or have facilities they prefer to work with, but you should definitely consider which shop is going to be the most qualified to fix your vehicle, not which one will save your insurance company the most money. The best choice to ensure the future quality and safety of your vehicle is a certified collision repair facility that specializes in your make of vehicle. A certified collision repair facility will be able to provide manufacturer approved repairs done by OEM trained technicians. The repairs will also be warranted by the manufacturer, giving you additional peace of mind. It is especially important to use a certified repair facility when you are leasing your vehicle. It is always best to check with your vehicle manufacturer to ensure you are choosing the appropriate repair facility.
The Prestige Imports Collision Center is factory certified to repair Audi, Bentley, Porsche, Volkswagen, Mercedes Benz and Ford vehicles. We are one of a select few shops that specialize in structural aluminum repair on these vehicles.
Remember, if you are in an accident there will be a number of steps to go through on that day and in the days to come. The key is to remain calm and meticulously move through the steps outlined above. Don't let honking horns, other drivers, or the insurance companies rush you into a bad decision.
***
Did you find this article helpful? Did we miss anything? If you have questions, or ideas for future articles, hit us up in the comments. We are here to help!
Article photo courtesy of Leonid Mamchenkov / Flickr.