Five Colorado Scenic Drives for Your New Dream Car
---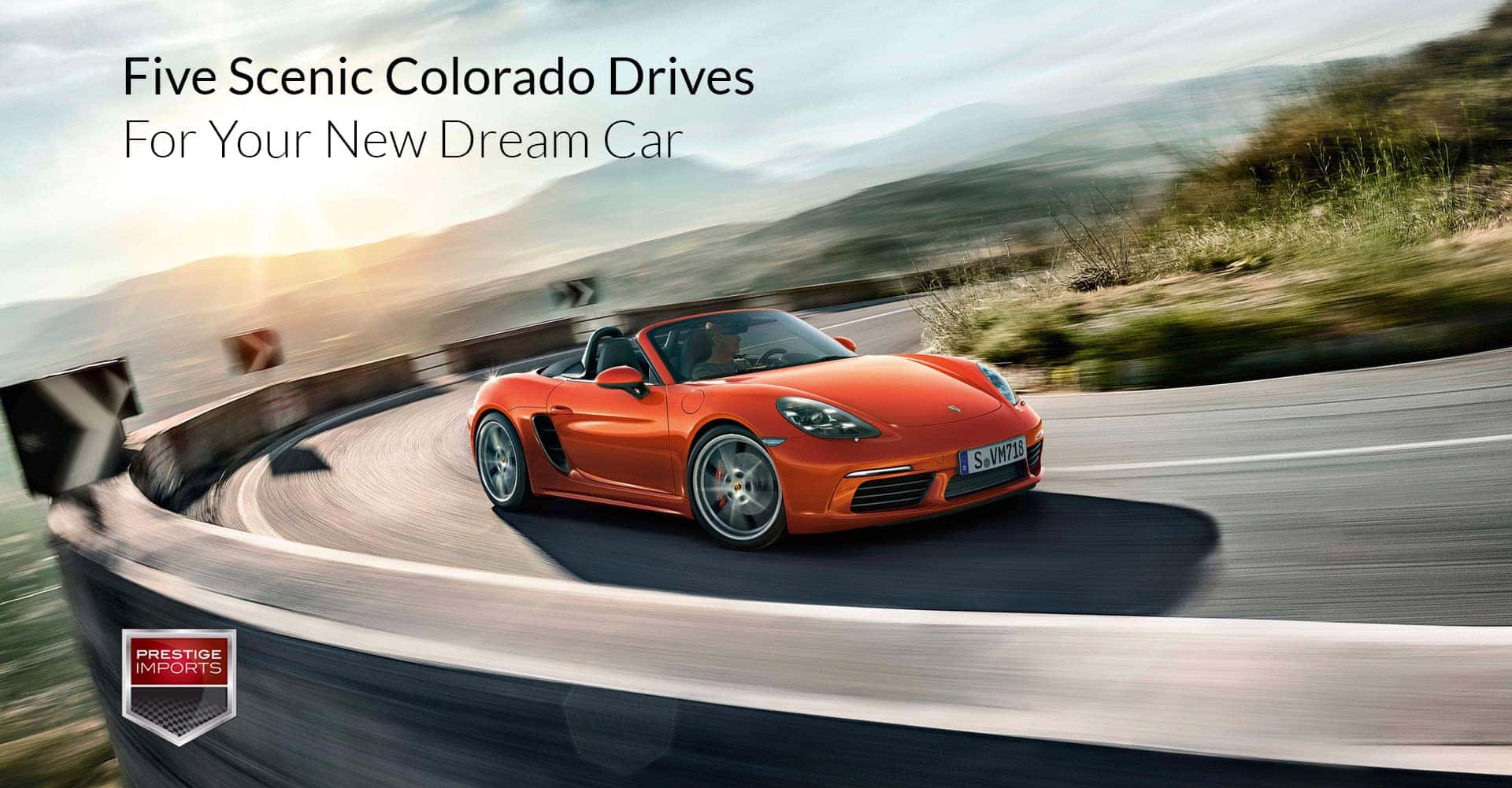 Five Colorado Scenic Drives Made Even Better in Your Dream Car
For me, the specifications of my car don't make me salivate as much as the sights and sounds of it weaving through twisty coastlines and mountain passes. So with summer almost here, I thought it might be helpful to suggest some scenic routes in the Denver-area that would enable you to put your new Porsche or Audi through its paces. For convenience sake, I dropped pins on Prestige Imports as the start and finish of each route in the below maps. Without further ado, here are five Colorado scenic drives for you and your dream car.
S

cenic drives near Denver
1) Golden Gate Canyon Road and North Clear Creek:
This is the closest of the routes on this list, as well as the shortest. It's a terrific little circuit if you're looking to corner around some tight mountain turns and get back home within a couple of hours. As a bonus, there are several easy-to-moderate hikes off of Golden Gate Canyon Road (e.g. Mount Galbraith) if you'd like to get out of your car and stretch your legs a bit.
2) Guanella Pass:
Guanella Pass, obviously, is most notable as a route for checking out the Aspens as they turn during fall. If you drive this circuit during the off-season, though, you can accelerate along 62 and 285 in a way that you otherwise wouldn't be able to with a caravan of gawkers craning their necks at the autumn explosions. This trip also affords you the opportunity to stop in Georgetown and grab lunch at one of the historic town's many restaurants.
3) Peak to Peak Byway (Nederland to Estes Park):
The Peak to Peak Byway is, by far, the longest of the local routes. This jaunt will take you up to Boulder, through Nederland, Estes Park, Lyons, then back again through Boulder. Mountain twisties, scenic views, and a series of small towns perfect for brief stop-overs make this an all-day tour that's well worth the time.
If you want to get a better sense of how this route looks, check out the time-lapse video below. At the 1:34 mark, the traffic dissipates and, thus, offers a better idea of what to expect if you don't drive on a heavily congested day:
For more information concerning this route, read the review of this route on
Take My Trip
.
Longer distance scenic Colorado drives

4) The Great Sand Dunes:
Having a destination can be exciting. Moreover, when your destination happens to be an insanely gorgeous natural wonder, well, all the better. And, make no mistake, The Great Sand Dunes are an amazing natural wonder. But just because you have a destination in mind doesn't mean you have to chart the quickest route to it. The circuit I've plotted out below is most definitely the "long" path and will add several (or many) hours on to your trip. But, trust me, driving down 285 and back up to Denver on a series of alternate roads will be the best decision you could make. I would avoid the monotony of I-25 at all costs.
5) Colorado National Monument:
The final road trip on this list bisects most of the state. And, as with the previous circuit, there certainly are shorter paths to take than the one I plotted out (a simple double-back would provide the quickest trip). But taking this route enables drivers to dip slightly south and explore the areas on and around 50. Of course, the crown jewel, so to speak, of this trip is Colorado National Monument and its epic cliff faces, ravines, and rock formations. If you haven't had the chance to witness these amazing geologic formations, then I assure you that you won't be disappointed if you head out to the Western Slope to see them.
While we would love for you to tackle these wonderful drives in a brand new Porsche or Audi, they are available to anyone with a bag of snacks and a full tank of gas. However, if you're interested in venturing out on a weekend drive in a sweet new ride, be sure to stop by Prestige Imports at 9201 West Colfax Avenue to see what we have
in-stock
.