When can I take my car out of winter storage?
---

Q: When can I take my car out of winter storage?
A: Patience my friend, spring is coming.
Last autumn, I posted an article titled "Top Ten Tips For Storing Your Car During Winter." As you can imagine from the post's name, I outlined ways in which you can prepare your performance or luxury vehicle for winter hibernation, so to speak.
While, obviously, most of those pointers were intended to prepare your car for winter and, thus, no longer timely, the final tip seems particularly apropos for this week's weather in Denver and along the Front Range:
10) Patience. Every winter, Denver and the Front Range will experience a few unseasonably warm days during the heart of winter. Your inclination, no doubt, will be to take your vehicle out of storage for a well-deserved joyride. If you can help yourself, it's best to suppress this urge; in fact, it's best to not start your engine for the entirety of your storage period. You risk negating the preparations you made for winter storage when taking your sweet ride out for a seemingly innocent drive.
With temperatures hovering around the low-70s the next few days, I know what you're thinking: "When can I take my car out of winter storage?"  No doubt, you want to take advantage of the gorgeous conditions and bring your car out for a spin. But, as the excerpted passage from the previous post warns, you really should wait until winter is over.
Last winter, we experienced a much welcomed week or two of 70 degrees temperatures:

only to be hit with one of the largest snow storms of the season during late-February or early-March: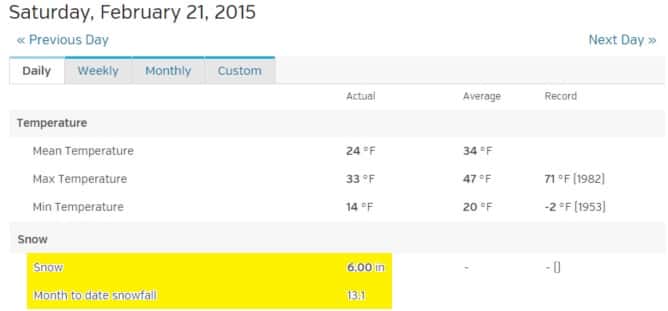 One can only expect that this year we'll experience a similar weather pattern. To this end, hold tight and wait until we are well into April, or maybe even May, and you can safely assume that you won't have to deal with any more snow.
In the near future, I'll create a "Tips For Taking Your Car Out Of Storage" post; but to tide you over while you wait, enjoy the below video review of the new Porsche 911 Targa 4S at the track (although, it might be more of a tease than a palliative):
Once it's time to bring your performance or luxury vehicle out of winter storage, you'll want to schedule an appointment with the Service Department at Prestige Imports by calling
(833) 825-5423
. Until then, enjoy Denver and the Front Range's warm weather in your "other" car!
***
Did you find this article helpful? Did we miss anything? If you have questions or comments, just click the button below. We are here to help!

Questions or Comments >>