Winter Weather Maintenance Tips for Your Audi or Porsche
---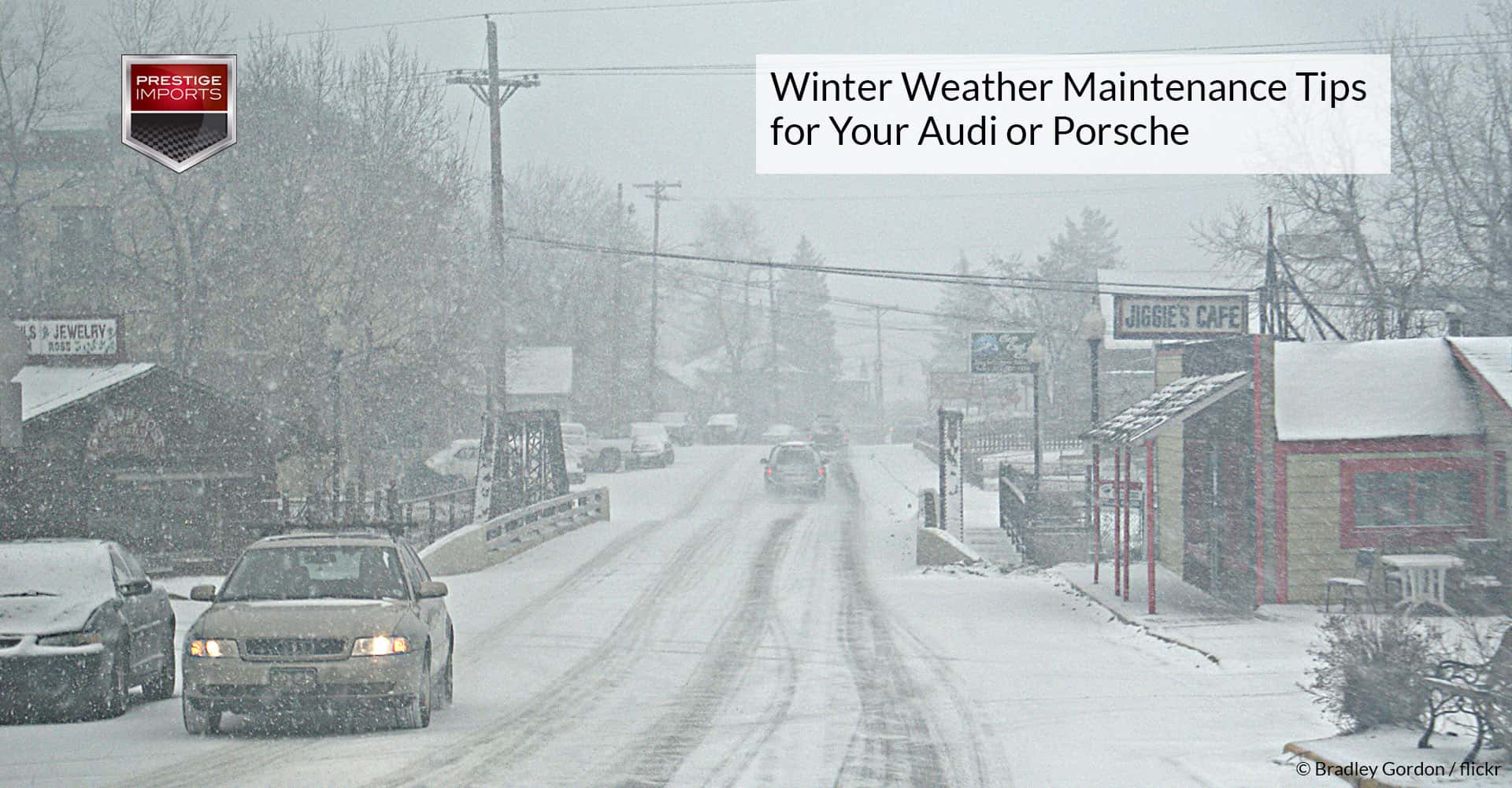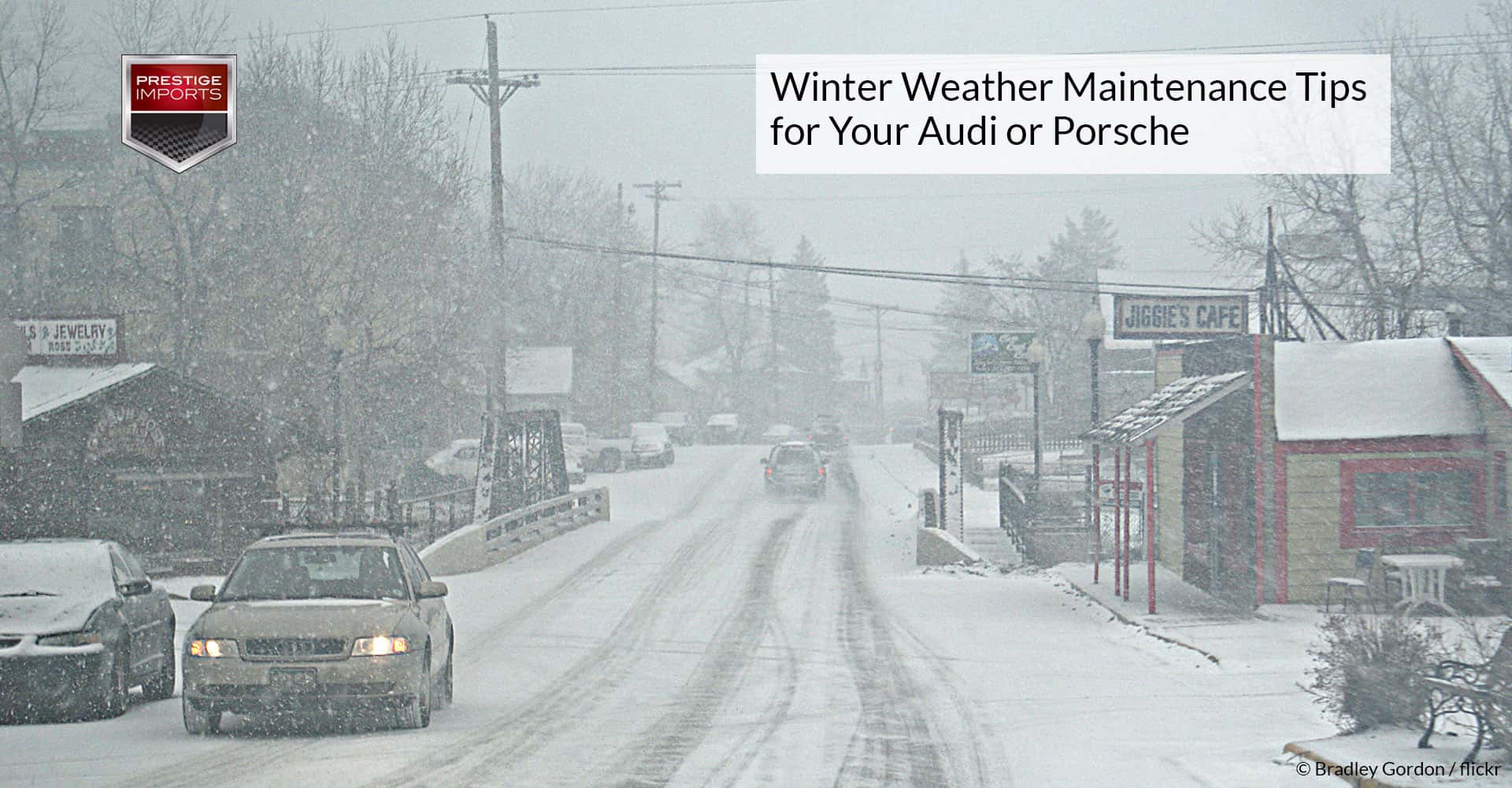 Winter Weather Maintenance Tips for Your Audi or Porsche
Now that Denver and the Front Range recently have experienced a few days of snowfall, the onset of winter has become an unavoidable reality for Colorado drivers.
For some people, this signals the moment at which their luxury or performance vehicle must be placed into winter storage. But what does this change of season means for everyone who drives a vehicle? Well, it means that we have to maintain a heightened sense of vigilance while navigating our cars on treacherous roadways and during inclement weather.
To this extent, it's important to service the following features and equipment on your vehicle in preparation for the winter. Doing so will help to protect your car against mechanical issues that could arise from less than ideal conditions or malfunctioning parts. The following list contains elements of your vehicle that should be checked.
1) Battery: While one should always be concerned with proper battery maintenance, cold weather increases the chance of problems. This is due to the fact that lower temperatures decrease the levels of power output, negatively affect its ability to accept a charge, and force it to work harder (due to increased output from heightened light, blower, heater, and wiper use).
2) Brakes: As roadways become slick with ice or sleet, and tire traction decreases because snow pack on road surfaces, having a brake system that performs at peak levels is vital to avoiding accidents.
3) Tires: Especially since the Colorado Department of Transportation recently decided to more vigorously enforce Code 15 and Code 16 (i.e. the Chain and Traction Laws, respectively), equipping your vehicle with the proper tires is not just helpful safety feature, it's a legal mandate. As road test's have demonstrated, winter tires outperform all-season and summer tires by a remarkably wide margin.
4) Lights: The amount of daylight decreases dramatically during winter. As such, your headlamps and rear lights will activate earlier in the day and stay on longer in the morning. Likewise, grime and snow can create a film that lessens your fellow drivers' ability to see your lights. To this end, you'll want to make sure all of your lights function properly and their lenses remain untarnished.
5) Wipers: Having a properly functioning set of wiper blades is a no-brainer when it comes to winter driving. With snow, sleet, and rain all becoming more prevalent during the winter months, it's imperative that your blades provide you with a clear windshield absent of streaks, especially at night.
6) Heating System: A correctly functioning heating system is another self-evident necessity during the winter months. You should make sure that your engine cooling system contains enough antifreeze, does not leak, and gets changed regularly.
7) Miscellaneous: In addition to the above items, your ignition system, exhaust system, and system fluids should all be checked as we head into winter. If any of these features are not functioning according to manufacturer's specifications, the cold weather during winter will exacerbate any problems that could arise if they are not working properly.
To ensure that your vehicle performs at its maximum, winter potential, you'll want to bring your car into Prestige Imports. The Audi- and Porsche-certified technicians in our Parts and Service Department will inspect your automobile and prepare it for winter conditions. To schedule an appointment, call us at (833) 825-5423.
Be on the lookout for more Wintertime Tips, including future blog posts regarding winter driving strategies.
***
Original image by Bradley Gordon, courtesy of Creative Commons.