An Introduction to Certified Pre-Owned Audi and Porsche Vehicles: What are they?
---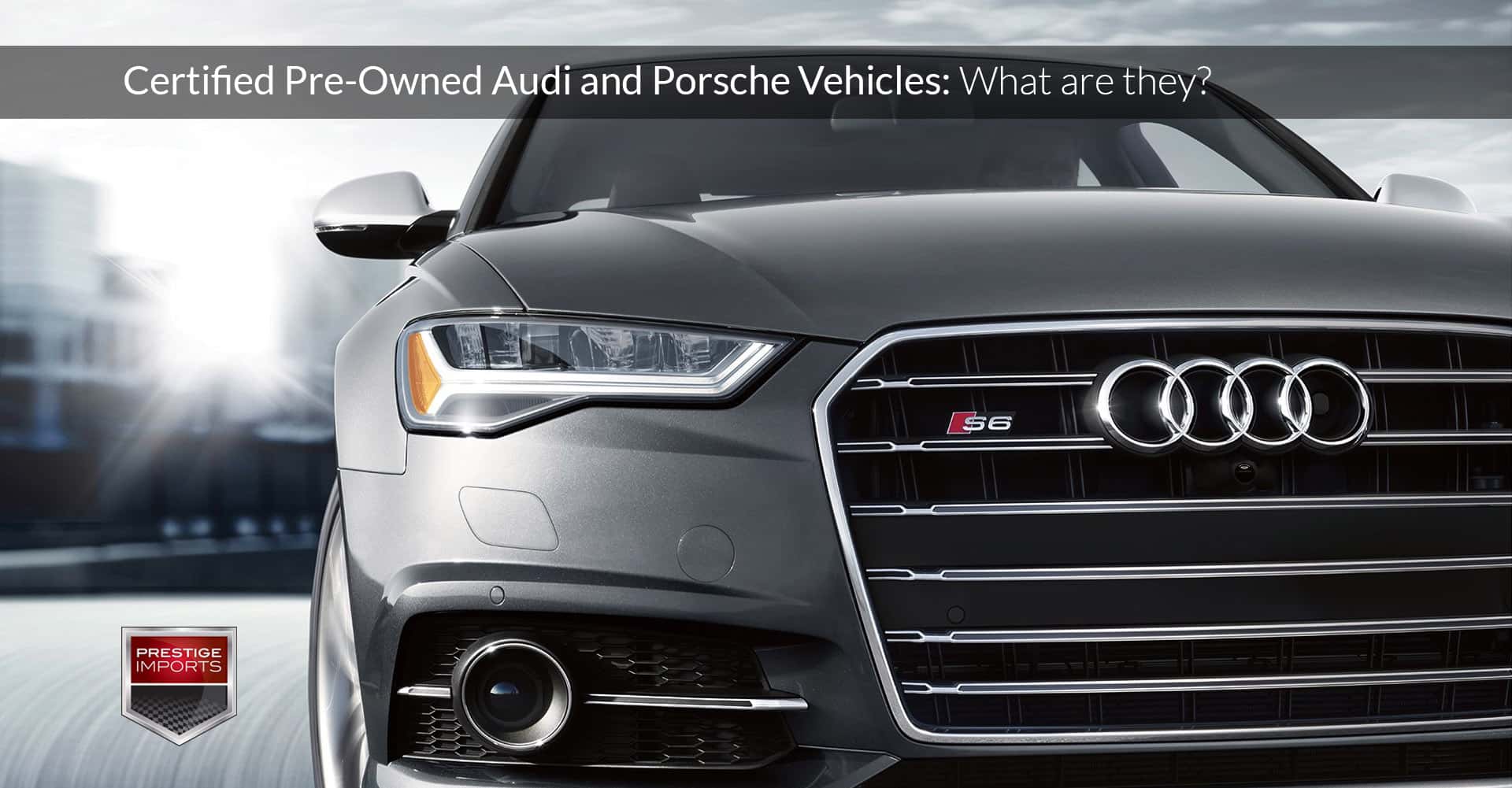 Certified Pre-Owned Audi and Porsche Vehicles
Purchasing a vehicle can be a rather overwhelming experience. As a prospective buyer, you need to assess your needs in order to determine what style or make of car you want. Similarly, you must decide upon a model, based upon your desired price range and performance level.
There is also the question of whether you want to purchase a new or used vehicle. If you decide that a used vehicle is the correct choice for your lifestyle or bank account, you must further determine as to whether or not you'll buy a certified pre-owned (CPO) vehicle.
Of course, this begs the question: what's the difference between CPO and used? A used vehicle, obviously, is one that previously has been owned and driven off-lot. A CPO vehicle, though, is a subset of the used car market that offers you an additional level of assurance when making a purchase.
According to Edmunds.com, CPO vehicles are "used cars that are offered for sale by your local dealer and feature warranties that extend beyond the initial 'when new' coverage." Kelley Blue Book adds that these vehicles are "essentially top-quality, inspected used cars backed by manufacturers' warranties."
In an informative article about the history of CPOs, Stephanie Overby of cars.com writes about how they began as a "marketing tool" by luxury car manufacturers to "sell off-lease vehicles in the late 1980s and early 1990s." They achieved a prominent place in the automotive industry, though, once it became apparent that these vehicles were mutually beneficial for buyers, manufacturers, and dealers alike.
Rather than selling their off-lease vehicles to rental car companies and used cars lots, manufacturers resell these vehicles directly to customers searching for reliable, used cars. What makes a CPO vehicle more appealing than a traditional used car, though, is the inspection, refurbishment, and warranty process that only a manufacturer can provide.
For example, the introduction to Audi's 2014 CPO Booklet outlines the "three most important" aspects of their certification and warranty process:
Past: Introducing the CARFAX® advantage. Your vehicle's complete history. Only cars that pass CARFAX® muster are considered for inclusion in our Certified pre-owned program.

Present: Here's where our rigorous 300+ Point Inspection and Certification process begins. From the headlights to the engine to electrical and safety systems, we're thorough.

Future: A factory-backed limited warranty with coverage for up to 6 years or 100,000 total vehicle miles. The balance of any Audi Care Pre-Paid Scheduled Maintenance, and the balance of the vehicle's 12-year Limited Warranty against Corrosion Perforation, regardless of mileage. A complimentary service loaner, 24-hour customer service support and Roadside Assistance. The benefit of having Certified pre-owned Limited Warranty coverage that is transferable from the original owner of the CPO vehicle to a subsequent private owner in addition to available special financing terms.
As one can tell from even the most cursory glance of the CPO Booklet, purchasing an Audi through the manufacturer's certification program provides consumers with a level of confidence that buying a vehicle from a used car lot or private seller could never offer.
Likewise, Audi's lengthy, Inspection and Certification Checklist demonstrates the comprehensive nature of the certification process. These expansive, front-to-rear assessments ensure that every aspect of the vehicle has been examined and (if necessary) refurbished by a factory-trained technician.
If you're interested in Prestige Imports' inventory of certified pre-owned Audi and Porsche vehicles, check out our website. If you would like to test drive one of these vehicles, visit our dealership at 9201 West Colfax between Wadsworth and Kipling. You can also schedule an appointment with our Sales Department by calling (833) 825-5423.