The New Porsche Macan GTS
---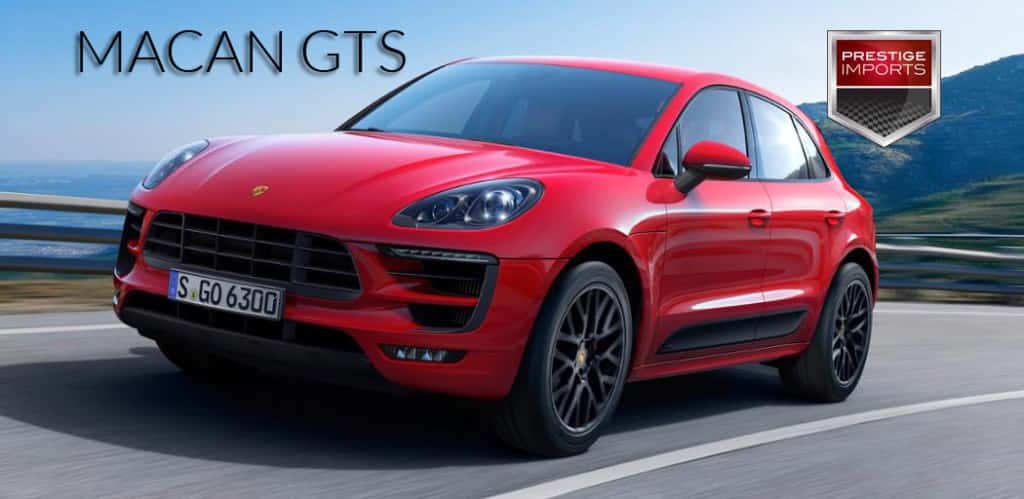 Last week, Porsche unveiled its new Macan GTS. According to the company's press release, the new GTS model "combines a high level of typical Porsche driving dynamics with outstanding everyday utility."
With regard to performance specifications, or "driving dynamics," the Macan GTS splits the difference between the S and Turbo versions. Its engine's output falls between the outputs of its predecessors, boasting a 3-liter,V6 bi-turbo engine that produces 360 horsepower and 369 pounds per foot of torque.
But the Macan GTS offers more than just an engine with different power specifications. It, in fact, has a list of appointments and upgrades that provide drivers with a distinctive, more race-like experience. Below is a list of features you'll find in the Macan GTS, along with a brief explanation of their function.
PASM Chassis:
The Porsche Active Suspension Management (PASM) system continuously adjusts the damping force on each wheel, based upon road conditions and driving style. In the Macan GTS, the chassis is lowered by 15 millimeters. Porsche's press release states that this alteration will offer drivers a "sportier tuning." But how so? Well, the lowered chassis has several noticeable effects. First, your vehicle will be more aerodynamic, insofar as wind drag underneath the carriage will be reduced. Second, the handling of your vehicle will improve by increasing your tires' grip on the road. Third, a lower center of gravity will decrease the chance of a rollover. And, finally, some driver's believe that a lowered chassis offers a stiffer, thus more comfortable, ride.
Wheels:
The GTS version comes equipped with 20-inch wheels in the RS Spyder design. Porsche initially created these tires in 2008 to commemorate the success of the Spyder Rs in the American Le Mans Series. Generally speaking, the Spyder tires are constructed of alloy with seven u-shaped, double-spoked arms that feature a central locking mechanism. The versions on the new Macan GTS are painted matte black. In other words, they perform well and look really cool.
Interior:
Porsche decks out the inside of all their GTS versions with Alcantara trim. In a recent post detailing the upgrades of the new Audi 2016 A8 L 4.0T Sport Model, I wrote the about Alcantara materials. Specifically, Alcantara creates microfibers from thermoplastic polymers that resemble suede. Their microfiber has a high resistance to stain and abrasion; its color fastness also rates high, which prevents it from fading due to sun damage.
Sports Exhaust System:
One of the signature elements of the Porsche experience is The Porsche Sound. In order to highlight Porsche's unique rumble, the GTS includes a full-sounding, sports exhaust system. This system features a modified muffler and specially designed dual-twin tube tailpipe.
PCM:
The new Porsche Communication Management (PCM) system makes its SUV-debut in the Macan GTS. You can operate the PCM, which is a central control unit for audio, navigation, and communication, using a 7-inch touchscreen, voice control system, or rotary push-button control. You can upgrade the PCM further with the Connect Plus module, which provides wireless Internet access and is compatible with Apple CarPlay. You can also receive real-time traffic information with access to Google Earth and Google Street View.
At the end of the day, though, these upgrades to the Macan GTS only serve to enhance what most critics and reviewers already consider the sportiest crossover ever built.
If you're interested in test driving a Porsche Macan S or Turbo, visit Prestige Imports at 9201 West Colfax Avenue. If you'd like to find out more about the forthcoming Macan GTS, call our Sales Department at (833) 825-5423.