Patrick Dempsey: Winner
---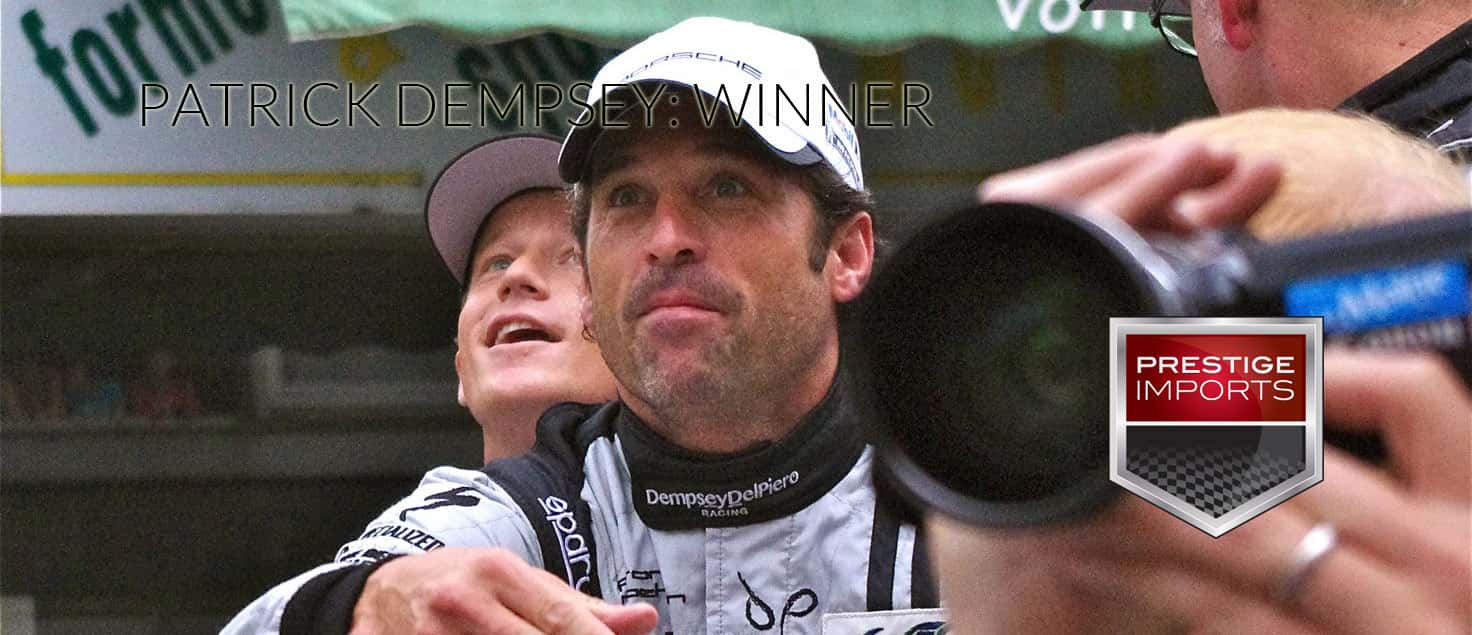 A few weeks ago, Patrick Dempsey and his Proton Racing Team won the FIA WEC Six Hours of Fuiji event in the GTE-Am class. For Dempsey, who commanded a Porsche 911 RSR, it was his first victory as a professional driver.
Recently, Porsche released the following commemorative video in honor of the Proton Team's victory, as well as a second place finish in the GTE-Pro race:
As Porsche looks forward to their "next step" in the racing world, I thought it would be worthwhile to take a backward glance at the steps that led to Patrick Dempsey's ascension to the podium's pinnacle in Japan.
Earlier in the year, Porsche interviewed Dempsey shortly before he placed second in the GTE-Am class at the 24 Hours of Le Mans event in France. In the below excerpt, Dempsey speaks about his relationship with the Porsche family:
"We're in this together," says Dempsey. "We're in this because we love [racing]." While his admiration for and indebtedness to Porsche are long-standing, Dempsey's storied career as an actor precedes his relationship with Porsche. It makes sense, then, that in the complete interview he speaks at length about the similarities between driving and acting. Dempsey addresses several ways in which his two careers overlap. For example, he says: "There's a sense of being lost in the moment, which happens both in the car and with the person you're working with in a scene."
Dempsey's musings got me thinking about some of the actor's classic performances—those which still stand out to me today. I recommend picking up the following three films at your local video store:
Can't Buy Me Love (1987): The plot of this film centers on Ronald Miller, played by Dempsey, and Cindy Mancini. Miller is a prototypical 80s nerd; Mancini is a rather fetching cheerleader. In order to increase his level of coolness at school, Miller pays Mancini $1000 to pretend that she's dating him. She accepts and, of course, hilarity and heartbreak ensue. This is nothing if not a model upon which many future high school-based comedies were built.
Loverboy (1989): For my money, this might be Dempsey's greatest role to-date. In this film, he plays Randy Bodek, a despondent college dropout. The summer after his sophomore year, he takes a job as a pizza delivery boy so as to make some money while he figures out his life. It's only a matter of time before his job delivering pizzas transforms into a more lucrative position: rent-a-boy for suburban housewives. Bodek navigates the pitfalls of the sex-trade in this humorous coming-of-age story.
Transformers: Dark of the Moon (2011): As the Decepticon sympathizer Dylan Gould, Dempsey looks to rid the world of Optimus Prime and the rest of the Autobots. As the boss of Carly Spencer, he looks to seduce Shia LaBeouf's on-screen romantic interest. In short, Gould is a rake, a cad, and a ne'er-do-well. After years of playing the good guy, it's a sheer pleasure to watch Dempsey star in a villainous role. Spoiler Alert: LaBeouf's character Sam Witwiky electrocutes Gould near the end of the film. Great death-face.
While these three films, no doubt, are standouts in Depmsey's cinematic pantheon, I would highly suggest revisiting his entire oeuvre in your spare moments this autumn.
In the meantime, visit Prestige Imports to view and test drive our inventory of new and pre-owned Porsche and Audi vehicles. We are located at 9201 West Colfax Avenue, Lakewood, CO between Wadsworth and Kipling. You can also call our Sales Department at (833) 825-5423 to schedule an appointment.
Image courtesy of David Merrit and Creative Commons.