Out of state A6 buyers send letter in praise of Scott West, Audi Sales Manager
---
Editor's note: The letter below was received in late October, 2015 from a pair of out of state A6 buyers who wanted to let us know what a great job our Audi Sales Manager, Scott West, was doing. It was such a nice letter, we wanted to share it with our online audience. Dave and Gwen, thanks for the great letter. Scott, keep up the great work!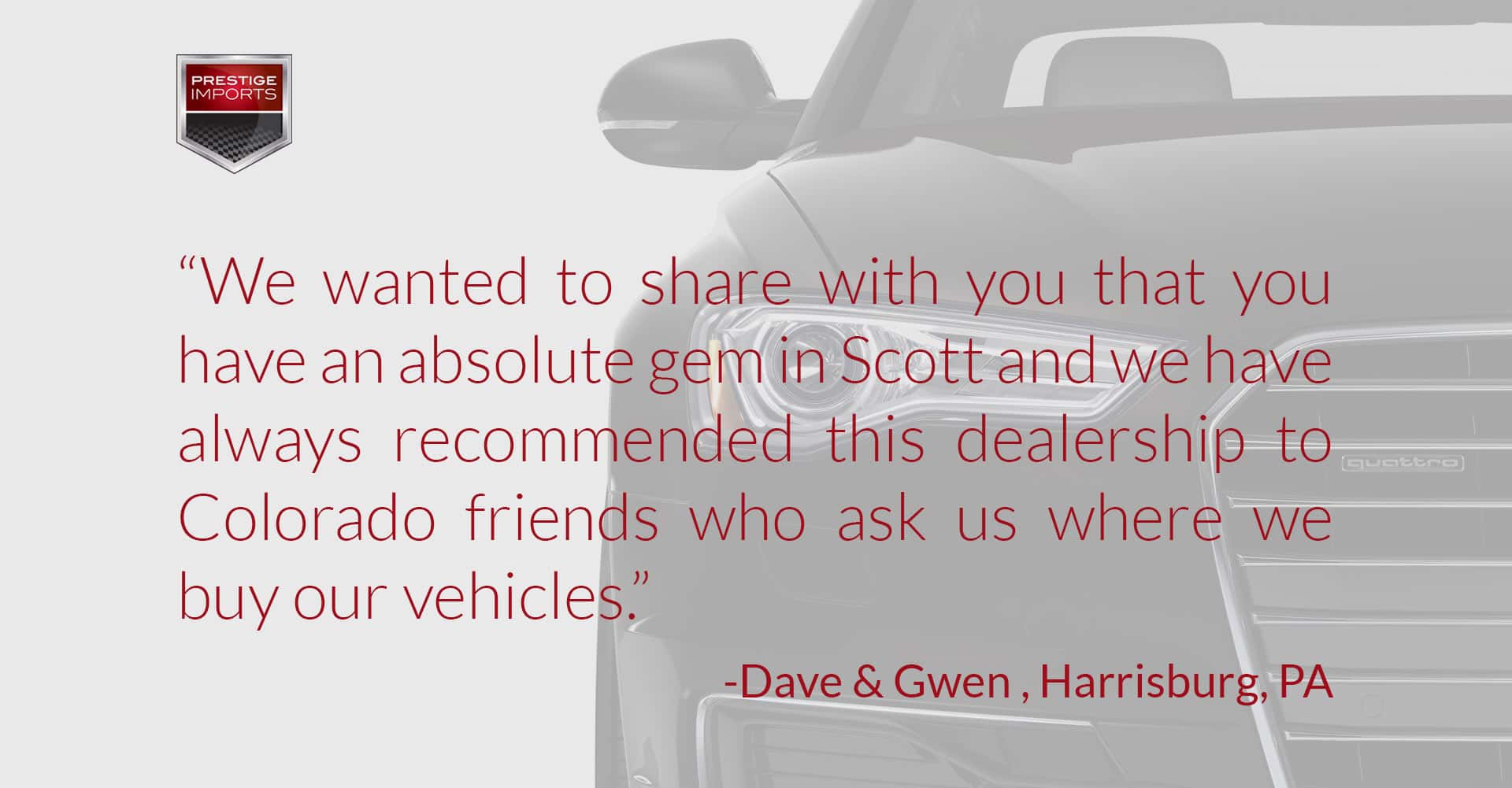 October 20, 2015
We find ourselves compelled to write you about a member of your sales team, the Sales Manager of Prestige Audi in Lakewood, CO, Scott West.
We have known and worked with Scott since we were looking to lease our second Audi – we think it was in 1997 or 1998. We leased our first one from [another local dealer] and were dissatisfied with the sales representative and the vehicle we got and, working with Scott, were able to upgrade to the Audi we wanted and leased three vehicles from Prestige between 1997 and 2003, always working with Scott who did his job so well, he knew what we were looking for at the end of each lease before we did!
In mid-2003, we turned our recently leased A6 back in to the dealership because we were relocated to the Caribbean for work. When we returned to the Denver area in October 2012, we called Scott intent on buying a certified, pre-owned Audi because we thought that was the only way we could afford an Audi. Quite frankly, we were checking out other cars but could not get past our love of Audis and of working with Scott. After one call, he confirmed that he would be able to get us into a new 2013 A4 within our cash budget and within two weeks, we were driving away in one that suited us perfectly.
We had been discussing whether or not we wanted to buy out the lease on the A4 at its lease end in October 2015 and, when we moved from Colorado to Harrisburg, PA in the last quarter of 2014, we spoke to and ultimately visited with the local dealership Sales Manager and came away from these encounters unimpressed.
When we decided in April that we wanted to buy a 2015 A6, before our A4 lease was up, we reached out to Scott because we knew he would help us get exactly what we wanted or he would steer us in the right direction if what we wanted could not be acquired. Scott's research revealed that there were no 2015 models available with all of the features we wanted and he gave us the opportunity to order a 2016 model, letting us know they were already in production.
Our custom ordered 2016 Audi A6 3.0T Premium Plus in Havana Black Metallic arrived from Colorado on June 14th and it is STUNNING! While we have never had any issues with other staff at Prestige Imports Audi – we wanted to share with you that you have an absolute gem in Scott and we have always recommended this dealership to Colorado friends who ask us where we buy our vehicles, primarily because of the relationship he built with us over the years.
Not surprisingly, we have decided to go ahead and buy out our lease on our 2013 A4 so we will continue to have two beautiful Audi's in our garage, both of which we would not have acquired without Scott's help.
Since we are now located in Harrisburg and won't deal with the Mechanicsburg dealership, we are having both of our vehicles serviced out of Lancaster, PA dealership[…], which is located 40 miles from our home. We have found them to be customer focused – although no one can hold a candle to Scott – he is, and always will be, our favorite!
Thank you for reading this and for taking good care of Scott – it is clear that he loves his job and working for you.
Sincerely yours,
Dave S. & Gwen E. Z.