2016 AUDI A8 L 4.0T SPORT MODEL
---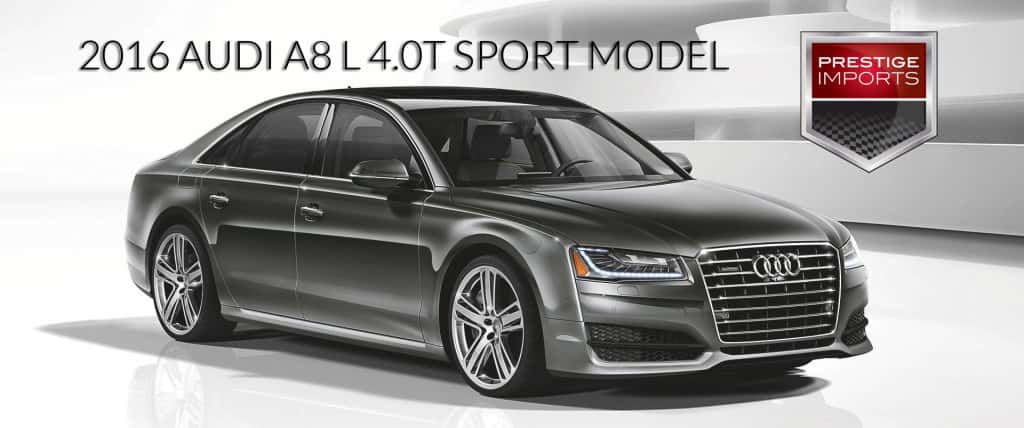 2016 Audi A8 L 4.0T Sport Model
Earlier this week, Audi introduced its new 2016 A8 L 4.0T Sport Model. According to its press kit, the new sport version of the A8 includes "more power and enhanced luxury inside and out."
When reading the list of new features, some of the additions and their corresponding benefits are self-evident. For example, the bolstered 4.0T twin turbo V8 engine provides and added 15hp. Generally speaking, an increase in horsepower will allow for a higher top-speed. Likewise, features such as a panoramic sunroof and seats with massage functionality are also straightforward descriptions.
Of course, some of the new enhancements are, at first blush, a bit inscrutable. For instance, what exactly is an Alcantara headliner and why does it constitute and upgrade? In order to provide a bit more transparency for the average car buyer, I will describe some of the features in more depth.
Acoustic Glazing
Acoustic glazing lowers exterior noise bleeding into your vehicle's cabin by three to five decibels. To achieve this effect, manufacturers will bond an acoustic interlay between two, thin pieces of glass. Acoustic interlays are composed of polyvinyl butyral (PVB), which is a resin that dampens sound and prevents shattering. As such, acoustic glazing offers passengers a more comfortable, quiet, and enjoyable driving experience.
Alcantara Headliner
The headliner of a car is the material adheres to the inside roof. According to Alcantara's website, the material from which they construct their headliners is a "unique and innovative," providing an "extraordinary combination of sensory, aesthetic, and functional values." More specifically, Alcantara constructs its headliners from a microfiber made of thermoplastic polymers that visually resemble suede. The microfiber material has a high resistance to stain and abrasion; its color fastness also rates high, which prevents it from fading due to sun damage.
Driver Assistance
Audi's driver assistance system, named Pre Sense, is a series of radar sensors that monitor the relative placement of objects and their movement on the road and around your vehicle. If, based upon your vehicles sensors, a collision is imminent, the system will trigger preventive protection measures. For instance, the system automatically will tense the front seat belts and close your windows and sunroof. Side assist and Pre Sense Rear offer additional options for protection. Specifically, displays integrated into the exterior mirrors alert the driver whenever it detects another vehicle behind or alongside of your car. Here is a brief, video-tutorial of the Pre Sense system:
Sport-Style Exterior
The updated exterior of the A8's Sport Model has undergone several transformations. According to Audi's promotional copy, one such alteration is a "muscular front fascia." In the automotive industry, the fascia refers to the grille, headlamps, and front bumper of a vehicle. Audi achieved the more "muscular" look by creating larger air intakes and reducing the amount of chrome accents. Another aspect of the exterior that has changed are more "prominent rocker panels." Rocker panels are stamped steel pieces located between the front and rear tires and below the doors. Not only do the more prominent rockers look pleasing, but they give the A8 a wider stance and, thus, better handling. The Sport model comes standard with 5-double spoke wheels. That doesn't mean that this version of the A8 has five wheels; rather, it means the wheels have five spokes, each of which have two sub-spokes radiating out from center of the wheel. Finally, the back bumper has been lower for a more dynamic appearance.
Valcona Leather
Valcona is a full-grain leather that Audi sources from European cattle. According to industry standards, full-grain leather means that a hide has not been sanded, buffed, or snuffed to remove imperfections on the hide's surface. Since the grain remains, the resulting leather is stronger and more durable. Audi's Valcona leather consists of light tones and less contour, providing it with a classic look and smooth texture. By all accounts, Valcona leather is superior to Audi's Nappa or Milano options.
The following is a complete list of new features found in the 2016 A8 L 4.OT Sport model: an enhanced 4.0T twin turbo V8 engine, sport style exterior, 20" 5-double spoke wheels with all-season tires, 22-way Comfort Sport seats with ventilation and massage functions, Head Up Display, Audi side assist with Audi Pre Sense rear, Valcona leather interior with diamond pattern stitching, Alcantara headliner, standard Executive, Luxury and Sport style packages, panoramic sunroof, and acoustic glazing on the windows.
If you would like to test drive an Audi A8, visit Prestige Imports at 9201 West Colfax in Lakewood. If you would like to check on the availability of the 2016 Audi A8 L 4.OT Sport model, call us at (833) 825-5423 to speak with someone in our Sales Department.