The More Things Change – a look back at two classic Audi television commercials
---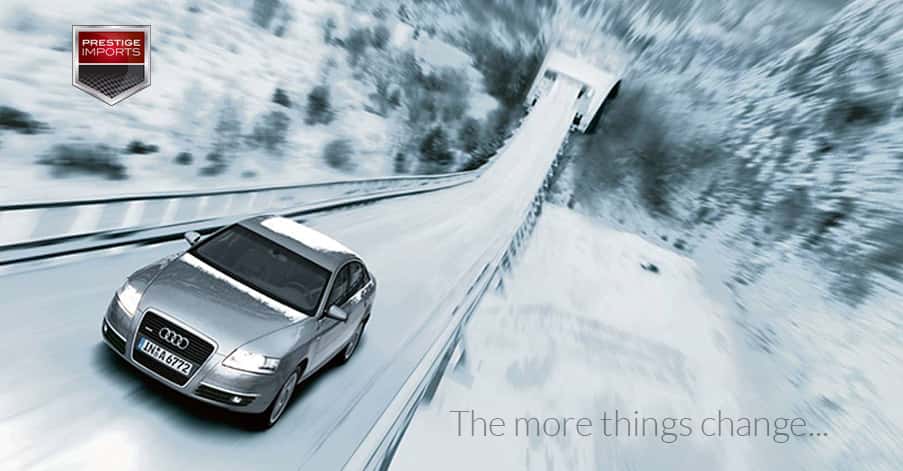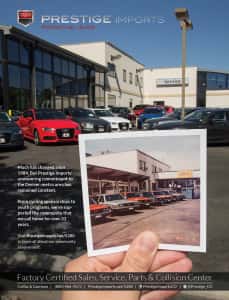 Prestige Imports' print ad in this month's 5280 highlights our thirty-one years of community involvement. To accomplish this, we took a digital photograph of the dealership's facade, foregrounded by a photograph shot from the same location in 1984.
The ability to view these two photos at the same time magnifies the passage of time since Prestige Imports began conducting business (via visual differences) on West Colfax and, conversely, highlights our contiguous support of the Lakewood and Denver communities. In this sense, contrasting the two images promotes the old adage: the more things change, the more they stay the same.
In 2005, Audi took a similar approach with the twentieth anniversary of their now famous "ski jump" commercial. The original, 1985 commercial promoted their Audi CS 100 Quattro. You can watch the spot below:
In order to celebrate the occasion, the commercial, and the car, Audi recreated the shoot using their Quattro A6: Watch the 2005 version below:
The juxtaposition of these two classic Audi television commercials and the juxtaposition of the two photos within the Prestige Imports' print advertisement demonstrate that continuity can still exist amidst the change inherent to time's progress. Audi's commercials reinforce the brand's power and unique marketing, while Prestige's photographs remind viewers of the dealerships commitment to the local community.
If you would like to experience Audi's famous quattro all-wheel drive for yourself (though we don't recommend driving up a ski jump), visit Prestige Imports at 9201 West Colfax Avenue in Lakewood, where we've been located for over thirty years. You can also contact one of our Audi Brand Specialists at (833) 825-5423. To learn more about our involvement in the Colorado community, be sure to take a look at our Community Support page. This page outlines the many non-profit clubs and organizations, institutions, and sport/recreational teams that we are involved with and provides links that will help you to get involved as well.