Audi Q5 vs BMW X3: How do they stack up against each other?
---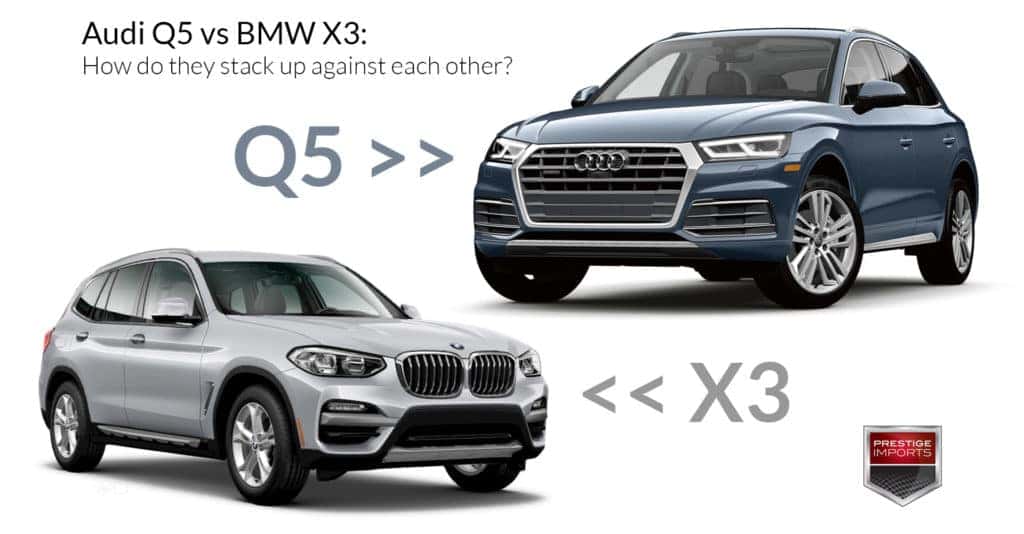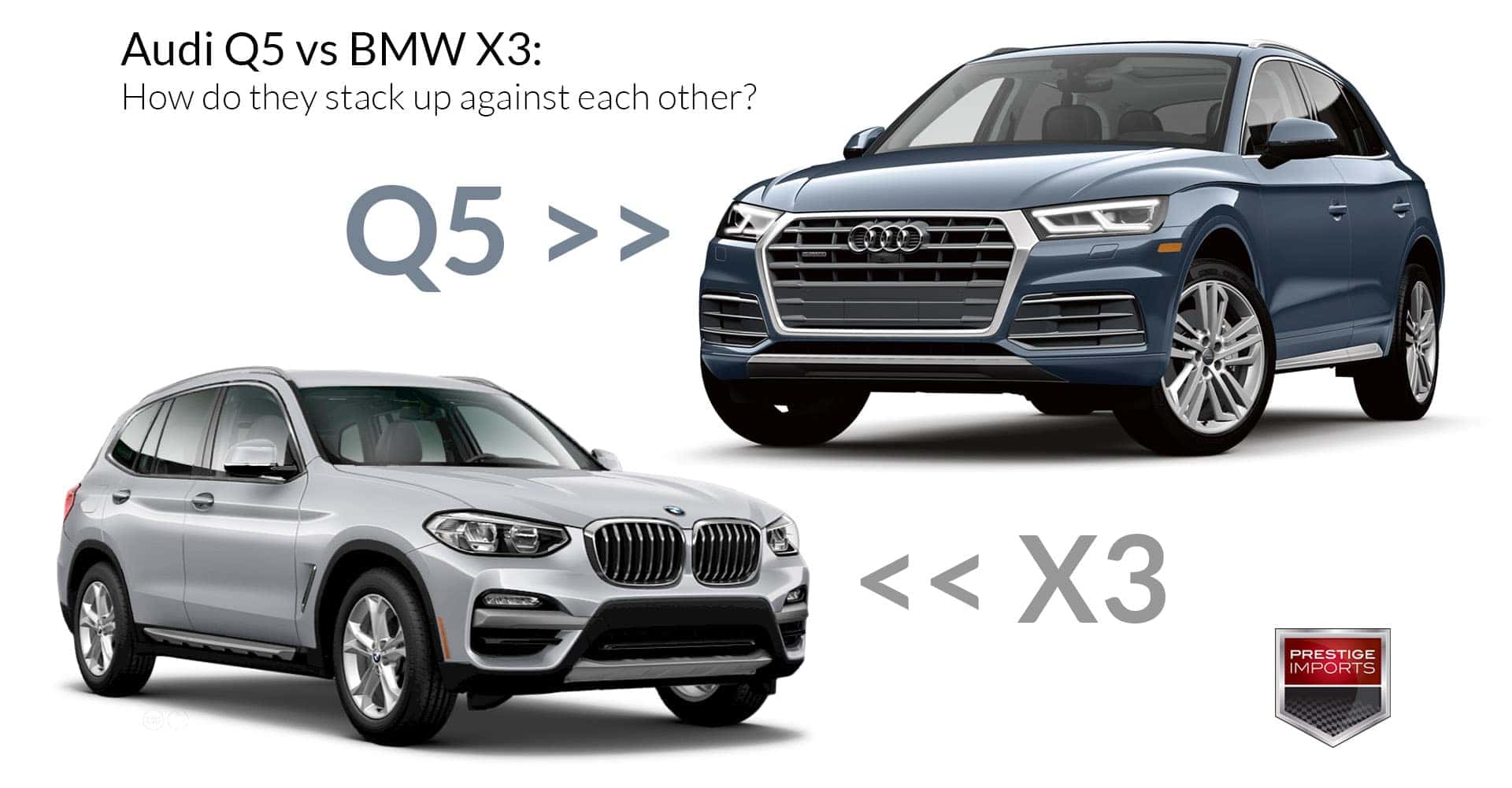 Making the jump from a safe economical car to a compact SUV is both practical and exciting.
On one hand, compact sport utility vehicles comfortably carry more passengers and plenty of cargo. They're also generally safer and their once-notorious gas mileage has greatly improved.
On the other hand, if you're used to Subarus, Nissans, or Toyotas, the jump to luxury can be exciting.
There are lots of options clamoring for your attention, though. In particular, you may be wondering about one particular matchup: Audi Q5 vs BMW X3?
They're both popular models and we're going to get down to the pros and cons here today.
Why a Compact Luxury SUV?
Before we get into the details of different models, let's consider why you would want this type of car to begin with .
As stated above, SUVs in and of themselves provide a lot of practical advantages.
They're comfy, roomy, and prove themselves to be capable of rougher terrain. In particular, if you're prone to driving rough mountain roads or over ice and snow, such as in Colorado, an SUV might be a perfect choice.
Compact SUVs, though, still retain that smaller, sleek, and sporty feel that many larger SUVs simply lack.
Regular SUVs can be like driving a tank (if that's your thing), but a compact SUV can provide that sporty sedan feel that BMW and Audi owners clamor for.
A compact SUV can make for a much easier transition overall.
Finally, going luxury is a no-brainer.
While not a necessity, stepping into the supple, decked-out interior of a proper luxury SUV is a rewarding experience.
When you go to get coffee, is a latte necessary over a plain cup of joe? No. You just need caffeine.
When you go shirt shopping, is two-ply combed cotton necessary over any run-of-the-mill shirt choice? No. You just need to be clothed.
Luxury cars are similar. Life is short, and there's no reason not to treat yourself once in a while when you've earned it.
Head-to-Head: Audi Q5 vs BMW X3
The Audi Q5 compared to BMW X3 is a lot like comparing an Audi A6 and a BMW 5 Series.
They're pretty similar when it comes down to it, and you can't really go wrong with either. Yet, there are small differences that could mean the world to you.
The devil's in the details, and we aim to find those details for you.
So let's take a closer look at these two top SUVs and help make the choice easier for you.
Budget and Price
The bottom-line price is what most people are interested in. Everyone wants the best toys, performance, and so on, but we also need to know what we're getting ourselves into.
According to BMW, the base model of the X3 has an MSRP of $41,000. Unfortunately, this price is for the rear wheel drive version of the X3. If you live somewhere with snow, like Denver, you'll need to pony up an additional $1650 for the xDrive version.
According to Audi, the base model of the Q5 has an MSRP of $41,500 and comes standard with quattro all-wheel drive.
Obviously, these prices may not be what you'll spend, depending on upgrades and options, or buying used, or special manufacturer incentives.
Although the Audi does come out on top in this category, we're talking about a pretty minimal difference. $1150 on a $40,000+ MSRP is insignificant when you're talking about a long-term purchase.
Fuel Economy
If you're coming from wallet friendly sedan, such as a Honda Civic or a Ford Fusion, fuel economy might be one of your considerations. But keep in mind, you're upgrading. It may be time to put some budgetary constraints on the back burner.
Still, old habits die hard, and fuel economy is an important aspect to keep in mind, regardless of whether you're moving up in the world or not.
Here's a quick breakdown . . .
Audi Q5: City: 23mpg, Highway: 27mpg
BMW X3: City: 22mpg, Highway: 29mpg
The above stats are according to Kelly Blue Blook, and your personal mileage ultimately hinges on variables like your driving tendencies and your regional roads.
Still, these two vehicles are clearly neck-and-neck, and with a combined 25mpg for both, the options aren't exactly narrowing so far.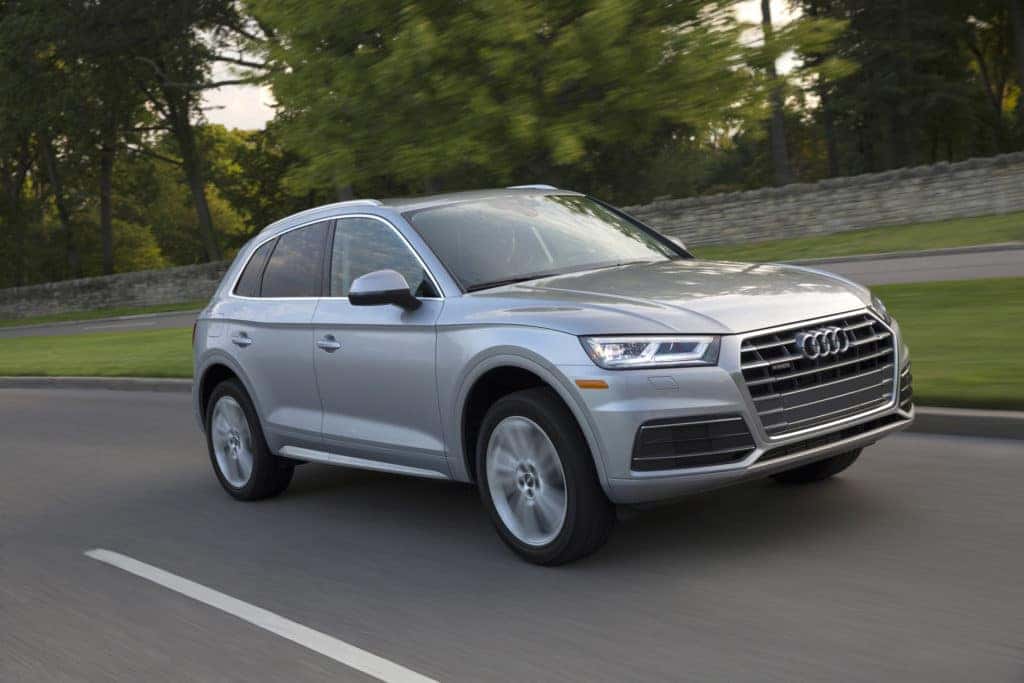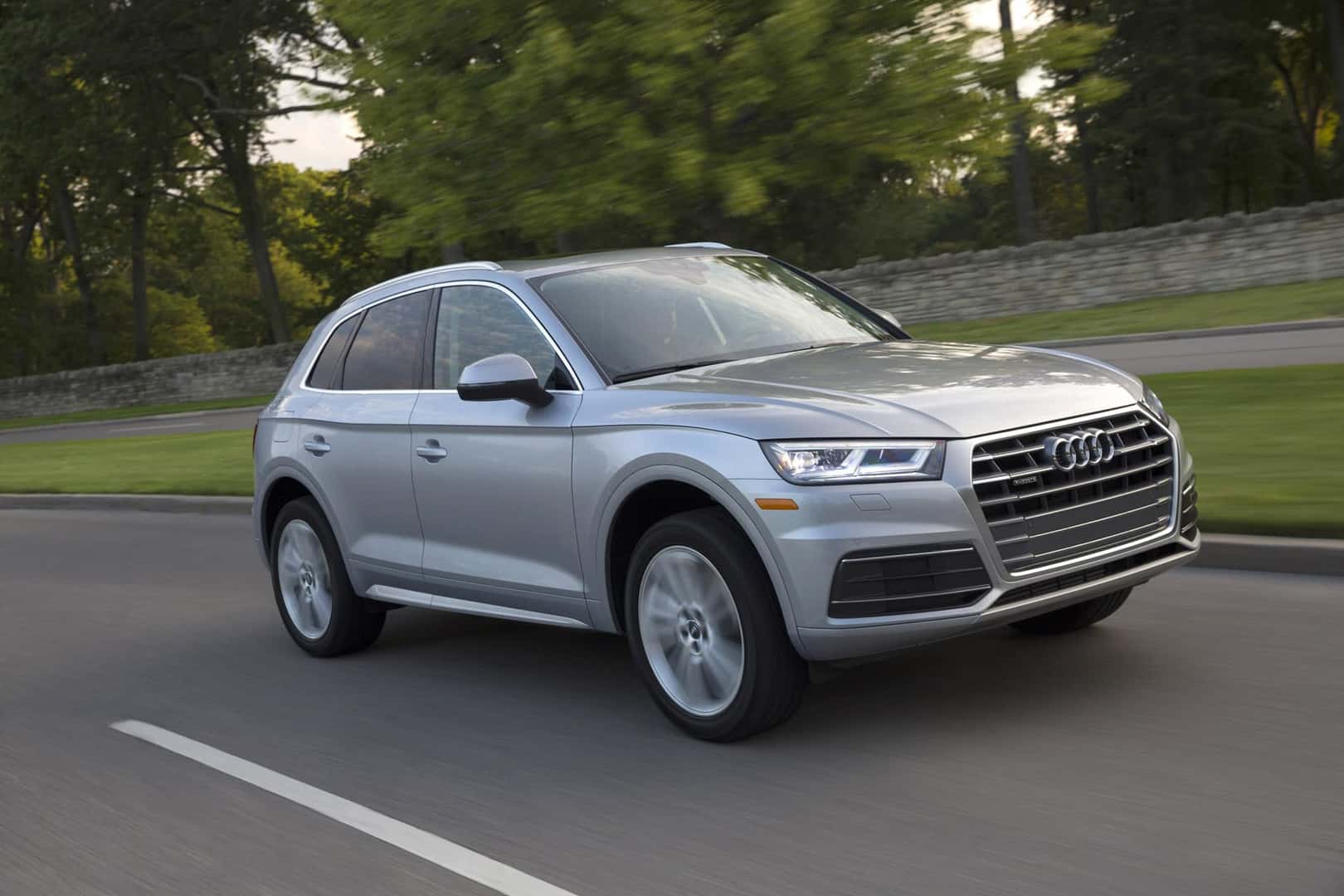 Power Behind the Wheel
When looking at the Q5 versus X3 from behind the wheel, technology may be the first thing you notice, but the engine is the first thing you feel.
The Audi Q5 starts with a two-liter turbocharged four-cylinder engine boasting an impressive 252 horsepower. Alongside the legendary quattro all-wheel-drive system, the Q5 is able to adapt to changing road conditions on the fly, and it's grippy on sharp turns.
For Denver drivers this is especially helpful as you'll face plenty of rocky and icy terrain and inclement weather throughout much of the year.
In fact, with the optional adaptive or air suspension, this car glides over bumps like a cloud. It's sort of a dream-like feeling overall.
The BMW X3, on the other hand, lacks that comfortable air suspension.
The X3 claims 248 horsepower with its two-liter 30i engine. It's only slightly less impressive than the Q5's claim to power.
However, you can upgrade to the M40i. It's a three-liter, six-cylinder engine that reaches a peak of 355 horsepower.
It will cost a pretty penny, though. In fact, it will cost 1,350,000 pretty pennies (total base price $54,500).
Not to be outdone, Audi offers the SQ5. This upgrade on the standard Q5 provides a turbocharged 354hp 3.0 liter V6 engine at a base price of $54,300.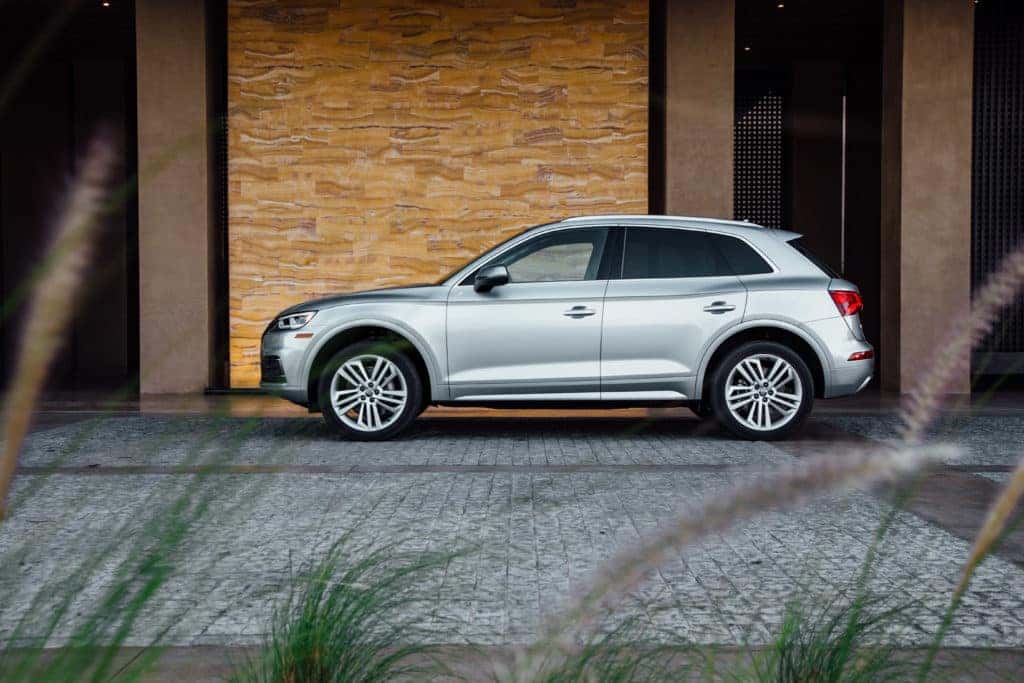 Exterior Design
"It's what's on the inside that counts," some will say.
While that may very well be true of people, it's not necessarily true of objects, such as luxury SUVs like the Audi Q5 or BWM X3.
The outside counts for a lot too. As vain as it may sound, you want people to enjoy the look of what you drive as much as you do.
There are enough difficulties in life as it is. If you have something nice like a luxury car, it's a great way to blow off steam and feel good about something.
The problem with this category, though, is that it's entirely subjective.
What's aesthetically pleasing to you may not be to someone else and vice versa.
The Audi Q5 and BMW X3 are both nice looking cars. There isn't a whole lot to complain about in the first place, but when backed against a wall, our money is on the Q5.
The Q5 has a really sleek design. Its large and angular grille gives it an aggressive look that always seems to rule the roads.
BMW has the signature kidney-shaped "flared nostril" grilles. While that look certainly has its fans, it's a little more niche.
The look is a bit odd and it's not going to be for everyone.
The Q5, on the other hand, has a modern and sleek design that looks good while in action no matter what.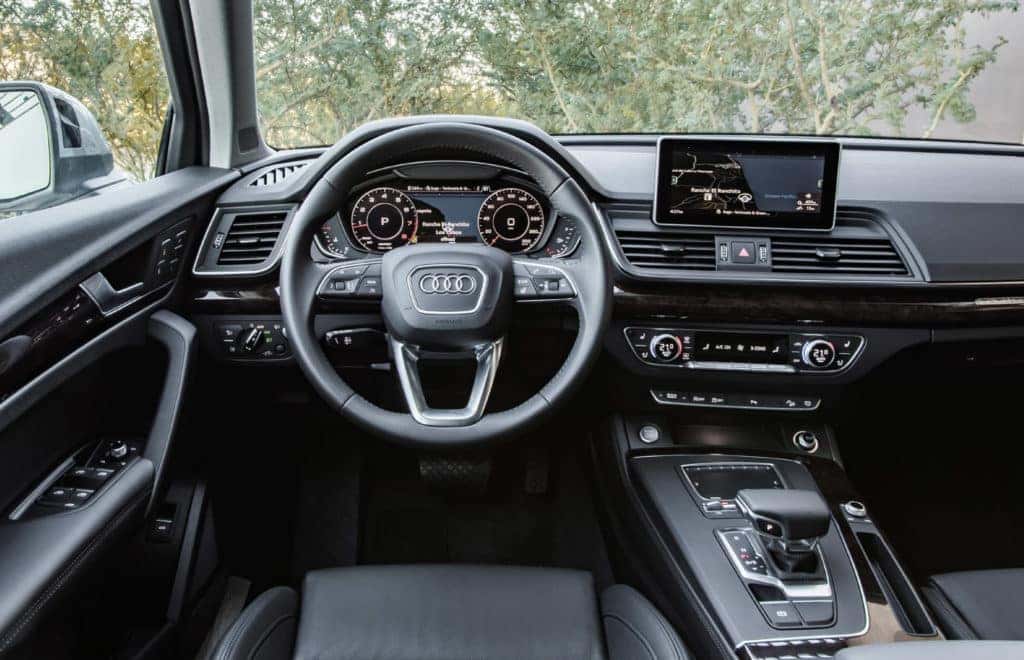 Tech and Interior
A fast, powerful, and handsome car is all well and good, but one of the other things you look for in luxury cars is the feel and toys on the inside.
Both the Q5 and X3 have impressive interiors. There's no denying the build quality and materials of both cars.
You're not going to find a lot of cheap plastic in either of these cars. Furthermore, the sleek dash and wood and aluminum accents always feel high quality.
That being said, the Audi Q5, compared to the BMW X3, has a more sensible layout. The accents and touches of quality materials simply stand out just ever so slightly more, too.
As far as tech is concerned, it costs an upgrade, but the Audi Q5's Multi Media Interface (MMI) navigation system has few contenders.
It's simply a gorgeous digital display for your dash that is both high-tech and efficiently responsive.
Cargo Space and Comfort
Let's not forget that these cars are not only luxury cars but SUVs as well.
If you're buying one of these vehicles, chances are that you're trying to carry a decent amount of luggage, cargo, or passengers.
Both vehicles are five-seaters, so the passenger capacity is the same, but in this category the edge goes to the Audi Q5 due to legroom and a more comfortable middle backseat. The optional choice of having backseats that recline and move back and forth make for a more versatile ride-along experience.
Friends and family will probably feel more comfortable driving along with you in a Q5 than an X3.
The X3 is not uncomfortable by any means, but fitting that fifth passenger into the backseat is going to be a comparative nightmare.
When talking about cargo, both cars offer about the same space size when the back seats are laid down.
There may seem to not be a whole lot of differences there, but the Q5 has the advantage of starting with more cargo space when the back seats are upright.
So, with the Q5, carrying passengers comfortably and more cargo at the same time is an easy win.
Our Final Answer: Audi Q5 or BMW X3?
Short answer? Audi Q5.
Longer answer? It's tough when considering Audi Q5 vs BMW X3. They're both good cars, to be honest, and some of the categories are a little more subjective than others.
But it's not just about a powerful engine, quality materials, or brand new technology. All of these elements need to come together in harmony like a beautiful symphony.
When riding in the Q5, the virtually bumpless suspension, quality materials, intuitive navigation display, and comfortable cargo space make it an easy recommendation. It's a great all-arounder.
If you still have more questions about these two luxury SUVs or if you just want to talk about Denver luxury cars in general, contact us anytime!
***
Did you find this article helpful? Did we miss anything? If you have questions or comments, just click the button below. We are here to help!

Questions or Comments >>