Leasing an Audi: Options, Considerations, and Expectations
---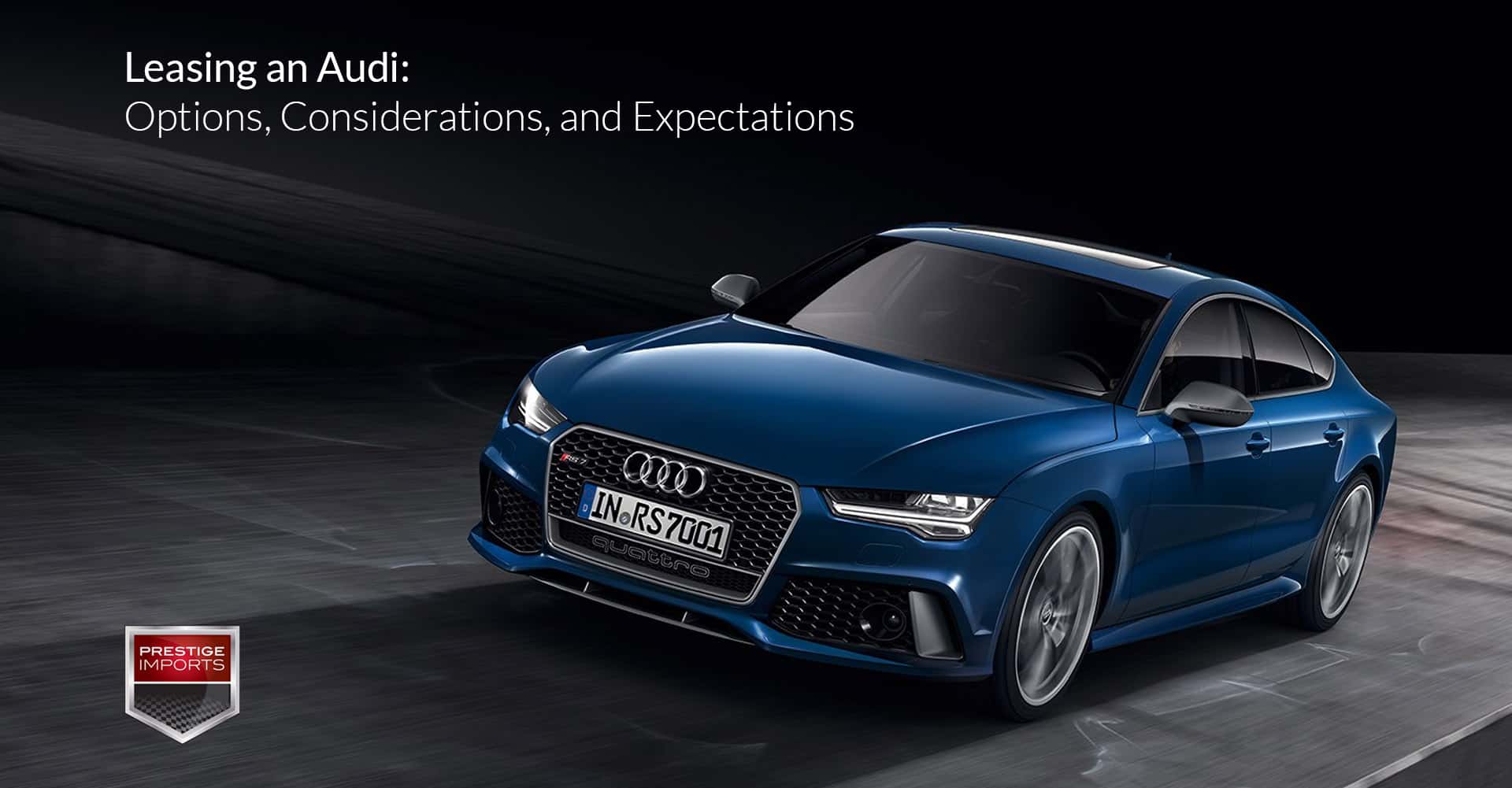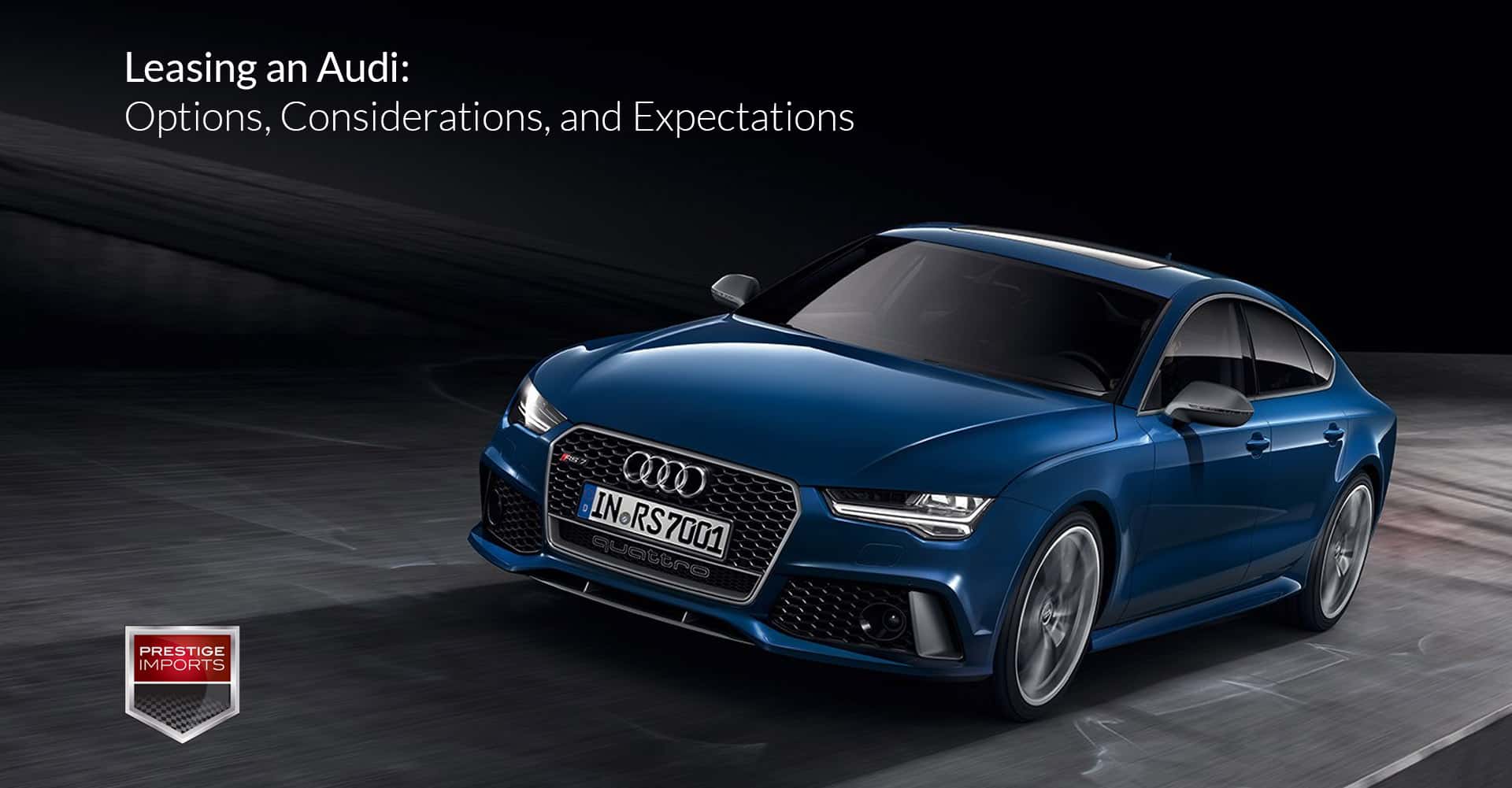 Leasing an Audi:
Pros & cons, an overview of the leasing process, and tips to get the best deal
As a driver, there comes a moment in your life when you realize that it's time to park your formerly-trustworthy-ride-turned-jalopy in the proverbial "scrapyard in the sky." And, unless you plan on immersing yourself in the joys of public transportation, you'll need to acquire another vehicle.
If you decide to outfit yourself with a new Audi, the first decision you'll have to make, then, will be whether to purchase or lease the car. But how do you know which option is the correct choice your lifestyle, driving habits, and pocketbook?
THE DIFFERENCES: BUYING VS. LEASING AN AUDI
In order to determine which route to take, you'll want to know the difference between buying and leasing an Audi. Well, what is the difference, you ask? The below table, which I pilfered from Consumer Reports, clearly outlines the different aspects of these two choices:
| | | |
| --- | --- | --- |
| | BUYING A CAR | LEASING A CAR |
| OWNERSHIP: | You own the vehicle and get to keep it as long as you want it. | You don't own the vehicle. You get to use it but must return it at the end of the lease unless you decide to buy it. |
| UP-FRONT COSTS: | Includes the cash price or a down payment, taxes, registration and other fees. | Includes the first month's payment, a refundable security deposit, a down payment, taxes, registration and other fees. |
| MONTHLY COSTS: | Loan payments are usually higher than lease payments because you're paying off the entire purchase price of the vehicle, plus interest and other finance charges, taxes, and fees. | Lease payments are almost always lower than loan payments because you're paying only for the vehicle's depreciation during the lease term, plus interest charges (called rent charges), taxes, and fees. |
| EARLY TERMINATION: | You can sell or trade in your vehicle at any time. If necessary, money from the sale can be used to pay off any loan balance. | If you end the lease early, early-termination charges can be almost as costly as sticking with the contract. |
| VEHICLE RETURN: | You'll have to deal with selling or trading in your car when you decide you want a different one. | You can return the vehicle at lease-end, pay any end-of-lease costs, and walk away. |
| FUTURE VALUE: | The vehicle will depreciate but its cash value is yours to use as you like. | On the plus side, its future value doesn't affect you financially. On the negative side, you don't have any equity in the vehicle. |
| MILEAGE: | You're free to drive as many miles as you want. (But higher mileage lowers the vehicle's trade-in or resale value.) | Most leases limit the number of miles you may drive, often 12,000 to 15,000 per year. (You can negotiate a higher mileage limit.) You'll have to pay charges for exceeding your limits. |
| WEAR & TEAR: | You don't have to worry about wear and tear, but it could lower the vehicle's trade-in or resale value. | Most leases hold you responsible. You'll have to pay extra charges for exceeding what is considered normal wear and tear. |
| END OF TERM: | At the end of the loan term (typically four to five years), you have no further payments and you have built equity to help pay for your next vehicle. | At the end of the lease (typically two to four years), you'll have to finance the purchase of the car or lease or buy another. |
| CUSTOMIZING: | The vehicle is yours to modify or customize as you like. | Because the lessor wants the vehicle returned in sellable condition, any modifications or custom parts you add will need to be removed before you return the car. If there is any residual damage, you'll have to pay to have it fixed. |
While one could quibble with some of the above details (e.g. early termination fees might not be that expensive), generally speaking, the above list provides a decent breakdown of the major differences between buying and leasing an Audi (or any other vehicle, for that matter).
LEASING AN AUDI: WHAT DOES IT ALL MEAN?
As the chart above demonstrates, there are plenty of differences between purchasing and leasing a vehicle. But, of course, the question then becomes: How in god's name should you process all of the information? Because, let's be honest, data is only as good as the critical analysis leveled upon it.
To this end, some initial assessments appear to be rather obvious: purchasing a vehicle will necessitate higher monthly payments; so, if you can't afford those payments, you'll be more inclined to lease a vehicle. Of course, the number of commas and zeros you have in your bank account isn't the only factor that affects your decision to buy or lease a vehicle. Yes, there are other factors to take into account as well.
In the brilliantly titled blog post "How to Lease a Car without being a DoucheNozzle," Tom McPharland of Adequate Man (which seems to be affiliated with Gawker's DeadSpin) lays out the following considerations:
How much do you drive? The first thing you need to figure out is how many miles you'll drive in a year. If you're under 15k, then you're good to go, but if you're commuting several hours a day and racking up the miles like a truck driver, [you'll more carefully need to consider] leasing.

Are you bothered by having a car payment? Some people hate car payments: They can't wait until their bank note is free and clear so they can drive without that burden. Leasing sets you up for a perpetual cycle of car payments, if this isn't your thing, back out now.

Do you take care of your car? No, this isn't a trick question, but you know your habits better than I do. Does your car acquire dings, scratches, and other damage at an alarming rate? Do you have a history of spilling food, coffee, mulch, body parts, etc. in your interior? If you return a lease car in worse condition then when you got it, be ready to get nickle-and-dimed for every little thing. If you see your vehicle as more of a "beast of burden" than an expression of yourself, leasing isn't for you.
Of course, that last "Do you take care of your car?" statement needs to be more fully considered. Because, in all reality, "taking care of your car" means different things to different people; and, frankly, your interpretation of that phrase could alter your decision as to whether you buy or lease. How so, you might ask? Well, in an article posted on U.S. News & World Report, Liz Opsitnik mentions that:
Many leases last about three years, which is typically the length of many new-car bumper-to-bumper warranties. That means the car is usually covered under warranty for repairs for the duration of the lease.
So, according to McPharland, if you don't "take car of your car," leasing is probably not the best option for you. In this circumstance, he's speaking about day-to-day, short-term maintenance. Conversely, if you do not want to take care of your car when it comes to long-term maintenance that might include bigger issues no longer covered under the initial warranty (4 year / 50K in Audi and Porsche's case), then leasing a vehicle could be the right decision for you. Obviously, though, if you have a "history of spilling…body parts" in your car, you might have bigger issues to deal with than deciding on purchasing vs. leasing your ride.
Finally, Opsitnik mentions another plus to leasing a vehicle: cutting-edge gadgets, gizmos, extras, and add-ons:
If you enjoy having the newest high-tech features, leasing could be the better choice for you. Since you'd be leasing every few years, each new car you lease will have the latest and greatest technology and safety features. With a leased car, you don't have to worry about selling the car or getting a good price for your trade-in. When the lease is up, you can simply turn in the car and walk away.
Yes, if you want to remain abreast of contemporary trends in the automotive industry, such as Audi's Virtual Cockpit and driver assist technology, leasing a car enables you to transition from one model year to another with a flexibility that purchasing a vehicle won't necessarily afford you.
YOU DECIDED ON LEASING AN AUDI. NOW WHAT?
If, after breaking out your handheld scale and weighing the pros and cons of buying versus leasing, you decide that the latter of these two options is in your best interest, there are several things you'll want to consider when deciding what vehicle is right for you.
Edmunds provides a quick but solid guide of leasing tips in "5 Easy Steps," which I've listed below (they also have a longer, 10-step list, but it may be a little bit of overkill; it's also a rather cumbersome, click-through article that is 11-pages in length). I've also taken the liberty of editing out any extraneous material for swifter and easier consumption:
1) Check Lease Specials: Automakers typically advertise deals that feature low monthly payments or zero cash at signing. In some cases, they may offer both. Though the low monthly payment may seem more appealing, it is usually a better move to get a deal with no down payment. Down payments — also known as cap reductions — should be kept to a minimum in leasing. If you happen to get into an accident soon after leasing the car, gap insurance (which covers what traditional car insurance doesn't) will take care of the major expenses, but your down payment will be lost.

2) Locate Your Vehicle and Compare Quotes: Once you've narrowed the cars down to a few candidates, call or e-mail the Internet manager to verify that the car has the options you want. Ask about any additional fees that may not have been listed in the advertisement. Be sure to mention any current lease specials to your dealer contacts and verify whether they will give you that price. You should easily be able to get four to six dealer quotes in an hour. Not every car described will match your ideal configuration, so you may have to be flexible on options and color in order to get the best deal.

3) Review the Lease Agreement: Arrange to have the vehicle delivered to your home or workplace, whichever is more convenient for you. In the meantime, call your insurance company and let your agent or customer-service representative know that you'll need coverage for your new car. Once the car arrives, take a close look at the lease agreement. Make sure that your personal information is correct. You don't have to read the whole thing top to bottom, but pay attention to important lease-specific details such as: length of the lease in months, amount due at signing, number of miles allowed per year, monthly payment (including taxes and all fees), and inclusion of gap insurance.

4) Take Delivery: After you have signed the paperwork, have the salesperson walk around the vehicle with you. Make sure there are no scratches, dents or dings. Make sure you get an owner's manual, a spare key and a copy of the lease agreement. Most dealers throw in a full tank of gas and a car detailing, so ensure that's been done. Now is also the time to ask any last-minute questions you may have about the vehicle. Ask the salesperson anything you want to know, from pairing your phone with the vehicle via Bluetooth to operating the navigation system.

5) Manage Your Lease: It is important to have the maintenance performed at scheduled intervals. Consult the owner's manual for more information. Make sure that you stay within your mileage limits to avoid extra fees at the end of your term. The typical range is between 10,000 and 12,000 miles per year.
With regard to the first enumerated item on the above list, Audi regularly offers leasing specials, which are listed on their main website. Likewise, Prestige Imports extends exclusive Audi lease specials to our customers as well.
It's also important when looking over your lease (i.e. before signing it) to be 100% sure of what each term in the lease means. To that extent, you'll want to read through a "Lease Glossary" to ensure that you're familiar with all the words used in document. Cars.com boasts a thorough and easily readable glossary that should help you with any confusing or unfamiliar language you encounter during the process.
WHAT HAPPENS AFTER LEASING AN AUDI
Once the lease on your Audi expires (the lease length, typically, is 36 to 42 months), you'll need to reconsider your position with regard to your transportation options. To begin with, you might have to pony-up for applicable fees, such as excess wear, outstanding payments, other charges specified in your lease agreement that have not been paid, excess mileage charges, and state fees. If you decide to lease another vehicle, though, these fees could be reduced or waived. Ultimately, many variables exist with regard to your fees, so you'll want to know what you are (and are not) liable for when negotiating your lease. You could also choose not to enter into another lease agreement with the dealership. In that case, you will be subject to an Audi "Disposition Fee," which occurs when the lessee (i.e. you) does "not lease or purchase a new or Certified pre-owned Audi through AFS within 90 days of turn-in." Since you initially chose to lease a vehicle, though, you may very well elect to lease another vehicle with Prestige Imports.
There's also the option of purchasing the car you've been leasing once your agreement expires. Usually, this happens when you "fall in love" with the vehicle and want to continue your relationship with it. Of course, before deciding upon whether or not to buy the car at the conclusion of your lease, you'll want to "crunch the numbers," so to speak, in order to ensure that this decision makes the best sense for you. As stated in the Bank Rate article "The Lowdown on Buying your Leased Car":
When you sign a lease, you pay the difference between what a car is worth today and what it is expected to be worth at the end of the lease, plus a monthly fee to the finance company. In leasing language, today's value is called the "capitalized cost." Tomorrow's value is called the "residual value."
To this end, you'll need to pay the "residual value" and a "purchase-option fee," the value of which will be stated in your lease agreement. Once you know these numbers, research the dealership and wholesale values of your car. Is it more, less, or equivalent to the price you're being offered? Additionally, one of the perks to buying out your lease is the possibility of achieving "Certified Pre-Owned" status, which can heighten the resale value. Generally speaking, though, if you believe that you might keep the car you lease, buying (instead of leasing) might be your best option.
LEASING AN AUDI AT PRESTIGE IMPORTS IN DENVER, CO
If you want to find out more about leasing an Audi, including specific details on any new vehicle that Prestige Imports has in-stock and for what monthly payments or rates you qualify, stop by the dealership at 9201 West Colfax Avenue in Lakewood, CO located between Wadsworth and Kipling. You can also call ahead to make an appointment with someone in our Sales Department. Our phone number is (833) 825-5423. We look forward to working with you.