How I discovered the advantages of leasing a vehicle
---
Editor's note: In this article, Heather Pridemore, our Marketing Manager, describes her circuitous path to discover the advantages of leasing a vehicle.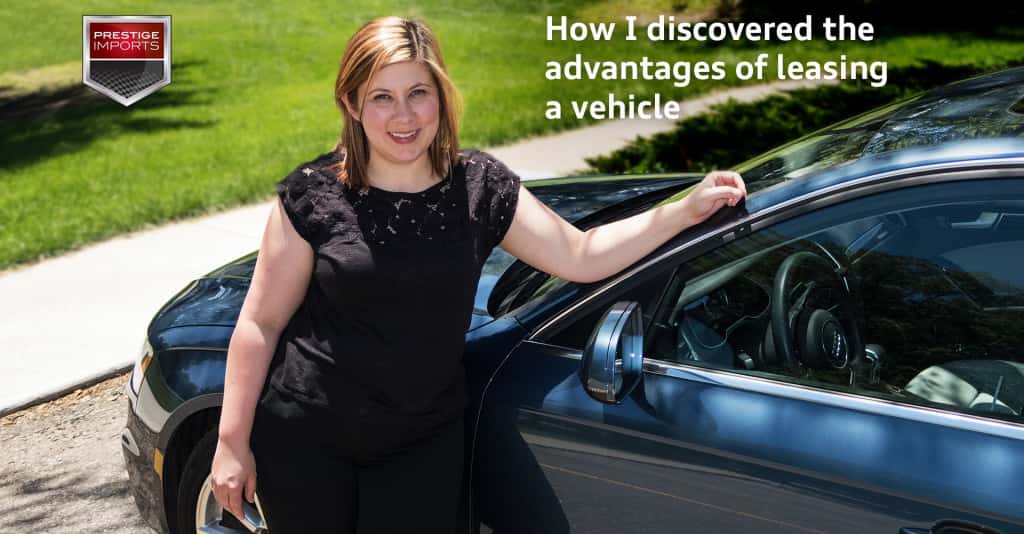 I bought my first car at the age of 16. That is to say my parents financed it in their names, but I made the down payment and the monthly payments. It was a used 1998 Purple Dodge Neon, and while I don't remember the exact terms of the finance deal, I can tell you that the purchase was made in 2000, and in the summer of 2006 I was close to having the vehicle paid off. By that time the Neon had racked up a lot of miles – my college commute was an hour and twenty minutes, and even after I moved closer to campus I still made the long drive home once a week to see my family. My little purple car had lost its sparkle. It needed a lot of work (I had been pretty hard on it those first couple of years) and it wasn't really worth anything. I decided it was time for a new car.
My list of wants was simple: heated leather seats, CD player, power seats, and a retractable sunroof. I needed monthly payments $350 or less, so I was only considering pre-owned vehicles. After researching cars online I determined I wanted a VW Passat. After visiting different dealerships, everything from the small family owned lot to the high volume store, and experiencing the gamut of stereotypical dealer experiences, I finally visited a luxury dealership. They represented several different makes: Maserati, Land Rover, BMW, Audi, Porsche, and VW. I walked in assuming I couldn't afford anything and feeling uncertain anyone would even be willing to assist me. To my surprise I was greeted warmly and assisted promptly.
Initially, they didn't think they had a vehicle in stock that met my criteria, but my sales representative recalled a trade-in from earlier in the day that he thought might interest me. We walked back to the service department where it was waiting to undergo it's Certified Pre-Owned inspection. I'd like to say it was love at first site, but it was more like "like at first site". Initially I was overwhelmed by all the beige on the interior, but the price was right, and I had test driven another Passat and knew it was the model I wanted. I ended up financing the vehicle for 4 years, with GAP and Wheel Insurance, all for $350 a month. Later that day, after they had completed the inspection, I drove my new-to-me 2002 VW Passat home. I couldn't have been happier, and I truly loved the car.
After moving across the country twice, and graduating with my Masters degree in 2010, it was time to decide where my husband and I would settle down and start our family. Once again I was close to paying off my Passat, but due to the upcoming move we felt an SUV would be a more practical vehicle. We settled on a 2004 White Nissan Pathfinder – Limited Edition, Platinum Package – it had all the features of my previous vehicle, and then some. But after we made the journey to Colorado we were in need of a second vehicle, and since I grew up in Florida and didn't have much experience driving in the snow, I needed something with All-Wheel-Drive. We attended one of the big tent sales and overall it was a disappointing experience; however, I did end up financing a 2008 Subaru Legacy. The term of the finance contract was 5 years and I was paying almost $400 a month. Combine that with the limited features on the Subaru and I was ready to get a different vehicle after only a year. Of course, it didn't help that I had started working at Prestige Imports and the Audi vehicles had all the features I wanted and were a dream to drive.
When Summer of Audi offers came available on the 2013 models I made the decision to get a new vehicle. I had a pattern of switching cars before paying them off, and generally speaking I was itching for a new car long before I actually pulled the trigger on purchasing one. So I decided it was in my best interest to lease a vehicle.
My first brand new car was a 2013 Brilliant Black Audi A4 with two tone Velvet Beige/Moor Brown interior. The Audi was beautiful and was a huge step-up from the Subaru Legacy, but true to form, the 2015's arrived in the showroom and I was ready for an upgrade. My current car is a 2015 Utopia Blue Audi A4 S-line with two tone Titanium Gray and Black interior. The 2015 A4 is an incredible car and I am loving it, but I know within a few years (probably more like two) I will be ready for a change.
With all these purchase experiences behind me, I have come to the conclusion that leasing a car isn't really any different than the other luxuries in my life. I pay a monthly fee to stream music, I buy movies on demand, I pay monthly to license software for my computer, along with a slew of other things that I pay only for what I use. I don't own an elliptical machine, a treadmill and a room full of dumbbells, I pay monthly to use these things at the gym. Why should my car be any different? If, after reading about my personal journey to leasing, you are still on the fence about the advantages of leasing a vehicle, I challenge you to consider your own habits, your own needs, and what you ultimately want.
The short version of this story is that I was financing used vehicles because I thought that was how I could get the payments I needed. I was carrying negative equity because I kept getting out of those cars early, and the negative equity would then snowball, increasing the monthly payments. I have come to terms with the fact that I will always have a car payment – that's just who I am; but now I can have the option to always be in a new car. And if you think you might be like me, then I hope you'll have a conversation with your brand specialist about your leasing options.
***
Did you find this article helpful? Did we miss anything? If you have questions or comments, just click the button below. We are here to help!

Questions or Comments >>

This article was written by Heather Pridemore, Marketing Manager at Prestige Imports. Learn more about Heather on her LinkedIn Profile.