The top 4 reasons to buy genuine Audi accessories
---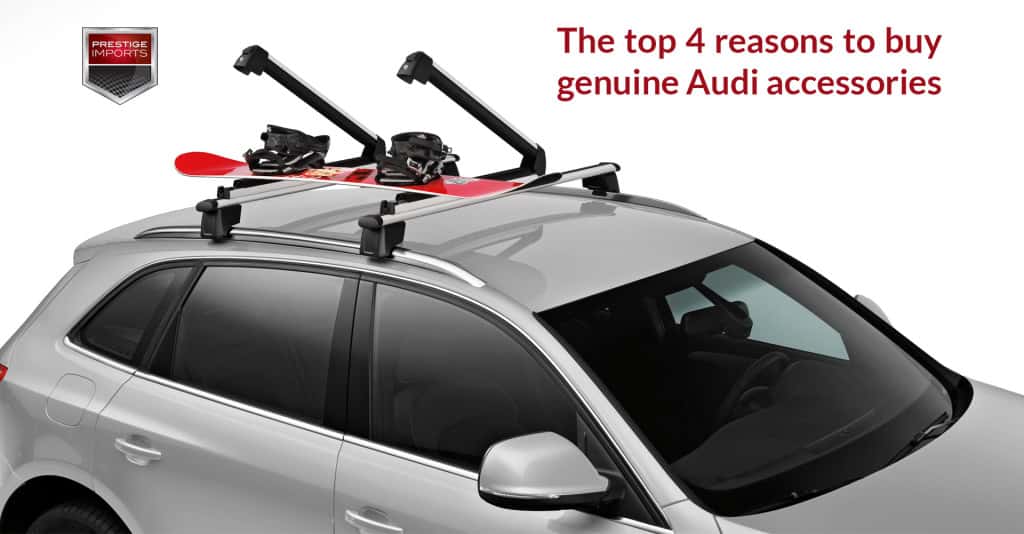 Most people know that there are aftermarket companies that make various accessories that will adapt to Audi vehicles. The common belief is that genuine Audi accessories are significantly more expensive than these aftermarket accessories. The truth is that in some cases they may be only slightly more expensive and in some cases they are actually less expensive than the aftermarket alternatives. So, why is it important to buy genuine Audi accessories?
Genuine Audi roof bar sets and attachments undergo crash testing, while installed on Audi vehicles, to ensure product quality as well as vehicle safety.
Genuine Audi car care products are extensively tested on all applicable surfaces of the vehicle to ensure that the chemicals will not damage the vehicle's finishes, surfaces, or materials. This is especially important for wheel cleaner. Many aftermarket wheel cleaners are known to harm the finish on automotive wheels (not just Audi)
Genuine Audi tire and wheel sets (winter and summer) use genuine Audi wheels. This is an obvious but crucial point. Many aftermarket wheels need spacers or special adapters to fit on Audi vehicles. This can affect handling, vehicle wear, ABS/traction control operation, and low tire pressure warning system.
When genuine Audi accessories are purchased at the time of an original new vehicle purchase, the accessories assume the new vehicle limited warranty of 4 years/50,000 miles (whichever comes first). Additionally, the cost of the accessories can be rolled into the financing of the vehicle and will only slightly increase the monthly payment.
Audi vehicles are among the most technologically advanced automobiles on the market, and millions of dollars are invested in ensuring that the accessories and products meet Audi's strict safety requirements and vehicle specifications. It is because of this, and the items listed above, that it is so important to use only genuine Audi accessories.
***
Did you find this article helpful? Did we miss anything? If you have questions, or ideas for future articles, hit us up in the comments. We are here to help!
This article was written by John Bunn, Parts Manager at Prestige Imports.