Genuine Porsche & Audi Floor Mats: 3 reasons to avoid aftermarket mats
---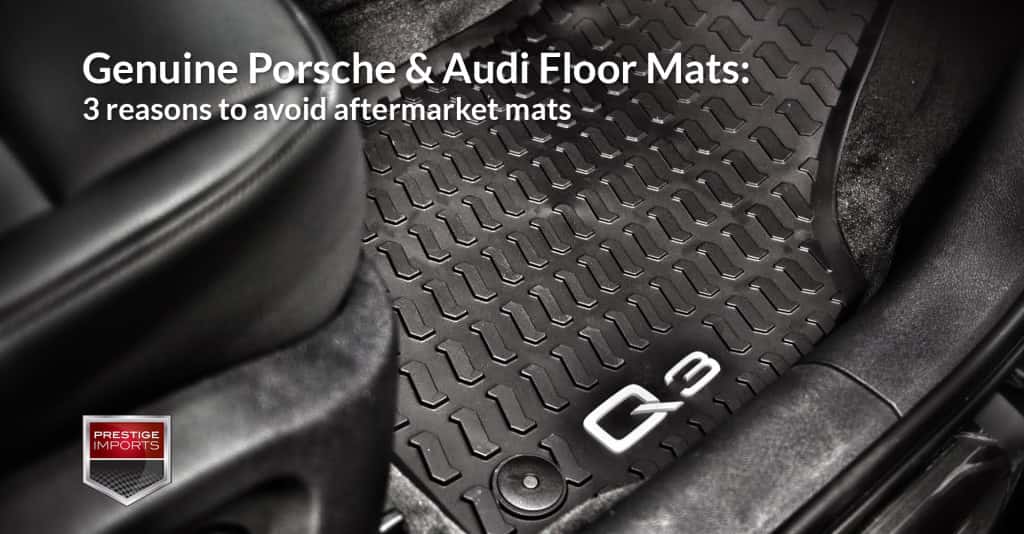 Style
The most superficial reason for avoiding aftermarket floor mats and use genuine OEM Porsche or Audi floor mats is simply how they look. Audi and Porsche put a lot of effort into the design of their vehicles, including the mats, which are cut specifically to fit the layout of your vehicle and to compliment its lines. They are also designed to lock in place.
Aftermarket mats are designed to be generic so that they can be used in many different makes and models. Many of the Audi and Porsche floor mats are badged with the model of the vehicle adding additional character and style.
Quality
Audi and Porsche are synonymous with quality and that includes the quality of their mats. The problem with aftermarket mats is that they can be bulky (causing safety issues). They can also get stiff or broken down in a relatively short period of time. OEM mats are made of high quality products and are reflective of the Audi and Porsche brands.
Safety
If you are unfamiliar with "Unintentional Acceleration" consider yourself lucky, because when you're experiencing it firsthand it's very scary. Imagine yourself on the highway and traffic is moving at a good pace but there are cars all around you. Suddenly your car begins to accelerate like it has a mind of its own. You take your foot off the gas but your speed continues to climb. You respond by putting your foot on the brake – you need to slow the car down and avoid crashing into any of the cars around you. The brake is doing little to help and you are running out of ideas.
I have personally experienced Unintentional Acceleration and it was caused by using aftermarket mats. Unbeknownst to me, the mat slipped forward, pressing the accelerator and holding it down. I'm just glad I wasn't alone – two minds are better than one, especially in a crisis. We ultimately switched to tiptronic mode and down shifted as we made our way over to the side of the highway.
Edmunds did an investigation into Unintentional Acceleration and provides tips for getting the vehicle to safety – Click here for the article – of course avoiding aftermarket mats and making sure your OEM Porsche or Audi floor mats are installed properly will keep you from experiencing this issue.
For additional peace of mind, Audi crash tests all of their parts and accessories so you can breathe easy knowing that the enhancements you've made to your vehicle will in no way compromise your safety. Here is a short video from Audi UK regarding OEM Audi floor mats.
To get your genuine OEM Porsche or Audi floor mats, be sure to contact the Prestige Imports Parts Boutique at (833) 825-5423
***
Did you find this article helpful? Did we miss anything? If you have questions, or ideas for future articles, hit us up in the comments. We are here to help!
This article was written by Heather Pridemore, Marketing Manager at Prestige Imports.