2017 Audi Q7: Technological Highlights of the New Redesign
---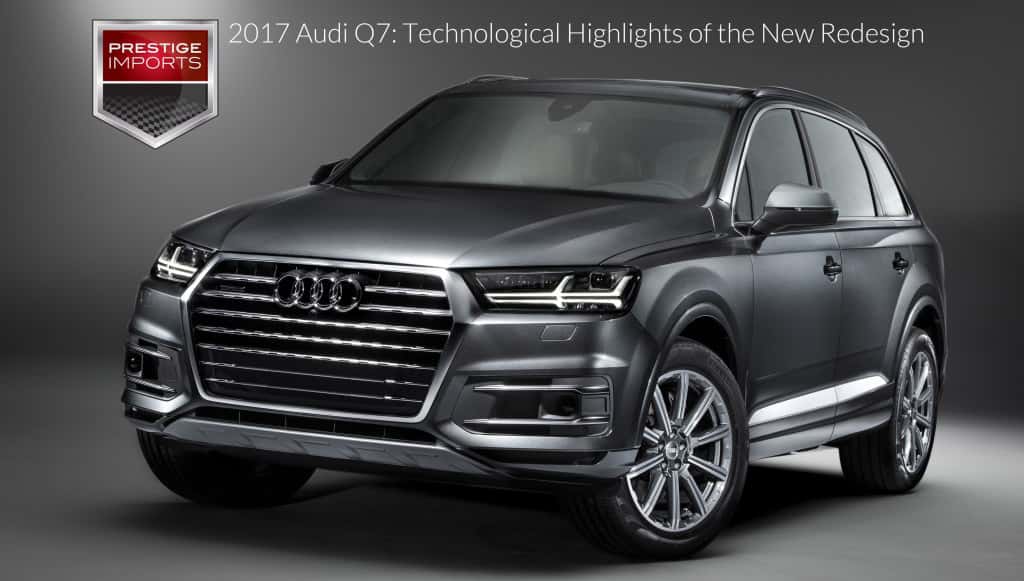 2017 Audi Q7: Performance & Technology

A few weeks ago, Audi announced its feature guide and pricing information for their new, 2017 Q7 (CLICK HERE to view our inventory).
Originally launched in 2005, the Q7 is Audi's full-size luxury crossover SUV. The 2017 model, though, is the first major redesign of the vehicle. The overhaul allowed engineers at Audi to re-imagine many characteristics of the SUV, creating a versatile and contemporary Q7. Not only has the Q7 adapted to Audi's recent "design language" that other models have experienced (as one can see in the above and below images), but it's also dropped 475 pounds. Shedding the extra weight has transformed the vehicle into a more economical machine, improving gas mileage and handling.
The full list of alterations in the 2017 Q7 is as impressive as it is extensive. You can find the entire list of updates in Audi's promotional post at their Newsroom. Below are a few of the important, technological upgrades:
2017 Audi Q7 – Virtual Cockpit:
I've discussed Audi's new Virtual Cockpit more thoroughly in a previous post, but it's worth noting that the Q7 will be one of the first vehicles in Audi's fleet to be equipped this technology. Moreover, Audi's promotional copy boasts that the interior of the new Q7 makes it "one of the most advanced SUVs on the road today." The Virtual Cockpit offers multiple display views and a more intuitive interface.
2017 Audi Q7 – Audi Connect:
Audi Connect is a fully-integrated UMTS interface equipped with LTE. Ostensibly, this means that if you download the Audi Connect app for your smart phone, it will synch up with your vehicle. In fact, it allows your vehicle to function as a mobile hotspot for up to eight devices.This will allow you to access maps, locations, weather, and social media platforms. The interface offers both a touchscreen and voice activated commands. Below is a brief overview video explaining the feature:
2017 Audi Q7 – Apple Carplay and Google Android Auto:
Audi now lets you interact with your smart phone through both Apple and Google's proprietary interfaces. To this end, you will be able to access the features on your phone (such as music, text messages, and contact information) on Audi's MMI with the visualizations you're used to engaging on your mobile device. The geeks over at The Verge conducted video reviews of each system, which you can watch below:
While the reviewer seems to suggest that Android Auto is superior to Carplay, you're more or less stuck with one or the other based upon what type of smart phone you own. Regardless, he does argue that either one of the interfaces are better than most infotainment systems which manufacturers provide as standard features.
2017 Audi Q7 – Park Assist:
Audi uses a series of ultrasound, acoustic, and optical signals in order to control its Park Assist technology. Not only does the new system help you to park in standard, forward and reverse situations, but the new technology also assists you with parallel parking. While this technology has appeared in other models before, this will be the first time its appears in a Q7. Given that the Q7 is the largest vehicle in the Audi fleet, the Park Assist will be a much appreciated upgrade. In the below video, an Audi engineer offers a Slash Gear reviewer the chance to "test park" the new vehicle:
2017 Audi Q7 – Parallel Park and Exit Assist:
As mentioned above, the new Park Assist technology provides assistant when parallel parking. But, as an added feature, it also integrates sensor technology on all four doors that warns passengers as to whether or not objects are outside the vehicle. This will be helpful especially in urban environments in which bicyclists, pedestrians, and other vehicles on narrow roadways might cause side collisions or damage. Again, here's an Audi engineer demonstrating the system for a Slash Gear reviewer:
If you'd like more information regarding the 2017 Audi Q7, call Prestige Imports at
(833) 825-5423
. If you'd like to
test drive a Q7
or another Audi (or Porsche) vehicle in our inventory, stop by the dealership at 9201 West Colfax Avenue.
***
Did you find this article helpful? Did we miss anything? If you have questions or comments, just click the button below. We are here to help!

Questions or Comments >>