Audi, Porsche, and John Hughes: Three Movies
---

Audi, Porsche, and John Hughes
Recently, I posted an article about films in which Porsche vehicles appeared and played a prominent role in the narrative. Specially, I referenced Risky Business, Sixteen Candles, and Bad Boys as prime examples of such movies
Over the course of the past several weeks, though, I've been knee-deep in 1980s-era John Hughes films. And guess what? Hughes absolutely adored luxury cars and would regularly insert them into his pictures.
Below, I've listed three Hughes films that I've watched during the past two weeks which feature either Porsche or Audi vehicles.
Weird Science (1985):
In a modern twist on the Frankenstein myth, uber-geeks Gary (Anthony Michael Hall) and Wyatt (Illian Mitchell-Smith) create their ultimate fantasy woman through a series of ridiculously lo-fi computer programs and a rather convenient electrical storm. Their supermodel "monster" Lisa (Kelly LeBrock) also possesses the unique ability to manifest any object out of thin air. Toward the end of the film, Gary and Wyatt need to drive their new love interests home from a party; in order to assist them, Lisa conjures up a couple sports cars, one of which is a black 1984 Porsche 928: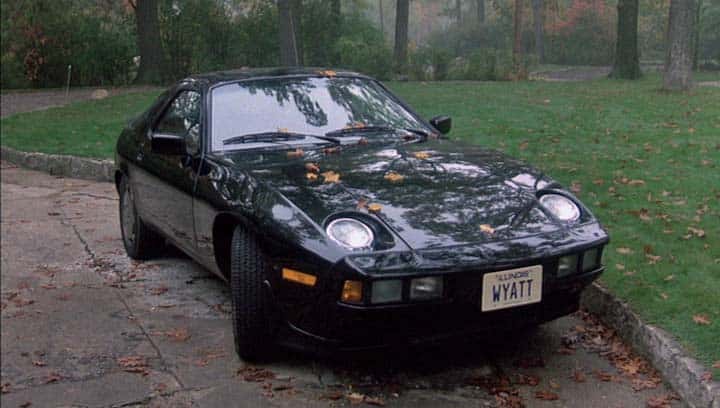 Unfortunately, once the boys drop their lady friends off at their respective houses and return home, the cars evaporate into the ether; Lisa disappears soon thereafter. Ah, boy's dream can only last for so long, I suppose.
Pretty in Pink (1986):
This is the story of a boy (John Cryer) who loves a girl (Molly Ringwald) who loves another boy (Andrew McCarthy) who happens to be confused about whether or not he's a complete jerk. Oh yeah, it's also the story of the other boy's best friend (James Spader) who's not confused as to whether or not he's a complete jerk. He knows damn well that he's a complete jerk. Spader plays Steff McKee; and like any insanely, over privileged teenager living in an upper-crust Chicago suburb during the 80s, he drives a bright red Porsche 911 with black trim: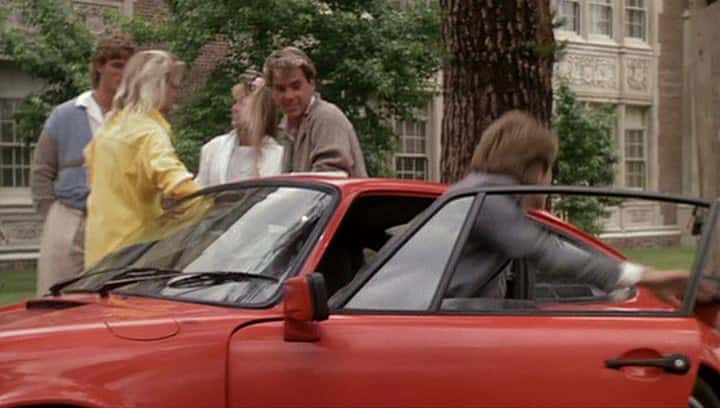 Steff is a mega-sleazeball; but it's practically impossible not to love the character. He's the only person in the film who is totally confident in who is as an individual and his station in life—even if that means being a reprehensible punk.
Ferris Bueller's Day Off (1986):
Yes, the signature vehicle in Ferris Bueller's Day Off is Cameron's (Alan Ruck) father's red 1961 Ferrai 250GT. Well, at least that's what the movie's producers wanted you to think. But there is another vehicle featured prominently in the film that actually is what it claims to be: a 1985 Audi 5000. Near the end of the film, Ferris (Matthew Broderick) races through his suburban neighborhood in order to make it home before the rest of his family so as to maintain the ruse of his pseudo-illness. While running back from his girlfriend's place, his father (Lyman Ward) pulls up next to him in the aforementioned car: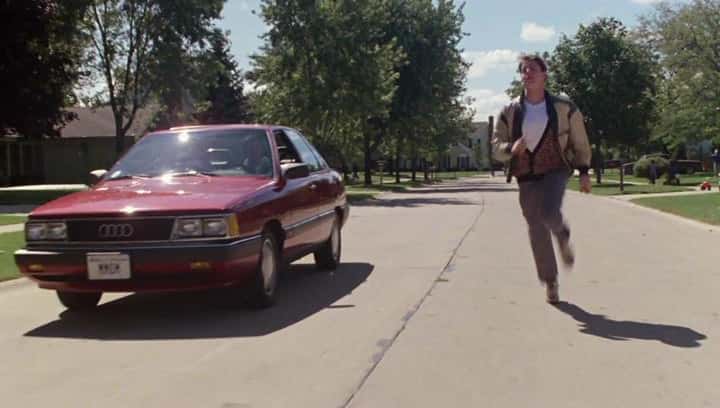 Inexplicably, Ferris' father does not see him, enabling the truant to avoid detection and keep his impossibly perfect day intact.
If you'd like to live out your 1980s fantasies that these movies (and others like them) spawned in your youthful imagination, visit Prestige Imports at 9201 West Colfax between Wadsworth and Kipling to test drive an Audi or Porsche. You also can schedule an appointment with one of someone in our Sales Department by calling (833) 825-5423.
Title image by reynermedia, courtesy of Creative Commons.