Search and Destroy: Iggy Pop and the 2017 Audi A4
---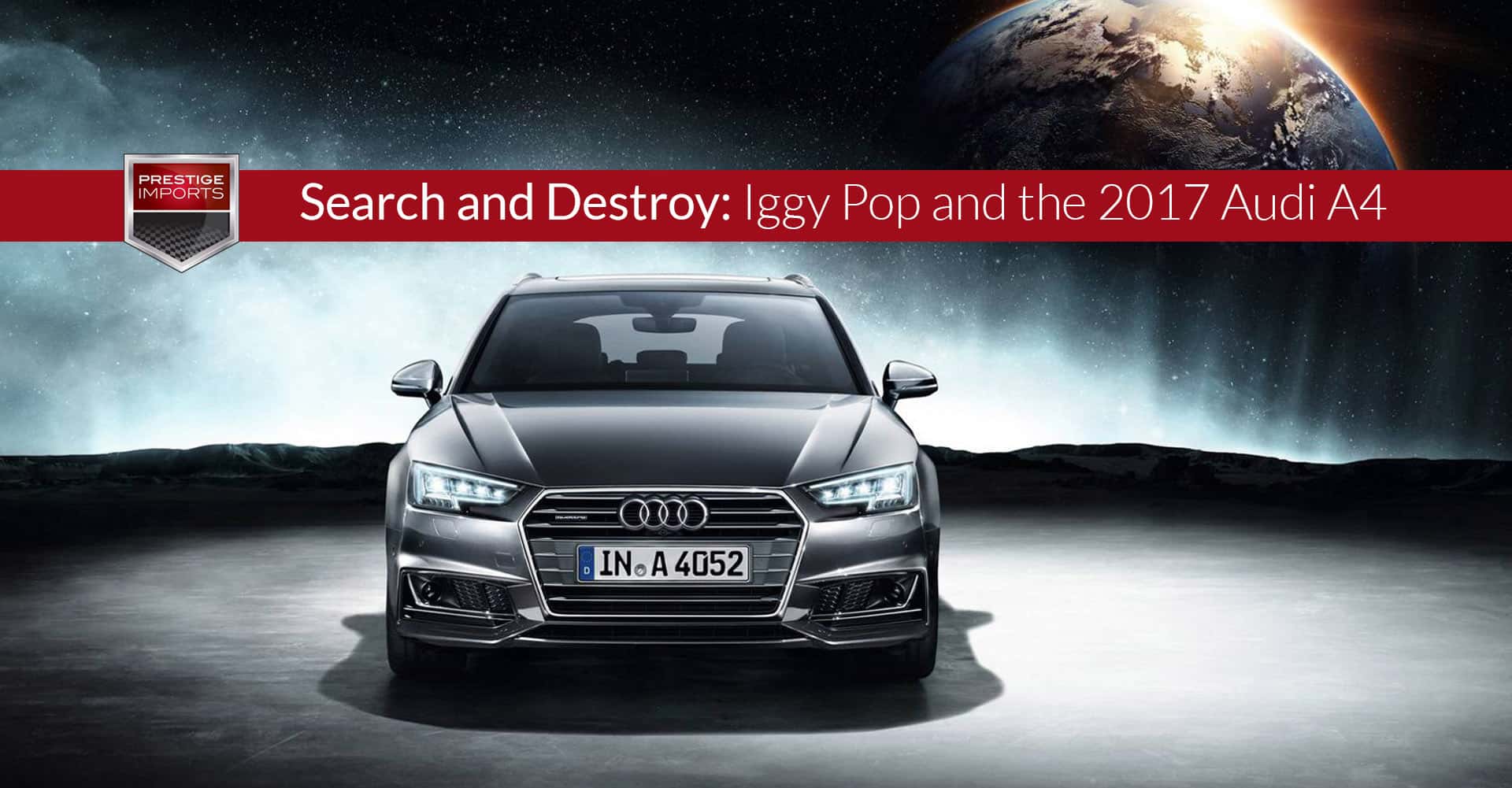 Iggy Pop and the 2017 Audi A4 – "Look out honey, 'cause I'm using technology!"
After David Bowie's passing a few months ago, I posted an article about Audi's use of Bowie tunes in their television commercials. Shortly thereafter, the German automaker released a Super Bowl spot, titled "Commander," which featured The Thin White Duke's smash-hit "Starman":
Well, it appears that Audi has only just begun mining the proverbial vaults for classic rock songs to soundtrack their advertising campaigns. Their newest television ad promoting the release of the
2017 A4
, titled "Rock and Roll," makes creative use of
The Stooges
"Search and Destroy":
"Search and Destroy" first appeared on the The Stooges third studio album,
Raw Power,
which
Rolling Stone
says "almost single-handedly invented punk." And, as you may or may not know, The Stooges were fronted by rock lunatic and punk pioneer
Iggy Pop
. Pop, in addition to being a iconic rocker, was also a good friend and rumored lover of the aforementioned Bowie.
Outside of the Bowie-Pop connection, though, Audi also seems to be leveraging the "Search and Destroy" lyric: "Look out honey, 'cause I'm using technology!" The tie-in, of course, is the fact that the 2017 Audi A4 boasts "more advanced driver assistance systems than" anything available "on the market just a couple of years ago," according to a recent CNET review. Indeed, as the Audi Newsroom likes to point out: "Intelligence is the new Rock 'n Roll."
If the classic punk stylings of "Search and Destroy" sound familiar to you but you're not a fan of The Stooges, perhaps, then, you're a Wes Anderson junkie. In his Cousteau send-up The Life Aquatic, Anderson also employed "Search and Destroy" during one of the film's key action sequences:
That Billy Murray sure is handy with a prop handgun, isn't he? And rather dashing in a powder blue bathrob, I must say.
If you're interested in checking out the new 2017 Audi A4 and all its technological trappings, stop by Prestige Imports. We are located at 9201 West Colfax Avenue between Wadsworth and Kipling. You can also schedule an appointment with an Audi Brand Specialist by calling (833) 825-5423.
In the interim, check out Iggy Pop's newly released album, Post Pop Depression, which he co-wrote and recorded with Queens of the Stone Age's Josh Homme.