Flashback: The David Bowie Audi commercial "Progressions"
---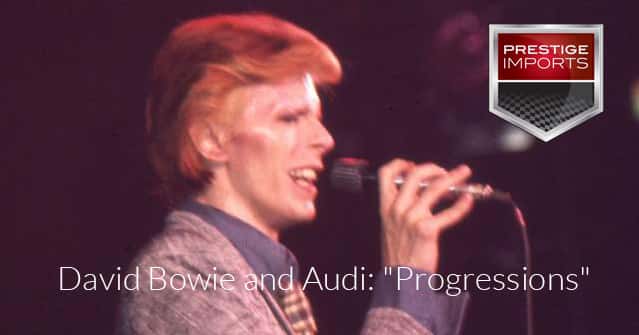 David Bowie, surprising and delighting his fans right up to the end
Last week, rock n' roll legend David Bowie passed away after an eighteen month battle with cancer and two days after his 69th birthday. In what turned out to be his swan song, Bowie released the wonderfully experimental but totally listenable album Blackstar. I particularly enjoy the title track:
Indeed, it wouldn't be a Bowie video/song if it wasn't suffused with oddities. And, no doubt, oddities abound: spastic gyrations, a dead astronaut, and Bowie in funerary eye wrap.
What's even more striking about the song are the lyrics, which contain the lines:
Something happened on the day he died
Spirit rose a metre then stepped aside
Somebody else took his place, and bravely cried
I'm a blackstar, I'm a star's star, I'm a blackstar
Given that Bowie was well aware of his impending (if not imminent) death, it's both chilling and harrowing to hear a man sing about his own end.
David Bowie Audi Commercial: "Progressions"
While, to most, Bowie symbolized the queering of normative rock masculinity with his androgynous, gender (and genre) bending aesthetic, he was also something else: Audi salesman. Well, maybe "salesman" is exaggerating a bit. But his 1974 smash-hit "Rebel, Rebel" was remixed and used in the October 2003 Audi commercial "Progressions":

It might seem strange that a rock icon known for his subversive attitudes and behavior would sell his music to a luxury car manufacturer; but the theme of "Rebel, Rebel" does tie in well with Audi's tag line at the time: "Never Follow."
Nonetheless, Bowie's spirit and sense of musical/artistic experimentation will be missed. If you drive an Audi or Porsche, I would suggest turning your car stereo up to 11 and rock out to some Thin White Duke hits this week. If you don't have an Audi or Porsche in which to rock out, swing by Prestige Imports, located at 9201 West Colfax Avenue, to check out our full inventory. You can also call (833) 825-5423 to schedule an appointment with someone in our Sales Department.
Image by Hunter Desportes, courtesy of Creative Commons.