2017 Audi A4: Re-introducing an Audi cornerstone to Denver drivers
---

2017 Audi A4: THE sport sedan for Denver drivers
With it's two liter turbocharged engine for climbing mountain passes, and available quattro all-wheel drive for safely navigating ice laden streets, the Audi A4 has long been a favorite of Denver drivers. This trend is all but certain to continue with the introduction of the all-new 2017 Audi A4. This incredible new offering moves Audi back to the head of the class in the ultra-competitive mid-sized sport sedan segment.
2017 Audi A4: Introduction


In the introduction to the promotional material for the 2017 Audi A4, readers, drivers, and potential customers alike are told that this year's version adds to the "impressive legacy" of the model. And that legacy, indeed, is impressive.
Originally billed as the Audi 80/Fox during the 1970s, then re-branded as the Audi 4000 in the 1980s, and, finally, the Audi A4 in 1994, this B-series vehicle has sold over "12 million units worldwide over nine generations." With the additions and alterations made to the 2017 model, the A4's prominence in the Audi fleet shows no sign of diminishing.
2017 Audi A4: Exterior
At first blush, the all-new Audi A4 might look remarkably similar to previous years' iterations. To this end, several reviewers have noted how the vehicle "closely resembles the outgoing model." In fact, after reading nearly every early-review of the new A4 that has been published online, I'm left to believe that editors have mandated their writers to make declarations such as: the "new model looks an awful lot like its predecessor."
| | |
| --- | --- |
| | |
While this information might leave novelty-chasers looking elsewhere for The Next Big Thing, those drivers searching for a vehicle that exudes elegance without ostentation will be pleased. As Jonny Lieberman states in his Motor Trend review, the new Audi A4 has a "clean, sculpted, and attractive" appearance. Likewise, Jack Nerad of Kelley Blue Book praises the car's "beautiful but purposeful design," while Edmunds.com notes that the vehicle's "crisp, horizontal lines" highlight its "handsome stance." It's no surprise, then, that writers such as Chris Paukert of CNET argue that the "low-risk, incremental-improvements" which Audi engineers made to the A4 don't "appear to be a bad thing."
And what are those visual, "incremental-improvements" to the exterior? To begin with, the front fascia looks a bit sharper, due in large part to the more pointed, hexagonal grille. Adding to the sharpness are the angular headlamps with cutaways along their bottom edge. Other tweaks to the body include a more defined belt-line crease and door-mounted sideview mirrors.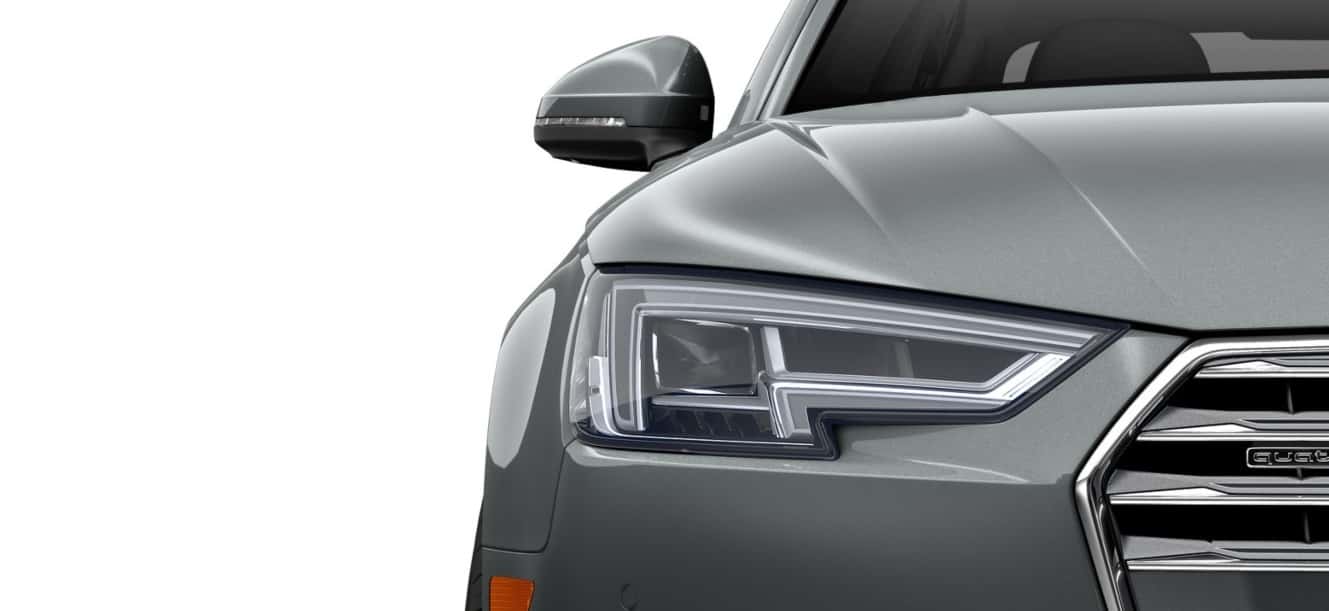 OK, so the exterior alterations to the 2017 Audi A4 are minimal, at best. But that doesn't mean the German automaker simply reproduced the 2016 model. In reality, this year's version of the A4 contains some dramatic changes that Michael Taylor of Car and Driver calls a "real threat" to its competitors' market share. Paukert goes one frightening superlative further, claiming that the redesigned elements should "flat-out terrify rivals."
What follows, then, are the three major improvements you can find in the 2017 Audi A4 that have propelled this compact executive car back to the top of its class.
2017 Audi A4: Interior
Edmunds.com notes that the "A4's cabin continues its tradition of luxury-grade materials and fit-and-finish"; as such, it clearly exemplifies how Audi "has cultivated a hard-earned reputation for industry-leading interiors."
In addition to outfitting their interiors with standard leather and aluminum-titanium trim, Kelley Blue Book's Nerad gushes over how "Audi's infotainment system, MMI, goes to a new level of sophistication" Specifically, he praises the "three different TFT displays [that] feature bigger icons than before, and a rotary controller and/or touchpad on the console." Moreover, the throwback dash-length air ducts provide the cabin with a timeless 70s-influenced aura, which Car and Driver claims might be "the coolest thing about the A4." Yes, for drivers whose metaphorical engine revs at the faintest hint of nostalgia, these vents will elicit gasket-blowing excitement.
If you're familiar with Audi fleet, or the automotive industry in general, you are, most likely, already privy to the German automaker's Virtual Cockpit. The Virtual Cockpit, which debuted in the new TT and Q7, is an intuitive, digital interface located behind the steering column.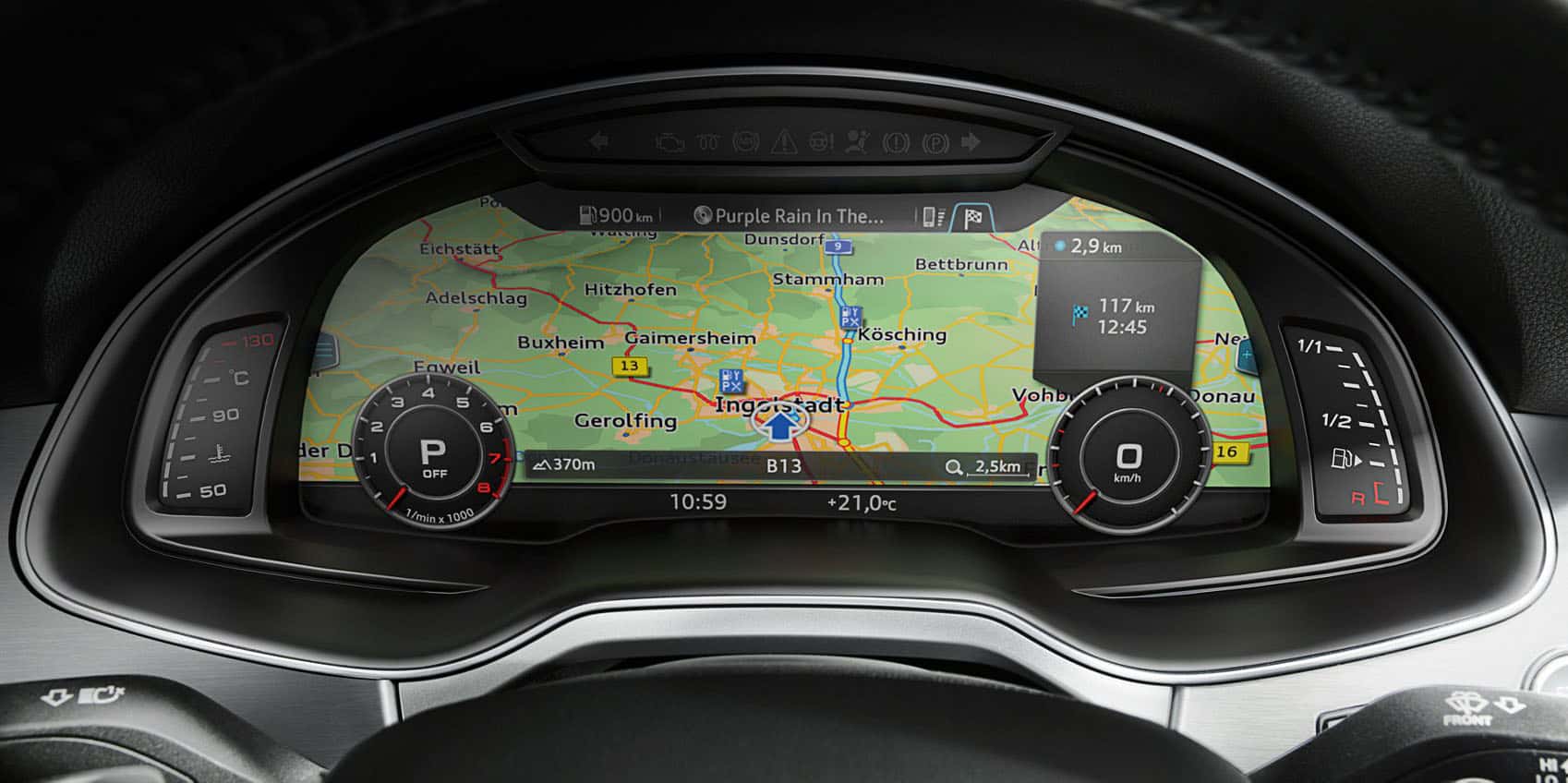 Its 12.3-inch LCD screen displays customized gauges, vehicle diagnostics, trip information, and navigation assistance. CNET states that "reconfigurable screens as a replacement for physical gauges is becoming commonplace in luxury vehicles," but qualifies the remark by declaring that no other company has "executed them as wholly and as convincingly as [Audi has in] this A4." Motor Trend concurs, claiming that the Virtual Cockpit's "ability to transform the entire dashboard into one big, easily zoomable map is groundbreaking. And brilliant."
Finally, whether you want to believe it or not, the rumors are true: size matters. I mean, take Consumer Reports admission that they've "complained of the A4's tight rear seating in the past." While limited leg room might not be an issue for a young child, a cramped back seat is the last place your friends, co-workers, or business acquaintances want to find themselves.
Having said that, Consumer Reports loves that fact that the 2017 Audi A4 "has better rear legroom along with increased shoulder and headroom up front," due in no small part to the fact that this year's model is slightly larger than preceding versions.
2017 Audi A4: Ride and handling
Traditional thinking would lead you to believe that a larger vehicle would, consequently, also weigh more. While that can, oftentimes, be the case, that's not so with the 2017 Audi A4. Even though it's gained a few inches, the car has actually lost 70-100 pounds (depending on which trim you choose).
According to Motor Trend, "Audi claims that the new aluminum-intensive suspension helps…shave 35 pounds" and new "aluminum brake calipers at all four corners contribute another 11 pounds of weight savings." Furthermore, Road and Track reports that "another 30 pounds were shaved from the body structure" by replacing steel components with carbon fiber, aluminum, and magnesium.
What does this weight reduction have to do with the manner in which new A4 performs? Well, CNET mentions a series of "cascading benefits" can be attributed to the weight loss, such as "better handling and quicker acceleration, improved fuel economy, and even reduced tire wear."
But this isn't the only reason critics are raving about the A4's ride. Motor Trend's Jonny Lieberman laments the presence of an understeer in previous incarnations of the A4; then he rejoices that Audi managed to correct the issue in the 2017 version, which provides "neutral handling." To his mind, the revised engineering in the multilink suspension is responsible for the improved feel. More specifically, he writes:
Audi added a fifth link jointed from the steering knuckle and connected back to the subframe behind the front wheel. My hunch is that this extra link in conjunction with active damping—and along with what felt like a little bit of inside wheel brake intervention—prevented the A4 from understeering.
If you know what that technical jargon means, then good for you. If you don't know what that means, fear not, as I will translate: Audi engineers burned the midnight oil over the course of the past year in order to ensure that the A4 would drive better than virtually any car in its class.
Furthermore, Audi replaced its eight-speed torque-converter with an automatic seven-speed S Tronic (dual-clutch) transmission. Again, if you're not a gearhead, do not fret. Swapping out one transmission for the other simply means that when you accelerate in the 2017 A4, you will, as Joe DeMatio of Road and Track points out, experience "smoother transitions and launches" than its predecessor. Moreover, the A4's 2.0-liter turbocharged engine receives a 32 hp boost (252-hp/273-lb-ft), decreasing its 0-60 time to 5.6 seconds.
2017 Audi A4: Assist programs
While the following list is incomplete, what follows are a few of the 2017 Audi A4's more impressive driver assistance programs: adaptive cruise control, automatic pre-collision braking, self-parking, traffic jam assist, Audi side assist, and Audi active lane assist. Many of these features fall under the broader moniker of Audi pre sense city.
Kelley Blue Book says that these assist features are "truly impressive," insofar as they allow your car, literally, to "drive itself in some situations." Such autonomous driving, CNET notes, stems from the fact that the technology in the new A4 is "more advanced" than anything "available anywhere on the market just a couple of years ago." To accomplish this seemingly impossible feat, these Audi systems rely on "signals from two radar sensors, ultrasound sensors, and…cameras" to gauge the surrounding environment and, thus, instruct the vehicle how to best perform in certain contexts.
In addition to these assistance programs, Audi connect provides cutting-edge technology like Google Earth with 3D satellite imagery, a WiFi hotspot with 4G LTE connectivity for up to eight passenger devices, Twitter integration, local traffic, and news.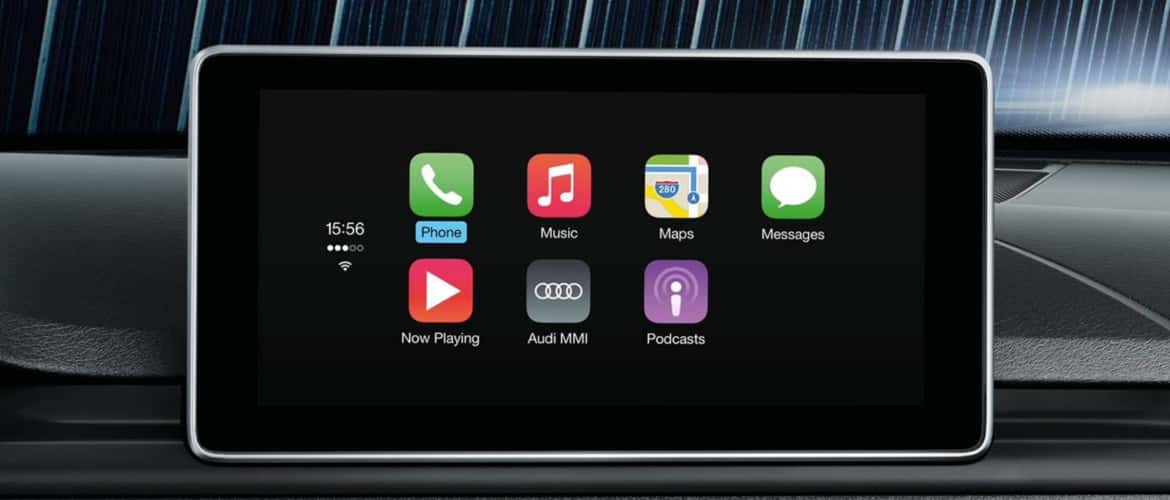 Moreover, Audi smartphone interface enables Apple CarPlay and Android Auto integration, allowing you access to your compatible phone's features, such as maps, telephone, voice-to-text functionality, music, and certain third-party apps. All these can be controlled through your MMI interface. And if that's not enough, the new A4 offers a head-up display that projects a read out of the car's diagnostics and assistance programs onto the driver's side portion of the windshield.
2017 Audi A4: Car porn
If you'd like to check out a more detailed view of the new 2017 Audi A4, check out the below video from the 2016 Detroit Auto Show. Hopefully, the clip will sate your A/V-based longings (My apologies, ahead of time, for the IDM-cheese playing in the background):
2017 Audi A4: Get one at Prestige Imports
If you'd like more information regarding the 2017 Audi A4, or would like to schedule an appointment for a test drive, call Prestige Imports at (833) 825-5423. You can also stop into our dealership's showroom and see what we have in-stock. We are located at 9201 West Colfax between Wadsworth and Kipling.