Don't settle, get the exact Porsche you are looking for at Prestige Imports
---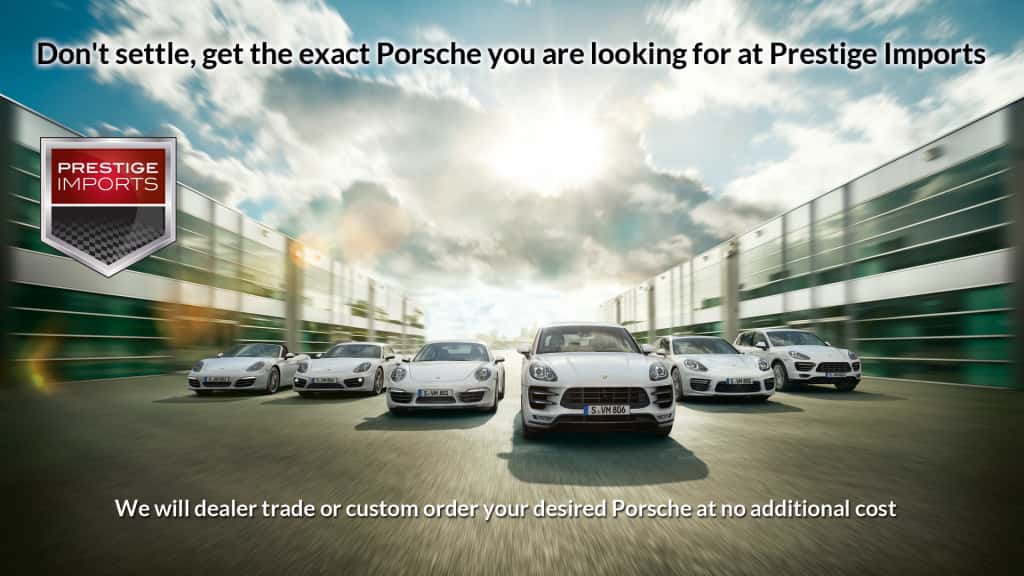 Do you have a specific Porsche in mind but can't find it locally?
Here at Prestige Imports, we realize that many prospective Porsche owners have a very specific set of features that they are looking for in their next vehicle. We specialize in providing you the exact Porsche you desire. Our expert Porsche sales consultants have the ability to sift through every Porsche in inventory across the nation and present you with the closest match to your desired configuration. Upon locating your perfect car we will execute a "dealer trade" to obtain this Porsche and have the vehicle shipped here to Colorado, on your behalf, at no additional charge.
What if your exact Porsche is so unique it can't be found anywhere in the country?
If your perfect vehicle isn't available anywhere in the U.S., we are happy to custom order the exact Porsche you desire at no additional cost. Our Porsche Brand Ambassadors will go through your desired configuration, line by line, and educate you about all the features offered by Porsche. Additionally, we will assist you with our expert knowledge of these vehicles and provide you world class service in ordering the perfect new Porsche. This is no small task, the sheer volume of optional and custom features offered by Porsche is staggering. Take a look at the extensive list of options on this 911 Targa 4S that we currently have in inventory >>>
European delivery
As an added benefit to those who wish to custom order their Porsche, we also offer European Delivery. The Porsche European Delivery Program can include Porsche factory tours and special European delivery concierge services. Your new vehicle can be picked up at several different Porsche factory locations, and you get to drive your new Porsche throughout your European vacation. At the end of your trip, you have the option to drop-off your new Porsche at a number of iconic European cities before departing. Your vehicle is then sent to Prestige Imports for final delivery. The Porsche European Delivery program is an unforgettable experience!
Your Porsche, your way, no exceptions
As dedicated enthusiasts, we believe that any Porsche you step into will be an absolutely fabulous vehicle, but having exactly the right Porsche can make all the difference. Whether through the sale of an in-stock vehicle, a dealer trade, or a custom order we are here to help you get behind the wheel of your dream car.
If the time has come to find your perfect Porsche, please contact one of our Porsche Brand Ambassadors at (833) 825-5423.
***
Did you find this article helpful? Did we miss anything? If you have questions, or ideas for future articles, hit us up in the comments. We are here to help!

This article was written by Jason Noffsinger, Marketing Communications Specialist at Prestige Imports. Learn more about Jason on his Google+ page.