Audi lease specials – making an informed decision
---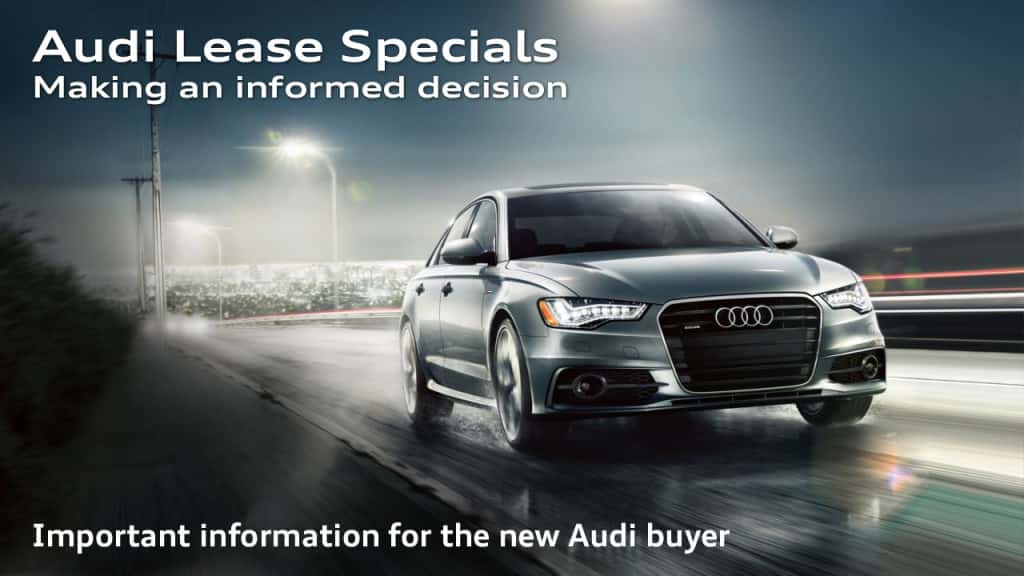 In this article we will take a close look at the Audi Lease specials that are displayed here on our website. These "documents" contain a lot of useful information, but they can be confusing if you are not sure what you are looking at. Another important point to keep in mind is that these lease specials are simply a starting point to determine the Audi lease that is just right for you. Maybe you have more cash to put down, or you need more miles per year. Our lease specials are highly customizable depending on your particular situation.
So, without further ado, here is a sample Audi lease special with a detailed explanation below…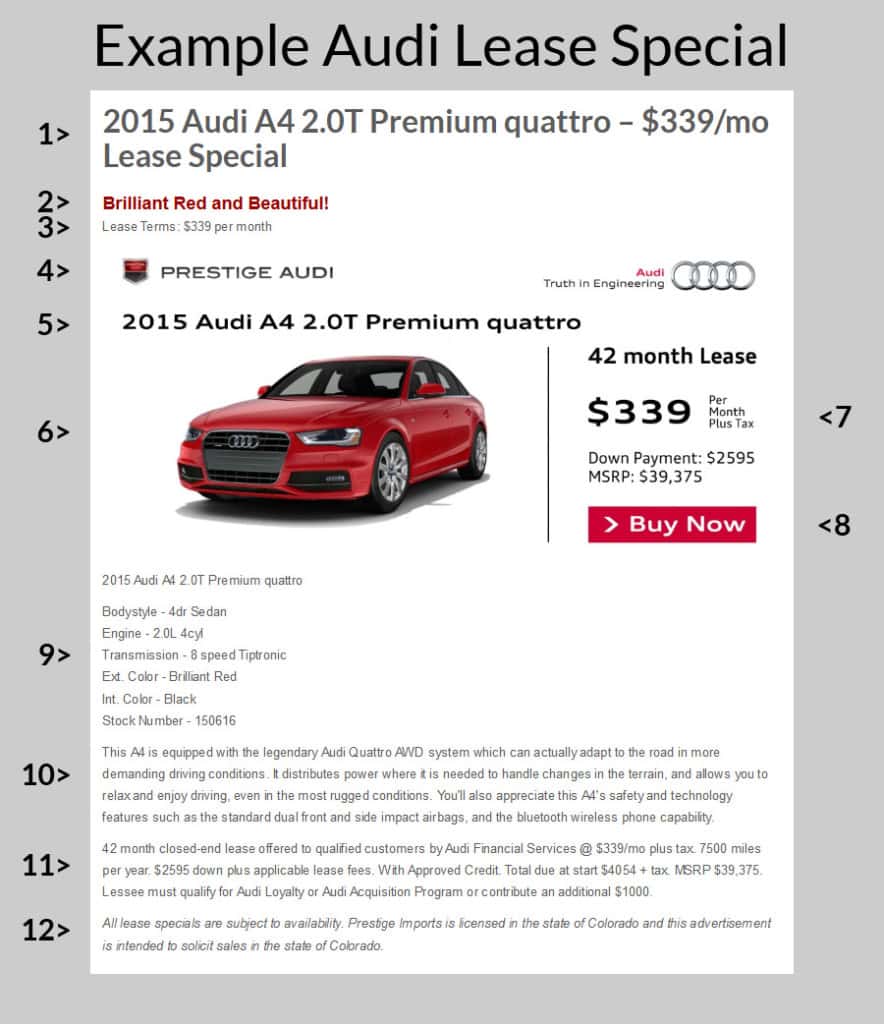 Section 1
The lease special website headline. This headline is basically used to let visitors to the site know what the special is all about. Also, it is important because search engines look at this section first in determining what this part of our website is about.
Section 2
This is a tag line, we usually use this space to write something catchy that will, hopefully, entice you to keep reading.
Section 3
This space shows the monthly lease payment (less tax) for the vehicle in question. The payment is also shown in a few other places on the special. In this particular location, it is linked to a particular field within the database and communicates the information to the search engines.
Section 4
This line simply displays the Prestige Imports logo and Audi "Truth in Engineering" logo. The main function here is to let you know where the special came from if you are printing specials from many different sources.
Section 5
This line displays the year, make, model, and trim level of the vehicle in question. While this seems simple, there is a great deal of information provided in this line. Some of the important pieces of information include: The model year – depending on the time of the (calendar) year it is possible that we will be selling vehicles from at least two different model years. The make and model go without saying. Following the model there is usually an engine size designation, in the case of the A4 shown, a 2.0 liter, four cylinder turbocharged engine. Following the engine size there is usually a mention of the trim level. In the case of this A4, we are looking at a Premium. With most Audi models there will be three available trim levels Premium, Premium Plus and Prestige. Finally, on many lease specials there will also be mention of the drive train. Being based in Colorado (snow country) the vast majority of the Audi vehicles that we sell have quattro all-wheel drive. This being the case, you may not always see the "quattro" designation here.
Section 6
This is a photo of the vehicle being advertised. It is generally a reasonable likeness that we build using the car builder functionality on Audi's website. We always try to get the exterior color and wheel selection to be as accurate as possible.
Section 7
This section contains the very basic information about the special lease offer. This includes the lease term (in this case 42 months). The monthly lease payment, less tax. The required down payment necessary to reach that monthly payment. And finally, the manufacturer's suggested retail price (MSRP).
Please note: We are not trying to be deceptive with the "price+tax" model, it is just that we have no way of calculating an accurate price until we know the sales tax that will be applied based on your specific address.
Section 8
The "Buy Now" button – in marketing jargon this is a "call to action", it's purpose is just to let you know what your next step is. Simply click the button and fill out the form to schedule your test drive.
Section 9
Here we have a detailed breakdown of the specifics of the vehicle being advertised. It is all pretty self explanatory, but there are a few points to pay attention to. One is transmission, most of the Audi vehicles that we sell are some variation of automatic – Tiptronic, S-tronic, etc. But we do get some models with a manual transmission. So pay attention to this line to be sure it has the type of transmission you are looking for. Also, the last line will usually be the stock number. In some cases we create an ad for a car that has not arrived at our facility yet. In those instances you will see either a "CommNum" or the last 8 characters of the VIN in this location. If you do happen to see one of these alternate numbers, don't take it for granted that the car is not available yet. It is certainly possible that the vehicle has arrived since the time that the Audi lease special was created.
Section 10
This section is used to give a more thorough description of the features and options that come on the vehicle. It could describe things like the standard features that really set the model apart, wheel upgrades, optional packages, etc.
Section 11
This is the area that describes how we arrived at the lease rate shown above. This information is often displayed in the fine print on other dealer's sites, but we like to keep it large and easy to read. Pretty much everything in this section is important and has some effect on the final lease payment. Please make note of the duration of the lease, the number of miles per year, the down payment (sometimes called the "cash cap reduction"), and the total amount due at the start of your lease (this number often includes the down payment, fist month's payment and security deposit – which is why it is considerably more than the down payment alone). Finally, the last sentence of this section will outline any Audi programs that were used to achieve the special lease rate. As a rule, we only build our Audi lease specials with programs that will be widely available to many of our customers – things like the Audi Loyalty Program or Audi Acquisition Program. There are a number of lesser know programs that could be available to you, so please ask your Audi Brand Specialist about Audi's other programs.
Section 12
This is short disclaimer that lets you know that the lease special above is subject to the availability of the vehicle listed. Please note that even if that particular vehicle is sold, we may have a very similar vehicle available at a very similar price-point. The final sentence affirms that we are based in the state of Colorado and that we are soliciting sales in the state of Colorado.
Conclusion
So there you go, more than you ever wanted to know about how our Audi lease specials are structured. Was this information helpful? Is there anything else you have questions about?
If you liked this information and want more, be sure to subscribe to our RSS feed or check back here often.
***
Did you find this article helpful? Did we miss anything? If you have questions, or ideas for future articles, hit us up in the comments. We are here to help!

This article was written by Jason Noffsinger, Marketing Communications Specialist at Prestige Imports. Learn more about Jason on his Google+ page.