Fifty Shades of Grey and Audi, a tantalizing combination
---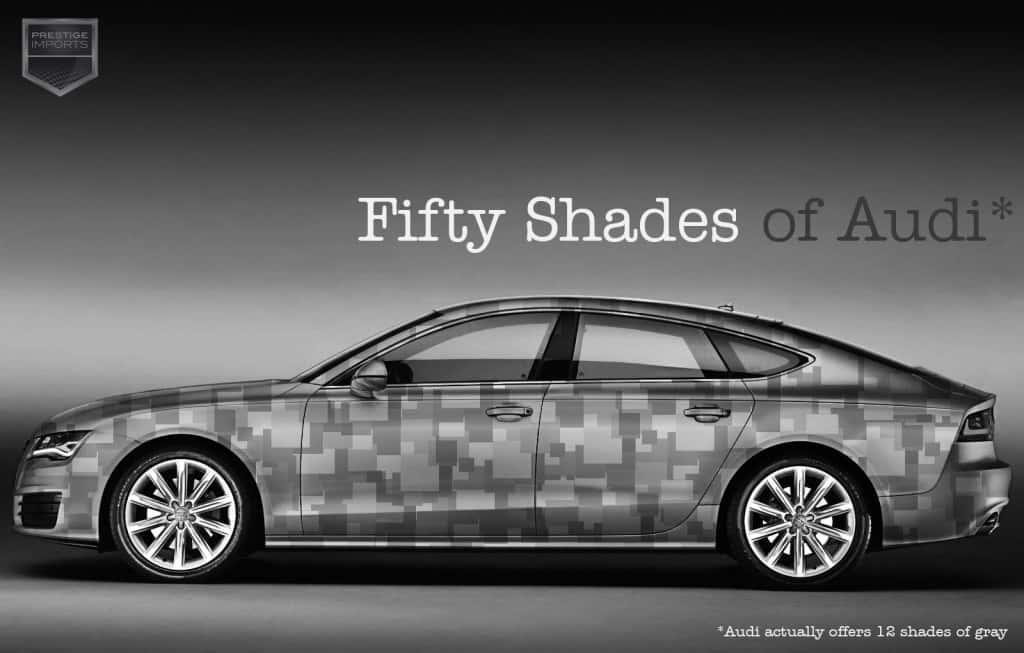 With the premier of the movie rapidly approaching, and the unique relationship between the film Fifty Shades of Grey and Audi vehicles, we decided to put together a little tribute for all the fans.
For the uninitiated, Audi vehicles were featured prominently in the original Fifty Shades of Grey book series. This theme has been carried over to the film. So as we ramp up to the release date, you are likely to start seeing some marketing from Audi regarding the vehicles in the film.
For our part, we tasked our fabulous photographers (Josh Hayes and Nick Buckingham) with creating a few interesting photos that we could add to this website, as well as publish out on our social media streams. They really outdid themselves and came up with some stunning black and white photos that tie together (pun intended) themes from the movie and the beautiful Audi vehicles that are featured.
In addition to the the special photos, all the Audi vehicles we are displaying on the showroom floor are in various shades of gray. This is just a subtle nod to the fans of the film that will likely go unnoticed by many of our guests, but is something fun to keep in mind if you get a chance to stop by the Audi showroom.
The photo above is a simple inventory photo of an Audi A7 that received a special "Fifty Shades of Grey" paint job thanks to Photoshop. This photo has taken up residence as the cover image on our home page and is the first thing that visitors to our website see when they arrive.
Below, you will find a series of more edgy photos that will be published on Facebook, Instagram, Twitter and Pinterest. They are just some fun photos that we hope will inspire a few people to come find this page and take a look at what we are doing for the premier of the film.
Please take a few seconds to scroll down through the photos and take a look. We would love to hear your thoughts in the comments.
***
Did you find this article helpful? Did we miss anything? If you have questions, or ideas for future articles, hit us up in the comments. We are here to help!

This article was written by Jason Noffsinger, Marketing Communications Specialist at Prestige Imports. Learn more about Jason on his Google+ page.