Porsche European Delivery – Go to the source for your next Porsche
---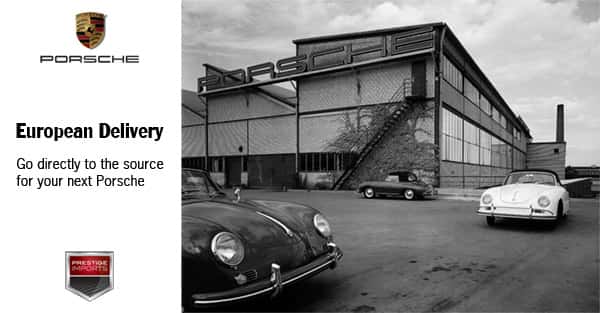 Is a new Porsche calling your name? Are you ready for that new 911 or Panamera? Have you considered picking it up at the source?
The Porsche European Delivery Program gives you the option of taking possession of your new Porsche in Germany at either the Zuffenhausen or Leipzig factories. Your visit to the factory is a great opportunity to explore the origins of your Porsche and gain insight into the various production processes that go into the manufacture of the world's finest sports cars. The factory tour is always lead by an experienced Porsche enthusiast, and is one of Porsche's oldest traditions.
No trip to Stuttgart is complete without a visit to the Porsche Museum, where Porsche's history comes to the forefront, with an incredible range of models from every generation on display.
When it comes time to take delivery of your new Porsche, the keys will be presented by a member of the European Delivery Team, who will take you through all the features and technologies of your new vehicle.
The Porsche European Delivery Program is free for all Porsche customers, and Porsche Cars North America would love the opportunity to provide assistance with travel planning for your European Delivery trip. They will be able to fill you in on special "Porsche" discounts on airfare from Lufthansa and lodging packages from Steigenberger properties.
If you take delivery of your new Porsche between October and March, you will receive a free two week winter tire rental so you can put your Porsche through its paces on the highways and byways of Europe. After bringing your new Porsche home, all European Delivery customers are also eligible for a special discount at the Porsche Sport Driving School in Birmingham, AL.
To find out more about buying your next Porsche, and setting up European delivery, contact one of our Certified Porsche Sales Specialists at (833) 825-5423 or click the request more info button below.
Contact Us For More Information
***
Did you find this article helpful? Did we miss anything? If you have questions, or ideas for future articles, hit us up in the comments. We are here to help!

This article was written by Jason Noffsinger, Marketing Communications Specialist at Prestige Imports. Learn more about Jason on his Google+ page.