Congratulate our Porsche Gold Certified Technician – Kyle Marshall
---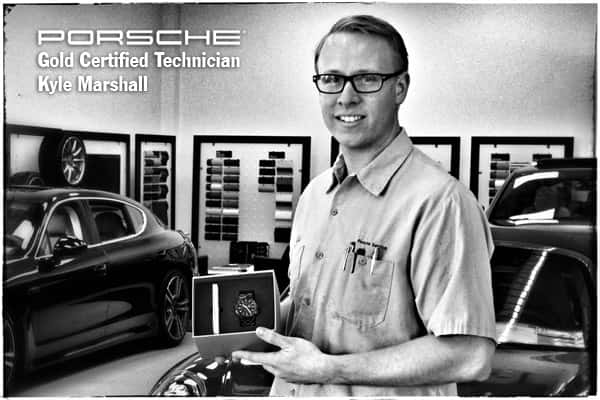 Did you know that over two-thirds of all Porsche cars ever built are still on the road today? This is not only a testament to the quality of the design and manufacture of these exceptional vehicles, it is an acknowledgment of the Certified Porsche Technicians that maintain and repair them.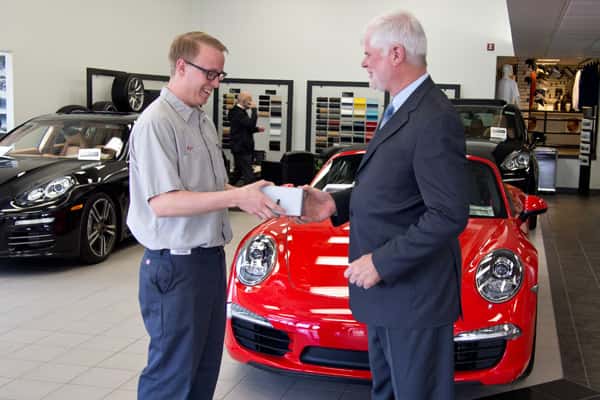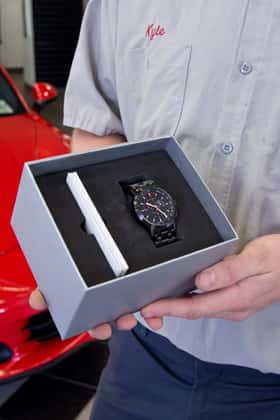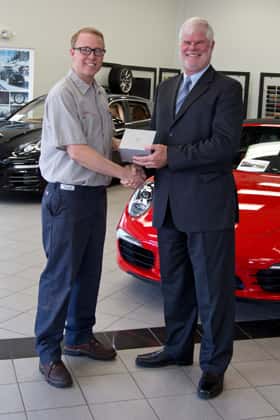 The Prestige Imports Porsche Service Center is built on the expertise of our Certified Porsche Technicians. To ensure that the technicians working on your Porsche are always fully qualified, Porsche's worldwide Certified Porsche Technician program employs regular training on brand new, late model, and even vintage Porsche vehicles. The technicians' knowledge is then certified through successive levels of qualification – first Bronze, then Silver, and finally Gold.
As technicians strive to move up these levels, they first participate in Porsche training courses and then take theory exams to ensure understanding. After achieving Bronze Certification, the technicians graduate to far more complicated practical exams on training vehicles. These practical exams take several hours and simulate real world conditions.
To become a Porsche Gold Certified Technician , a Porsche technician has an allotted time to accurately diagnose and then repair multiple issues in a test vehicle.
Prestige Imports is proud to announce that one of our incredibly knowledgeable Porsche Technicians, Kyle Marshall, has achieved Gold Level Certification. In recognition of this auspicious event Porsche Regional After Sales Manager, Rick Podorski, stopped by the dealership to present Kyle with a beautiful limited edition Porsche Timepiece.
Kyle attended Ranken Technical College in St. Louis, MO (his home town) and has been a technician for more than 6 years. He has been here at Prestige Imports for the last three. We are very fortunate to have a technician of Kyle's caliber on staff. He provides value and peace of mind to our Porsche owners and ensures that they receive unrivaled expertise in the service and maintenance of their Porsche vehicles.
If you happen to see Kyle around the dealership, be sure to congratulate him on his achievement.
***
Did you find this article helpful? Did we miss anything? If you have questions, or ideas for future articles, hit us up in the comments. We are here to help!

This article was written by Jason Noffsinger, Marketing Communications Specialist at Prestige Imports. Learn more about Jason on his Google+ page.