The TPMS light in my Audi has come on, now what?
---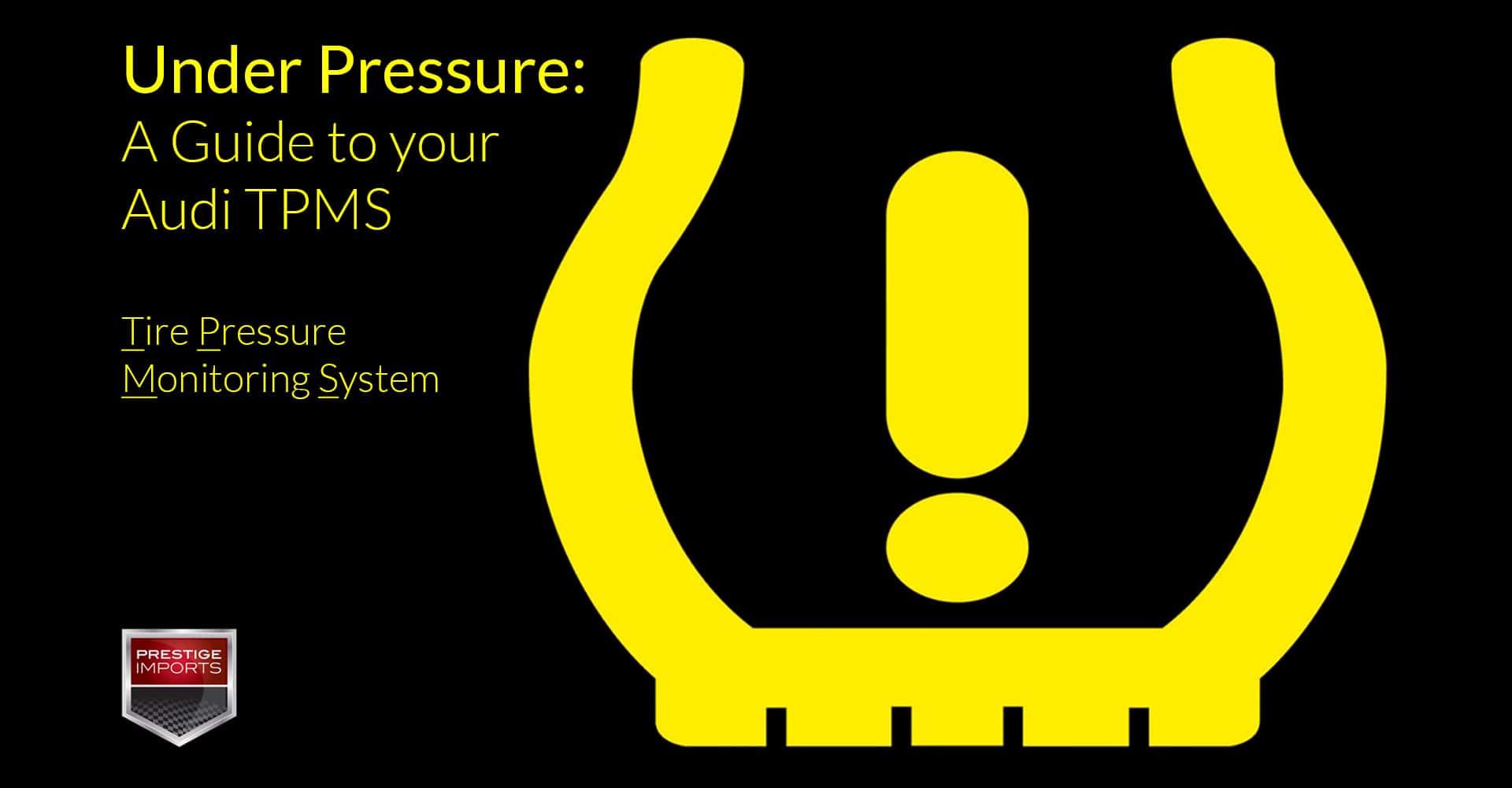 Under Pressure: A Colorado Driver's Guide to Your Audi TPMS
Has your tire pressure monitoring system (TPMS) light come on? This light can be a frequent and unwelcome visitor. Most of the time we can just shoo the TPMS light away, but before we do, we have to make sure the light is not on for a reason. First off, please check the tire pressure at all four wheels with a tire gauge. Our parents, wives, husbands, etc. are always nagging us to keep one in the car, so there should be one lying around. If not, most gas stations have them available for purchase. Make sure all tires are within the recommended tire pressure range. This PSI varies depending on the make and model of the vehicle and also what kind of tires are on the vehicle. If you are not sure what PSI the tires should be at, please give us a call so we can advise you. If the pressure is low please fill to the correct PSI.
Secondly, do a visual inspection of each tire. Check for nails, bulges, visible deflation, or any irregularities. If there is noticeable damage please do not risk driving to the dealership as this can cause the tire to have a blow-out.
If you notice the TPMS light coming on during the blistering hot days of a high plains summer or the frigid nights of a Rocky Mountain winter, this is likely because Colorado's extreme temperature changes can cause the tire pressure to fluctuate and trigger the light. Also, if you've recently swapped your tires from winter to summer, or vice versa, this can trigger the TPMS light. If you've swapped the tires in our service department we will reset the light for you. Unfortunately, many independent shops do not know to reset the tire pressure light in this situation.
If you've refilled the tire to the appropriate pressure and there is no noticeable damage on any tires you can then reset the TPMS light yourself. This can be done via the MMI screen in your Audi. If you are not sure how to do this, the process is explained in your owner's manual. Another option is to visit auditechnology.com, where you will find many useful tutorials about your specific vehicle, including how to reset your TPMS light. If you are not able to access your manual or the internet, you are always welcome to call the Service Department here at Prestige Imports and we will be happy to assist you – (833) 825-5423.
For vehicles that do not have an MMI screen, you can call our service department for instructions on how to reset. Also, if you are in the Denver metro area, feel free to stop by on the service drive. We are happy to show you how to reset the light and will refill any low tires if necessary.
If your inspection does reveal noticeable damage to the tires, or if there is a tire rapidly leaking, we will need to get the vehicle into the shop as soon as possible. Please swap the damaged tire with your spare. We are happy to talk you through this process over the phone if you are having issues. Factory warranty or CPO warranty vehicles can also call Audi Roadside Assistance. If you have Audi Roadside coverage, someone will meet you and assist you in changing the tire – 1 (800) 411-9988.
If you do not have a spare tire, we recommend having your vehicle towed in. You can call your insurance company or external roadside assistance company (AAA) for a tow. You can also call Denver West Towing if those are not available options for you. You can reach Denver West Towing at (303) 279-3434.
Once the vehicle has arrived at our Audi service facility in Lakewood, we will inspect all the tires on the vehicle. If the tread on your tires has worn more than 6/32nds of an inch we will not be able to replace just one damaged tire. If like most Audi owners here in Colorado, you have an absolutely amazing quattro all-wheel-drive vehicle, all four tires will need to be replaced. If you have a front-wheel-drive vehicle only two tires will need to be replaced. This is required due to safety concerns, as well as concern for the functionality of your vehicle. For more information, please check out our Porsche and Audi Tire Services page.
If your tires are not worn more than 6/32nds of an inch we can replace just the tires that are damaged.
Our wonderful team in the Audi parts department can assist you with purchasing a suitable replacement tire or tires. Depending on when you place your order with the parts department we will receive the new tires within one to two business days.
Please make an appointment so we can make sure there is a tire technician available to install the new tires. Once all tires are filled to the right PSI, we will reset your tire pressure light.
Is your TPMS light continuing to bother you, time and time again? There could be an issue with your TPMS sensor and we will have to see the vehicle in for an appointment to diagnose the problem.
Regardless of why you're TPMS light decided to say "hi", we hope this has assisted you in giving that light a wave goodbye!
***
Did you find this article helpful? Did we miss anything? If you have questions or comments, just click the button below. We are here to help!

Questions or Comments >>