Why buy genuine Porsche and Audi OEM parts?
---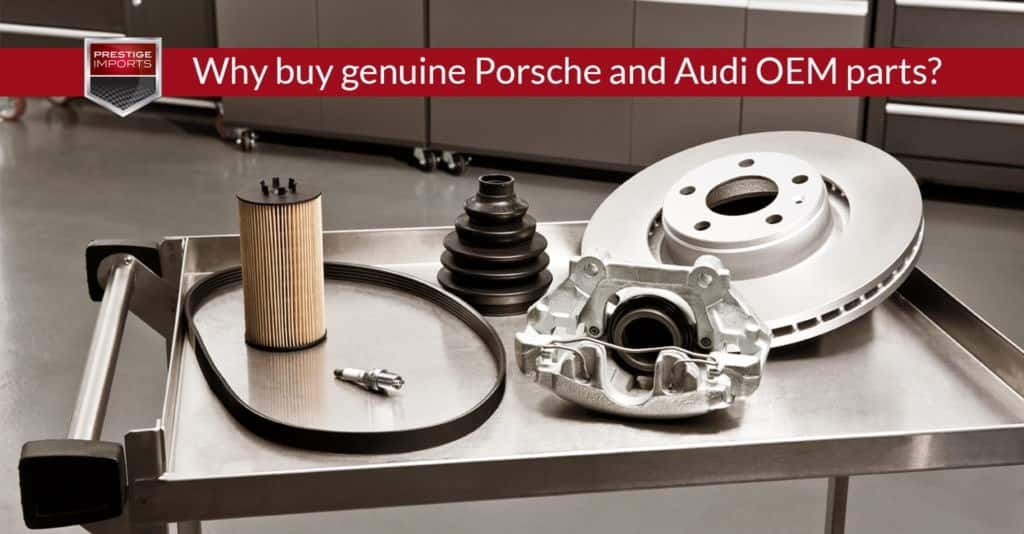 There are thousands of aftermarket parts on the market, should you bypass them and go directly to
OEM parts for your Porsche or Audi
? Absolutely – OEM is the acronym for Original Equipment Manufacturer, this means that the parts or accessories that you purchase from Prestige Imports are built by the original manufacturer and are the same as, if not better than, the parts that were installed on your vehicle when it rolled off the assembly line. Porsche makes parts for Porsche and Audi makes parts for Audi. These manufacturers have been perfecting their brands for decades; they know what they're doing.
Prestige Imports carries a broad assortment of Audi and Porsche OEM parts, including mechanical parts, exterior parts, interior parts, body parts, and performance accessories. The exceptional benefits of utilizing OEM parts and accessories should not be overlooked. Exact fit is the benefit at the very top of the list. When replacing the original part with a part built by the original manufacturer, it will likely ensure a plug-and-play situation, where you can avoid the hassle and disappointment of a poor fit.
To further ensure an exact fit, our manufacturer-certified parts representatives order VIN-specific parts, which means we not only consider your make, model, and year but also your exact vehicle based on its Vehicle Identification Number. If you happen to have a vehicle from a split model year, this is an invaluable service.
As a Porsche or Audi owner, you know that these vehicles are built to exacting standards. It is vital that the replacement parts you use adhere to these same standards. This is why Porshe and Audi absolutely require that repairs on leased vehicles are completed with genuine OEM parts.
In addition to repair/replacement parts, Prestige Imports carries a variety of OEM parts designed to enhance the performance or appearance of your vehicle. These parts are engineered to provide specific performance improvements and are built to achieve a perfect match in both fit and finish. The stringent standards established by Porsche and Audi during the vehicle production process extend to these accessories. Don't settle for less when upgrading your vehicle.
When buying parts from Prestige Imports, you are connected to knowledgeable professionals who specialize in Audi and Porsche parts and who work side by side with factory-certified technicians on a daily basis. They have access to the network of Porsche and Audi Parts Distribution Centers, giving them the ability to locate the right part whether your vehicle is new, late-model, or even vintage.
The quality of parts that you use is important, the quality of the parts specialists that you deal with is critical, get the best of both worlds at Prestige Imports.
***
The information in this article is based on research and personal experience, but should not be construed as legal advice. Please consult with a legal professional on any legal matters.