Strange Laws: Should Colorado Car Dealers Open On Sundays?
---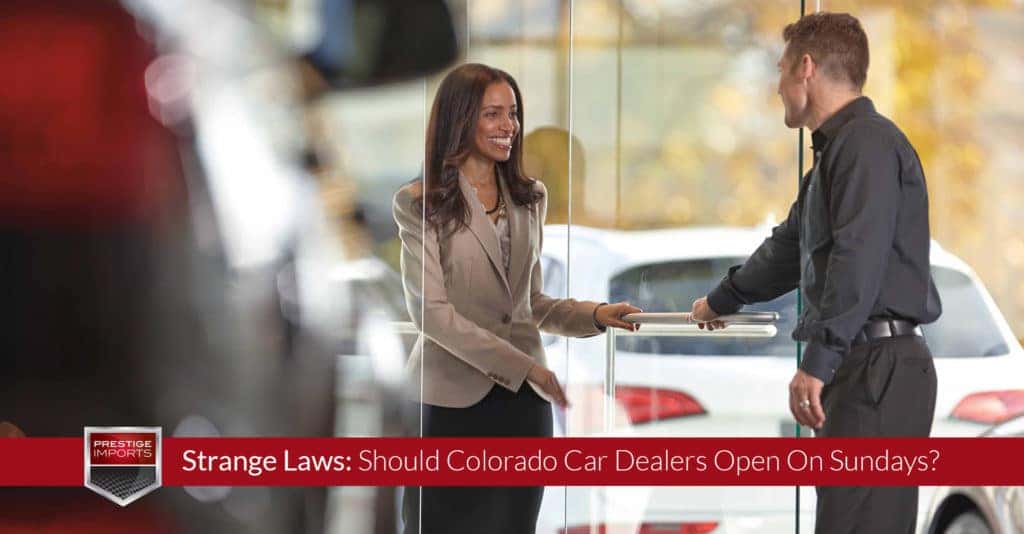 Have you ever tried to go shopping for a new car, only to find that all of the dealers are closed?
Maybe all of the dealers got together and decided to close on the same days, to prevent competition. But the likely culprit is that you live in one of the fourteen states where it's actually a law that car dealers can't operate on Sundays.
Colorado is one such state. As a result, Colorado car dealers miss out on business and consumers miss out on a full day of shopping. Supporters of the law argue that dealers get the chance to spend Sundays with their families, without having to worry about competition.
Whether you support this law or not, it means that you won't be able to shop for a new car on Sundays in the state of Colorado.
Should Colorado car dealers be allowed to operate on Sundays? If you're not sure which side of the argument you support, keep reading. We're breaking down everything you need to know about the law, so that you can make your own decision.
It's an Older Law
The law that states that Colorado car dealers can't be open on Sundays is one that's been in place for a long, long time.
But it's far from the only such law.
Odd and Out-of-Date Laws
Some outdated laws remain in place because they make sense, even if people would be unlikely to break them even if the laws weren't in place.
For instance, in Alaska, it's illegal to wake up a sleeping bear in order to take its picture. In Hawaii, it's illegal to put coins in one's ear.
Other outdated laws remain in place because they are so ridiculous and unlikely that no one bothers to challenge them.
For instance, in Minnesota, a person cannot cross a state line with a duck on his or her head. In Ohio, it's illegal to get a fish drunk. In South Carolina, horses can't be kept in bathtubs.
But some older laws make very little sense. As a result, many states don't actually enforce them, even if they are technically still on the books.
In New York, it's illegal to wear slippers after 10 p.m., though you're unlikely to receive a ticket if you get comfy before bed. In Utah, it's illegal to not drink milk. But if you're lactose-intolerant or simply not a fan of milk, you're probably not going to get sent to jail for skipping out on your daily glass.
Other Older Laws
The final group of outdated laws is those that aren't exactly ridiculous, but which seem odd in the present because they were enacted at a time when things were very different.
Some might argue that this is the case with the law that states that Colorado car dealers remain closed on Sundays. When this law was put in place, it's likely that most businesses were closed on Sundays.
There was less commercial competition in the past, and many businesses were so-called "mom and pop shops" that closed on Sundays to allow owners time with their families.
Whether such laws are still relevant in the present is the subject of much debate.
Should this Law Be Taken Off the Books?
Like many outdated laws, the law that Colorado car dealers must stay shuttered on Sundays is obviously outdated. But that hasn't been enough to get officials to outlaw it.
This begs the question of whether it really is outdated, or whether it's a relevant, important law that should remain in place even today.
We're reviewing the positives and negatives that would come with throwing out this law so that you can decide for yourself whether it should remain on the books.
Negatives of Keeping the Law on the Books
The law that Colorado car dealers can't operate on Sundays largely affects the well-being of the dealerships. But it also has an effect on customers shopping for new vehicles.
Keep reading to learn a few of the negatives of keeping this outdated law on the books.
When to Stay Opened or Closed Should Be Up to the Business
Many businesses in all kinds of industries choose not to operate all seven days of the week. In fact, many small businesses choose to close on Sundays to allow the owners and customers to spend time with their families or attend religious events.
But for most businesses, this choice is left up to the business owner. If money gets tight or business begins to wane, those businesses can choose to open on Sundays.
In addition, businesses continue to pay rent and utilities, even on days when they aren't open. Forcing car dealers to close on Sundays limits the control that dealers have over their own business. They have to continue to pay for rent and utilities, even when they can't be open for business.
Dealerships are Losing Out on Business
For communities located on the borders of Colorado, dealers located on the Colorado-side of the state-line could be missing out on big business by being closed on Sundays.
If customers choose to shop on Sundays, or if Sunday is the only day that they can shop, they'll go over the line to look for their next vehicle. This could mean thousands of dollars in lost sales for those Colorado-based dealers.
There is Little Motivation for State-Line Communities to Open Dealerships
Dealers located near the Colorado state-line know that they are losing out on Sunday sales. Which means that new dealers looking to open up shop in those areas have little motivation to choose the Colorado side of the state line.
This can mean a huge loss of revenue, fewer job opportunities, and a loss of tax revenue for those communities located near the edge of Colorado.
Buyers Get Limited Opportunities to Shop in Person
Colorado car dealers aren't the only ones who get hurt by the law that prevents car sales on Sundays.
Many buyers work Monday through Friday, and therefore don't have time to car shop through the week.
They may also work on Saturdays, or else have other obligations that keep them from shopping on that day. If they can shop, they'll be forced to make a decision on their purchase, or else have to wait a whole week to return to the dealership to buy.
For those who can't shop Monday through Saturday, there are limited options.
They could buy used from someone other than a dealership. They could buy a car online or over the phone without seeing it first. They could take time off work. Or they'll have to travel to a state that allows Sunday sales at dealerships.
None of these options are great ones.
While many people view Sundays as family days, this doesn't necessarily mean that family days can't be spent looking for the perfect family car.
Positives of Keeping the Law on the Books
Supporters of the law that Colorado car dealers can't operate on Sundays don't see the law as outdated. Instead, they see it as a way to support a way of life that is often neglected.
Keep reading to learn a few of the positives of keeping this law on the books.
Dealers Get Sundays with their Families
One of the reasons why this law is on the books is likely the long-standing tradition that Sundays are family days.
While car shoppers have the freedom to choose to skip shopping for cars on Sundays in order to spend them with their families, car dealers in many states don't get this option.
They have to continue to stay open on Sundays in order to stay competitive with other dealers in their area.
This Colorado law helps dealers preserve their family time by requiring that all dealers stay closed on Sundays.
Sundays Aren't Statistically the Best Days to Buy
Certain times of the year and even days of the week are statistically the best times for buyers to get a good deal.
In fact, U.S. News and World Report found that Mondays are the best time to score a great deal.
Sundays rarely make the list of the best days to land a great deal. This is likely because, in many states, this is a popular day to buy, so dealers have less motivation to offer lower costs.
Getting Rid of a Law is a Difficult Process
Taking a law off of the books is a long and difficult process. It isn't one that a single dealership can tackle on its own.
In order for this law to ever be thrown out or changed, lawmakers in the state would need to take on this battle together, and invest the time and money it would take to get this law changed.
Should Colorado Car Dealers Sell on Sundays
For now, discussions about whether or not Colorado car dealers should be allowed to sell on Sundays is just that; a debate. Until actions are taken to try to bring down this law, it will remain on the books, and dealers will remain closed on the first day of the week.
With fewer days in the week than other states to shop for a new car, Colorado car buyers need to put in a little extra work to find the perfect car.
Skip all that driving around and searching for the right dealer by using our easy "Search Anything" feature to find the perfect Porsche, Audi, or pre-owned vehicle for you. Our website is always open, so you can start shopping today, even if today is Sunday.
***
Did you find this article helpful? Did we miss anything? If you have questions or comments, just click the button below. We are here to help!

Questions or Comments >>