8 Key Things to Remember When Buying a Porsche in Denver
---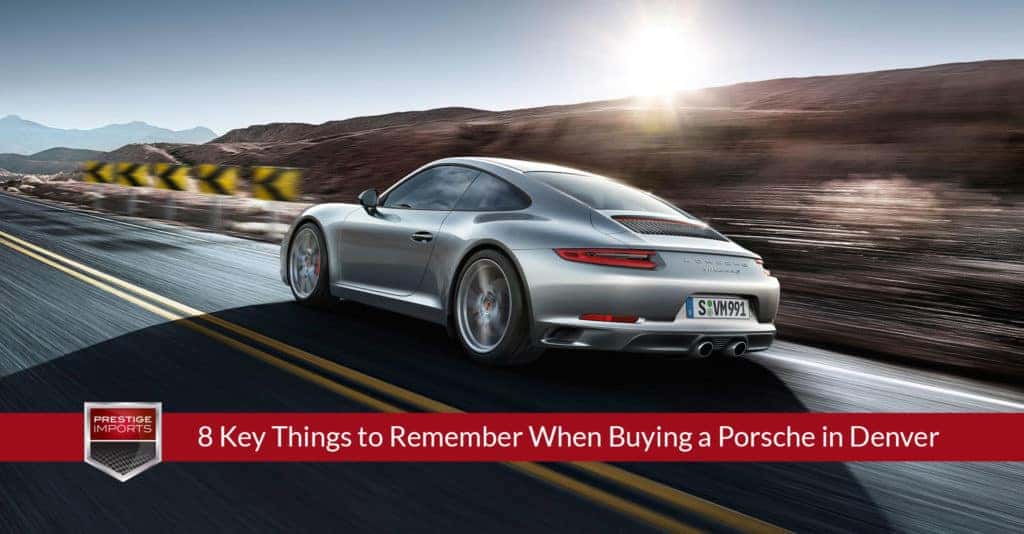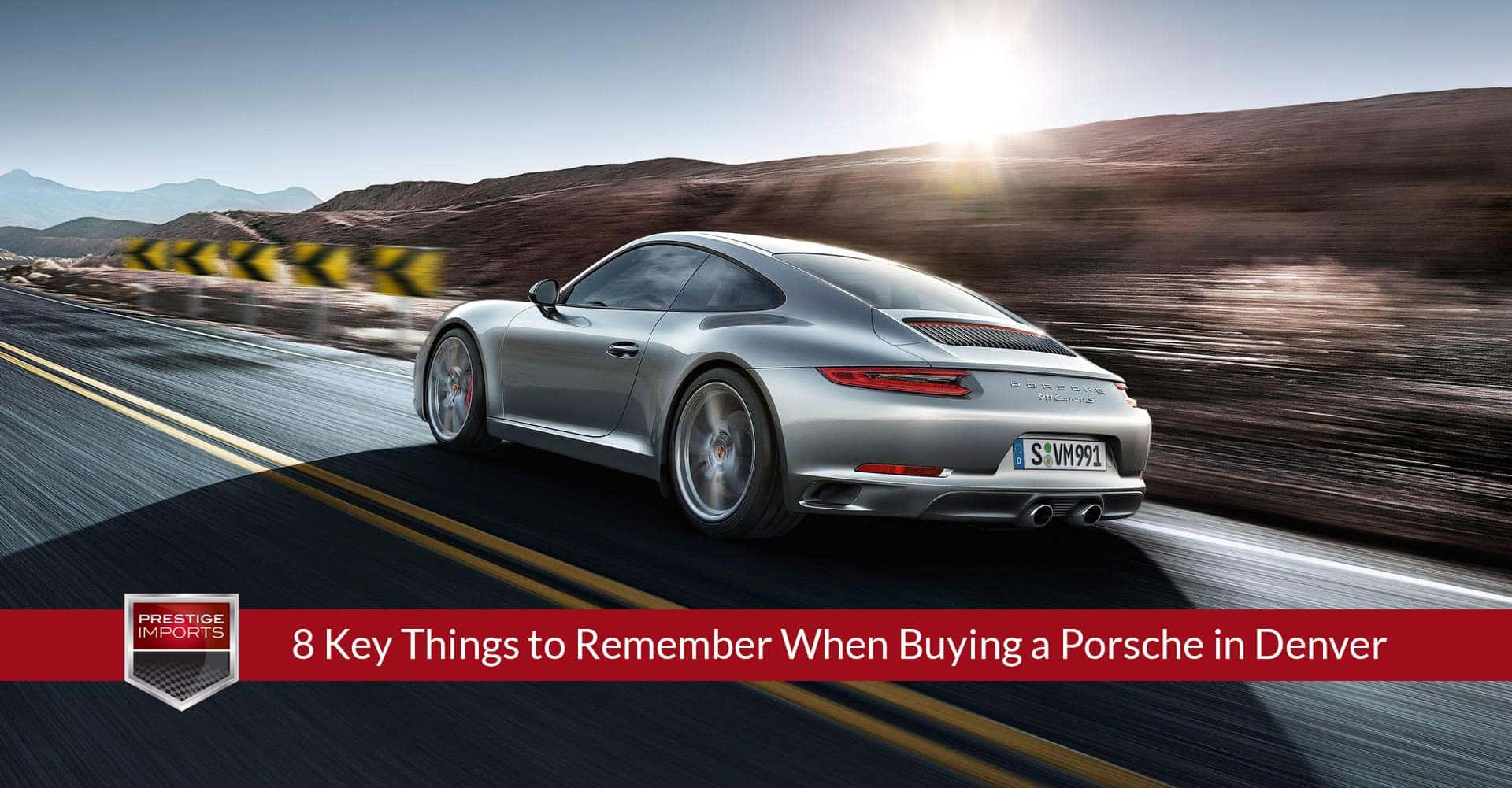 Denver is a car buyer's dream. The sun shines year round and even in the winter when we do get snow, it's usually melted in a few days. Our roads stay clear and plenty drivable year round.
So it's no wonder Porsche vehicles are everywhere in the Denver area.
They're the perfect summertime car for an area that seems like it sees summer year round. Fun to drive, good-looking, and when it does snow, all-wheel drive is an option.
Things like all-wheel drive or turbo-charged engines can make all the difference when buying a sports car in the Mile High City. So to help you find the car that's right for you, we're bringing you our guide to buying a Porsche in Denver.
Denver Cars 101
There are a few constants that every Denver driver deserves. Things that people tend to overlook in other places that don't have the same driving climate as Denver. For instance, our highways are wide open and straight.
The speed limits are often 65 mph, and people routinely cruise well past that in the left lane. Plus, with the mountains right next door, there's ample opportunity to push your car to the limit on some winding roads and switchback turns.
Essentially, you're better off owning something that's fun to drive. While Denver traffic inside the city gets hectic, the local highways and mountains offer some fun driving opportunities.
In other words, a Porsche makes an excellent choice. They're fun to drive, good on gas, and can fit into most budgets.
All-Wheel Drive
As we mentioned above, while Denver is sunny most of the year, it does snow – sometimes a lot. This means buying a Porsche that's equipped with all-wheel drive.
All-wheel drive allows all four tires to engage at one time. The additional road grip helps with traction during the winter months. For Denver Porsche owners, it's essential for staying safe during the brief but substantial snowfalls.
Plus, all-wheel drive and its improved road feel make navigating the mountain roads even more fun, if that's even possible.
Heated Seats and Steering Wheel
While heated seats are commonly included on many car models, heated steering wheels aren't as common. Again, despite the sunshine, Denver can get cold. Early mornings, late nights, and just the mountains, in general, all bring a chill.
You'll want to stay as warm as possible in your Porsche, and that means a heated steering wheel and heated seats.
The Porsche models we order generally come with heated seats and newer models have the heated steering wheel available as part of an upgrade package. In fact, most Porsche models offer winter driving packages that include options specifically for that chilly time of the year.
Choosing Your Model
Denver offers hot summers and relatively mild winters. While the above upgrades are great for battling our short bouts with winter, those planning on spending significant time skiing or snowboarding in the mountains should definitely consider Porsche's more rugged models like the Macan and Cayenne.
Porsche vehicles come in many different shapes and styles … sports cars, sedans, SUVs, roadsters, and even super cars. Each model is best suited depending on your specific needs.
Let's look at a few in more detail.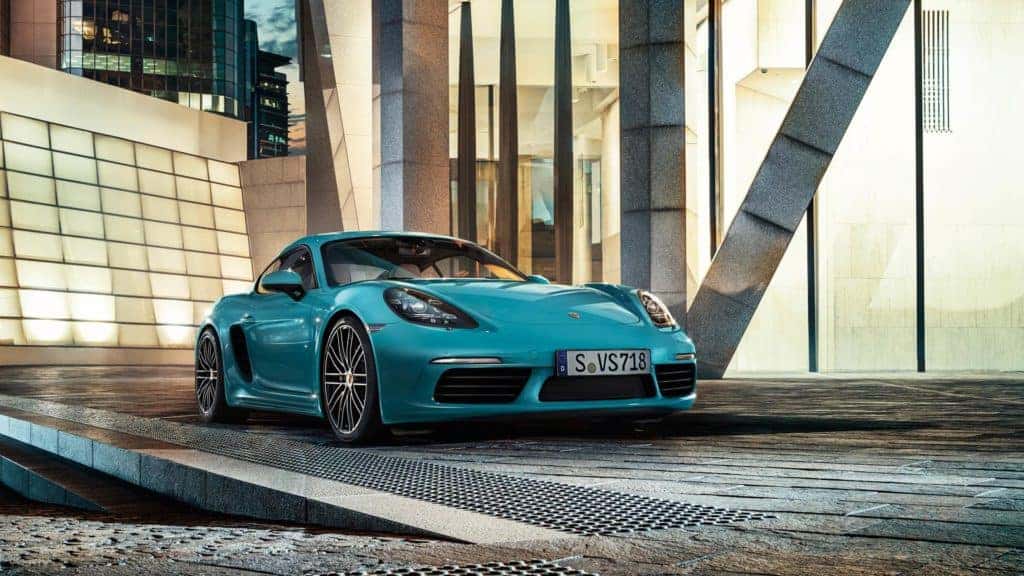 718 Boxster and Cayman
The 718 Boxster is the kind of car that's best suited for flying down I-25 or winding mountain roads (in the summertime, of course). 718 Boxsters come with a standard folding top perfect for Denver summers. The 718 Cayman, on the other hand, is a stunning coupe that is great to drive on dry roads no matter the time of year.
Both 718 models feature turbo-charged four cylinder engines with the base model hitting 300-hp and a 4.4 second 0-60 time, and 10.6 seconds to 100 mph.
Their sublime handling, small body, and surprisingly quick pickup make them perfect for zipping through traffic. Though you'll probably want to keep them inside when the weather turns ugly, due to their rear-wheel drive power train.
Low-mileage leases make this car an excellent option for summer driving.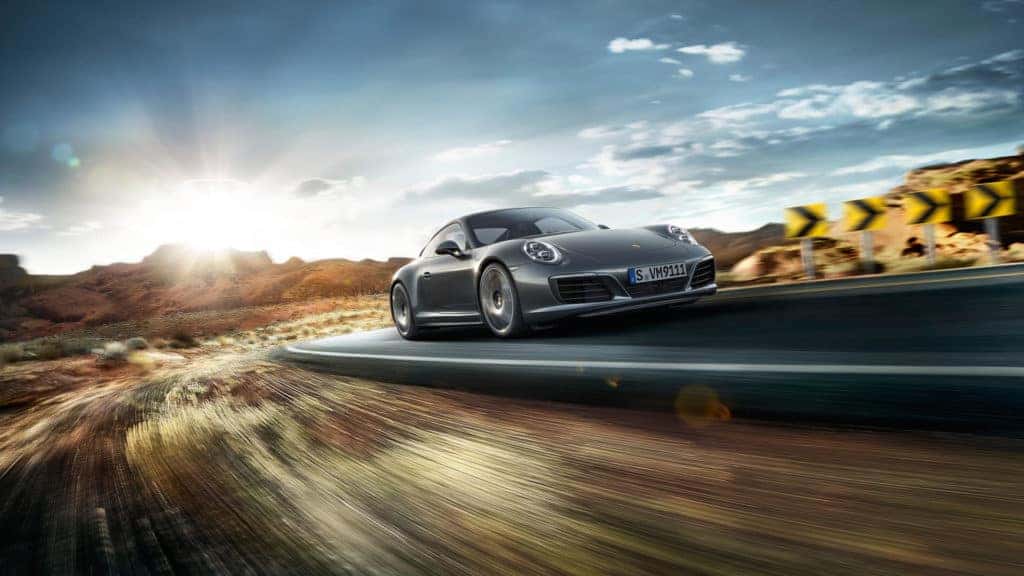 911
For those looking for an upgrade to the 718, the 911 may be the perfect choice. Like the 718, it's not specifically made for winter driving, but zipping through traffic or opening it up on 36 will make any car lover smile.
Staying true to their sports car roots, newer 911s feature a blistering 370 hp twin-turbo 3.0-liter six (with an optional 420 or 450 hp upgrade) that hit a base 0-60 in 3.5 seconds.
The 2018 911s come with a standard seven-speed manual transmission (not the best for daily Denver traffic) with optional all-wheel drive and a seven-speed dual-clutch automatic (much better for traffic and winter driving).
While you may want to consider a low-mileage lease and winter storage, many of our customers add a winter wheel and tire package and make this beauty a daily driver.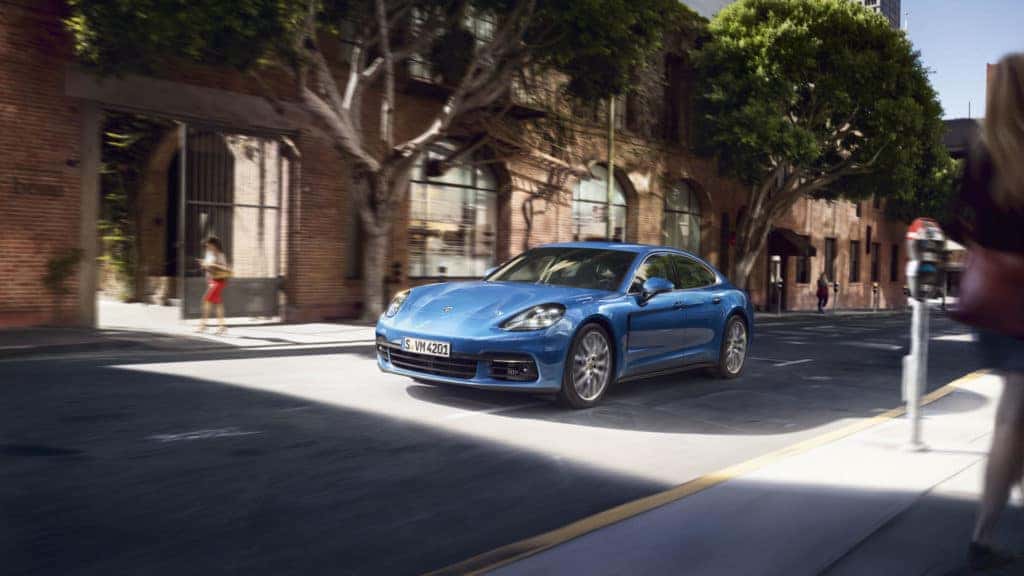 Porsche Panamera
The Porsche Panamera is a luxury sedan that sets new standards for performance. With available all-wheel drive and up to 550hp the Panamera can easily tackle steep mountain passes, winter or summer.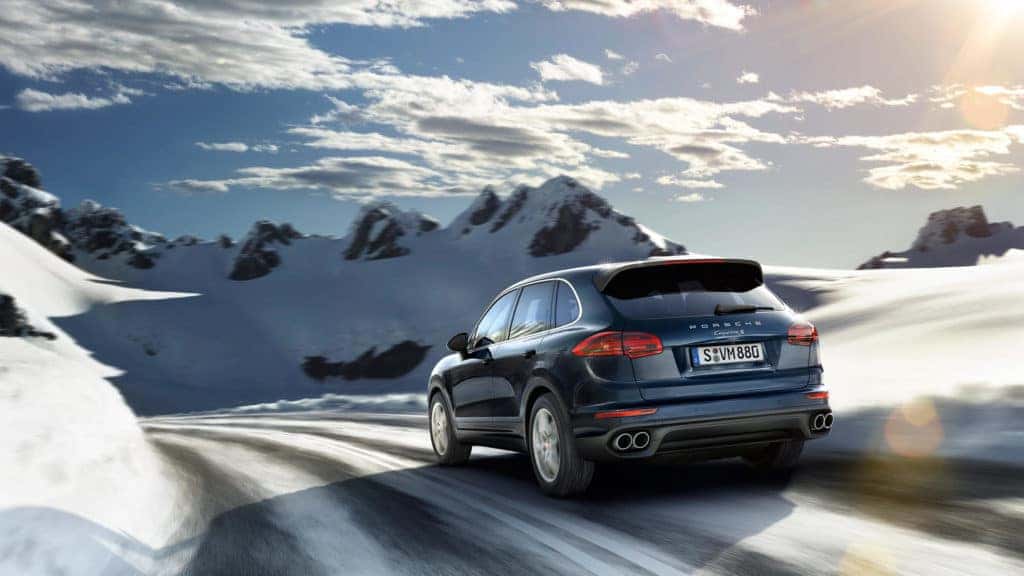 Porsche Cayenne
In Denver, many people are in love with the Porsche Cayenne. The SUV can still offer up to 570hp, meaning you'll get all the fun of driving a smaller Porsche but with the additional room for ski or camping gear. Added ground clearance also makes the Cayenne an excellent choice for trips off the beaten path.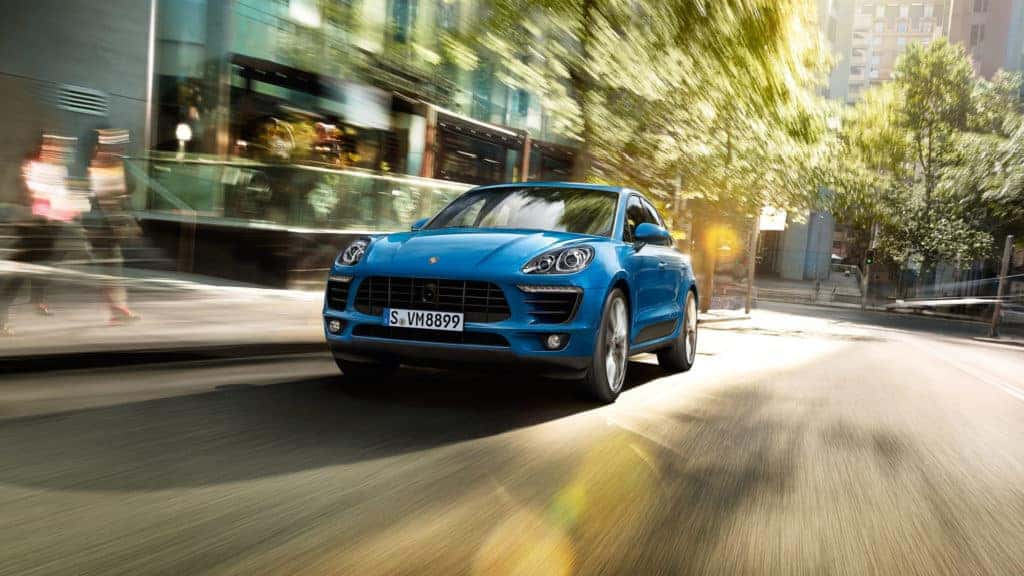 Macan
Balancing out our list is the Porsche Macan. This compact SUV mixes the handling and speed of a sports car with the space and practicality of an SUV. Like the Cayenne, it's perfect for everything from heading to the store to camping to commuting.
The Macan sees up to 360 hp, with all-wheel drive and seven-speed automatic transmission coming standard. The middle-tier S model hits 0-60 in 4.7 seconds.
While you're not setting track records in the Macan, you are driving an SUV that can outperform coupes and sedans from many other manufacturers.
Winter Tires (And a Summer Set)
Another winter option, winter tires are especially important in Colorado. The regular light snow falls and the occasional heavy storms mean Denver residents need to understand that their new Porsche will face snow.
Beyond all-wheel drive, snow tires are critically important to improve traction on any Porsche model.
Increased tread depth and softer rubber compound ensures that your Porsche has more than enough grip to handle the ice and snow. However, snow tires aren't without their drawbacks. The softer rubber decreases handling on dry roads and will also wear down quickly in hot conditions. So, if you're using snow tires, you should also own a set of summer tires. This prevents the unnecessary wear and tear on your winter tires, and ensures that you are using the right tools for the job in both winter and summer.
MPG
Denver driving is a unique mix of open roads with high speed limits and city driving. Our main highways (namely I-25 and I-70) often have 65 mph posted speed limits with traffic that often flows much faster.
Though during rush hour you're likely to hit standstill traffic no matter if you're on the highway or city streets.
The constant stop-start traffic makes fuel efficiency important. Smaller Porsche vehicles can get anywhere from 25-30 mpg, while larger models like the Cayenne get anywhere from 20-25 mpg.
However, those are newer models. Older cars get don't do quite as well, though they do cost less to purchase upfront. Depending on your commute you might want to take mpg into consideration.
Used Versus New
The new versus used car debate rages no matter what brand you're looking at purchasing. It's no different with Porsche vehicles, which have an excellent used market in the Denver area.
But shopping the used Denver Porsche market takes a few considerations. First, older cars can be more prone to breakdowns. The miles add up and things wear out even on the best-maintained cars.
Plus, as we mentioned above older cars get worse mpg. But it depends on how old we're talking about. Cars from the past five years or so can come at a significant discount but still offer great value. Especially when you are considering a Porsche Approved certified pre-owned vehicle.
New cars obviously come at a higher upfront cost but have a completely clean bill of health as well the added luxury of customization. Order the exact car you want, right down to the color of the stitching on the seats. You even have the option of European Delivery … pick your car up in Germany and spend some time traversing the scenic byways of the Old World.
There's an Established Community
Denver Porsche buyers can join the thriving Denver Porsche community. This means you'll have access to a number of Porsche specific activities, as well as a group of other Porsche enthusiasts from all over the Denver Metro area.
You may even want to check out the Rocky Mountain Porsche Club before you decide on your specific make and model. They'll have answers to any questions you might still have about buying your Porsche.
Buying Your Porsche in Denver
Whether you're shopping new or used, buying a Porsche is always a worthwhile investment, especially in the Denver area. From highway driving to mountain roads, Porsche vehicles have the versatility to do it all.
Summertime cruises and winter skiing are both in the cards for any Porsche owner that is outfitted with the right equipment. If you're in the market to buy a Porsche in Denver, consider getting in contact with us. Even if you are not in the Denver area, we happily sell vehicles to Porsche enthusiasts from all over the country.
Our Porsche Brand Ambassadors have years of experience getting Denver residents into the Porsche of their dreams. We know Porsche cars and can help point you in the direction of your perfect vehicle.
No matter what you're in the market for, we have you covered. We carry a large inventory of SUVs, sedans and sports cars while offering both used and new options. From winter wheel and tire packages to summer bike racks, we also carry a comprehensive selection of Porsche Driver's Selection and Tequipment accessories.
Don't wait, get into your new Porsche today!