Porsche Approved Used Cars: Thoroughly inspected to ensure superior quality
---
Editor's note: This article outlines the Porsche Certified Pre-Owned program and the many benefits of Porsche Approved used cars.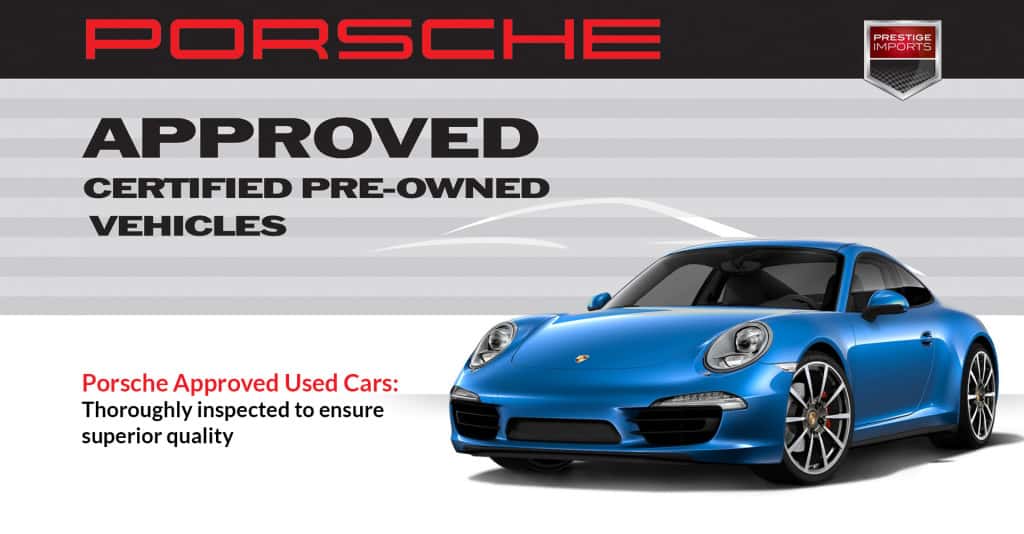 Benefits of CPO programs to premium used car buyers
I've been selling Porsche and Audi vehicles here at Prestige Imports for nearly a decade now. I've put in a lot of time, and in turn sold a lot of different vehicles along the way. Many of the vehicles I've sold were Certified Pre-Owned vehicles. I've sold sports cars and SUV's, flagship sedans, and crossovers. I've sold just about everything. Through all of these customer interactions I've come to know that there are vastly different motivations one has when selecting a car. Be it style, performance, value, economy, comfort or budget there are countless reasons one selects the car they choose to drive. As a salesman you can never predict what is fully motivating the buyer's decision. Although I can't always predict the underlying motivation I have, over the years, identified two fundamental concerns that nearly everyone who has ever bought a pre-owned vehicle has encountered. Those two universal concerns are the vehicle's condition and the vehicle's reliability.
No matter the cost, or the age, or the style of the pre-owned vehicle in question, the condition and the reliability will be a genuine concern. As a salesman my best tool to address these universal concerns is the Certified Pre-Owned program. The program directly evaluates each vehicles' condition, inside and out, with comprehensive inspection reports and extremely high standards for reconditioning and servicing. Once all the recommended servicing and reconditioning is complete, and the car is fully qualified as Certified Pre-Owned,the vehicle is supported with an excellent factory backed warranty. The combination of comprehensive inspection, reconditioning, servicing and factory warranty gives the buyer confidence that the vehicle's condition and reliability are more than acceptable.
The Certified Pre-Owned (CPO) program is such a motivating factor that it is often the first thing I will discuss with the client about the car. I bring it up before horsepower, or specific options, or even mileage. I am so quick to announce the certified program because I recognize just how special it is, and I know that the certified program gives the car a unique value that sets it far above a similar, non-certified, car. The CPO program legitimizes the car and allows me as a salesman to be 100% confident that if I sell you this car I'm selling you a car that is in exquisite condition, properly serviced and maintained and covered with the best warranty possible. This CPO package of benefits ensures that I am selling my clients a vehicle that will meet or exceed their expectations.
What separates Porsche Approved used cars from the rest of the premium market?
It should come as no surprise that Porsche has one of the most comprehensive Certified Pre-Owned (CPO) programs in the automotive industry, it's known as "Porsche Approved". I don't throw that "most comprehensive" claim out there lightly, the Porsche Approved program is open to vehicles that are a full eight model years from their original in service date or newer and have less than 100,000 miles. Additionally, Porsche's certified warranty carries the exact same level of coverage as Porsche's original factory warranty and includes roadside assistance for the full term of the certified warranty. As an added benefit Porsche includes a three month complimentary trial of XM Satelite Radio on any vehicle equipped with PCM and XM.
Porsche Approved Certified Pre-Owned Program Details:
111-point mechanical and visual inspection conducted by Porsche certified technicians using genuine Porsche parts.
All necessary services will be completed and up to date
Piece of mind in reducing reliability concerns. The Porsche Approved Certified Pre-Owned Warranty covers up to 6 years, or a cumulative 100,000 miles, from the original in-service date (whichever occurs first). For vehicles no longer under the new vehicle limited warranty at the time of used retail delivery, Porsche Approved Certified Pre-Owned Limited Warranty coverage extends until the earlier of 2 years from the date of used retail delivery or 50,000 miles from the mileage at used retail delivery, but not to exceed a cumulative 100,000 total miles on the vehicle
In case of a problem, the comprehensive warranty covers 100% of the costs for material and labor.
Items Covered by the Porsche Approved CPO Warranty
Engine
Fuel / Cooling system
Power train / Transmission
Suspension / Steering
Brake system
Heating / Air conditioning
Electrical Systems
Body
Comfort Electronics
Note: Porsche's CPO warranty does not cover things like batteries, tires, lubricants, expendables, unauthorized modifications, and normal wear and tear. For a complete list of exclusions, please visit – www.porsche.com/usa/approvedused/porscheapproved/features/warranty/
The Prestige Imports Difference
Here at Prestige Imports, our factory trained and certified Porsche technicians meticulously inspect each Porsche Approved vehicle to the highest standards. They perform all necessary servicing and reconditioning to ensure that a Porsche Approved used car is of the highest quality and finest condition. For the complete picture, see the Porsche Approved Certified Pre-Owned Inspection Checklist below (click to enlarge).
Porsche Approved Certified Pre-Owned means that your car has been hand-selected from only the best pre-owned Porsche vehicles in the world. It means it has been reconditioned using not just any parts, but only Porsche Genuine Parts. It means it has passed a rigorous 111-point Porsche model specific inspection to ensure the level of quality and race-bred reliability that comes with bearing the legendary Porsche crest. And with the same warranty as a brand-new Porsche vehicle. It means your decision to buy a Porsche Approved used car can be as reassuring as it is thrilling.
Remember, Porsche Approved is a comprehensive program that addresses a vehicles past, present and future. If you are considering a pre-owned Porsche, and are concerned about the vehicle's condition, service history and future reliability, a Porsche Approved vehicle will address all of those concerns.
To learn more about the Porsche Approved CPO program, and to find out which vehicles in our inventory qualify, contact one of our Certified Porsche Brand Ambassadors today – (833) 825-5423