Why You Should Consider Buying a Certified Pre-Owned Audi
---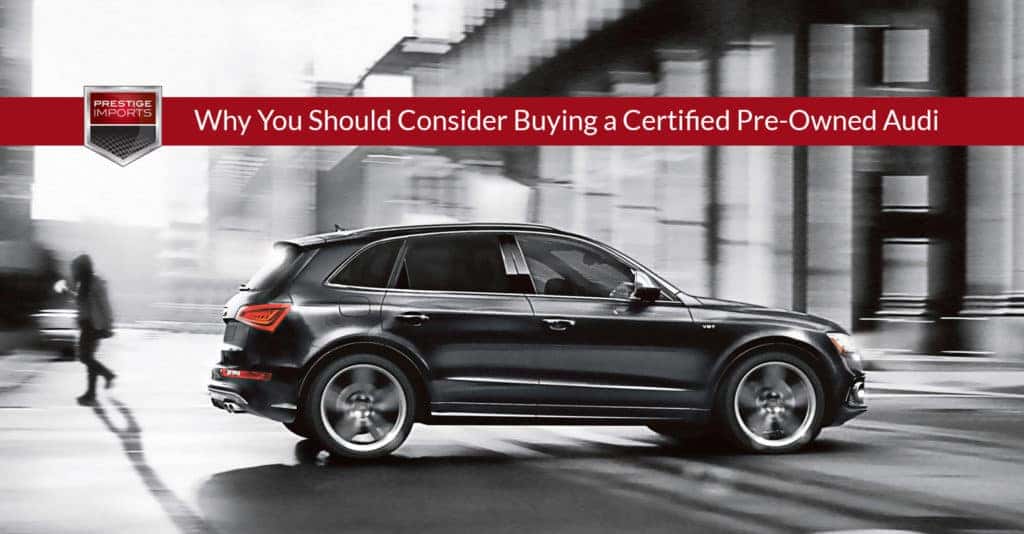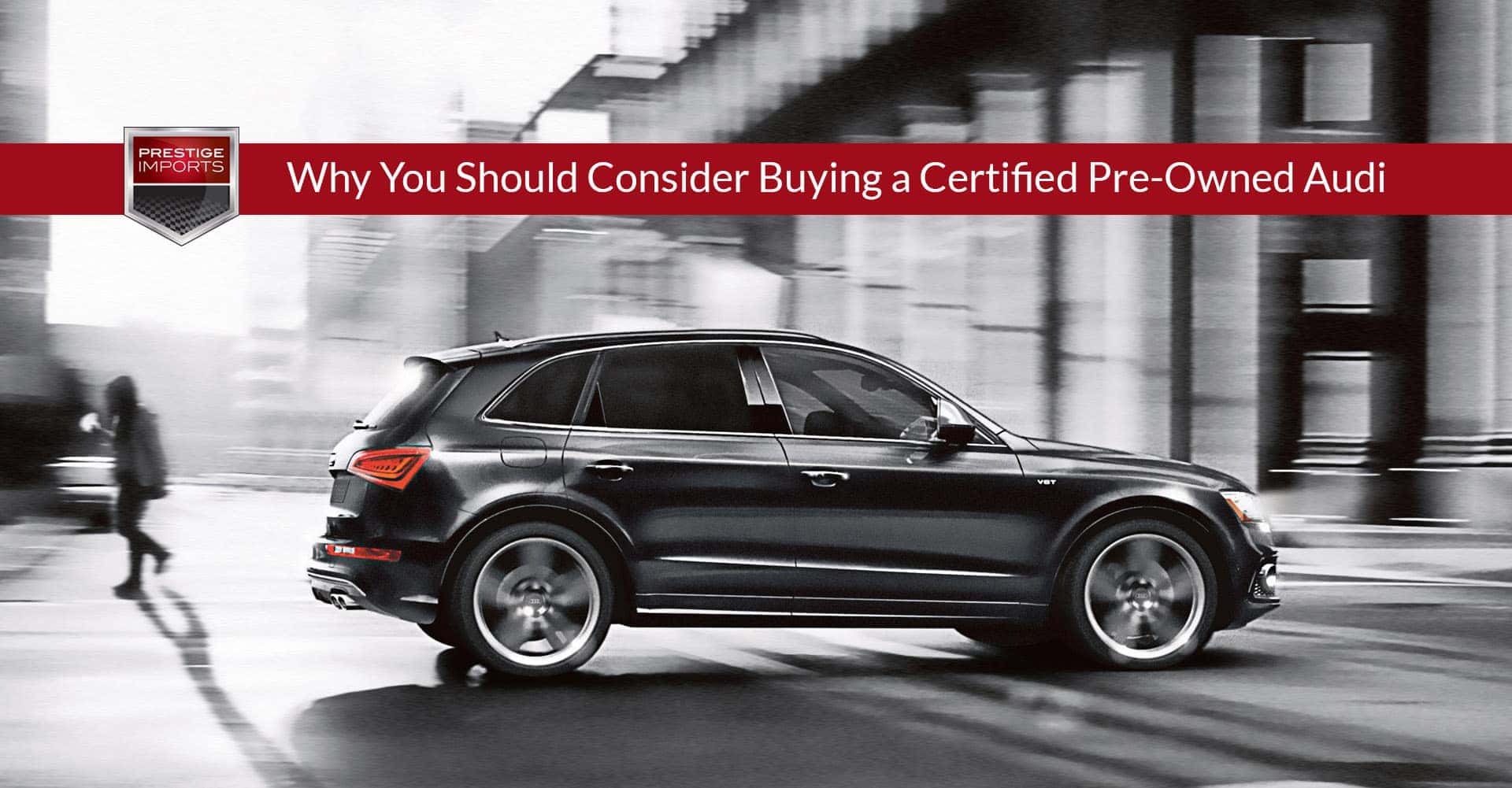 In 2009, there were 230 new and existing car models available for sale in the US market. While you can narrow down your search for a new car based on price, safety, or various features, you will still have quite a few to choose from.
Not everyone wants or can afford a brand new car. Even if you want to buy a used car, it doesn't narrow down your search.
If you're looking for a car that's reliable and impressive, look no further. A certified pre-owned Audi is your best option. Here's why you should consider buying one.
A Brief History
In 1932, four independent motor-vehicle manufacturers combined their forces to become Audi AG. They based this new company in Chemnitz, Germany.
Merging allowed them to manufacture vehicles for all market segments. All of a sudden, they were producing everything from light motorcycles to luxury saloon cars.
Cut to today and the name Audi is still synonymous with luxury and style.
Great Performance
Audi boasts a 300+ Point Inspection process. There's no other manufacturer that puts its certified pre-owned cars through a more vigorous, all-encompassing examination than a certified pre-owned Audi receives.
You'll also receive 24/7 Roadside Assistance with your certified pre-owned Audi. That's for the entire duration of your warranty and includes trip interruption benefits.
If the Audi is still under its original 12-year Corrosion Perforation Limited Warranty, you'll receive the balance of that, regardless of how many miles are already on it.
Audi boasts 24-hour customer service support. That means peace of mind no matter what time it is.
There's also a factory-backed limited warranty including coverage for up to six years or 100,000 miles.
Safety
Some people may fear buying a certified pre-owned Audi must mean that there could be problems with the car. There's no need to fear anything. Audi has rigid and strict standards before they approve which cars are sold as certified pre-owned.
The car or SUV must be more than four months and less than five model years old. It needs to have traveled over 4,000 miles but less than 60,000 miles. Certified Audi technicians verify the mileage.
Every certified pre-owned Audi comes with a CARFAX vehicle history report. This ensures that there's no extensive service history and no serious accidents.
Each certified pre-owned Audi goes through a rigorous inspection. The interior, exterior, engine, and everything else are thoroughly inspected. Anything that doesn't meet Audi standards gets replaced or repaired by an expert.
A Great Warranty
As you already know, Audi provides a great warranty on all its cars. If you choose to buy a certified pre-owned Audi, and there's any remaining coverage from the Audi New Car Limited Warranty, you'll receive that coverage on the Certified pre-owned vehicle until its expiration which is either four years from the original in-service date or at 50,000 miles. Whichever comes first.
After the Audi New Car Limited Warranty expires, all certified pre-owned Audi's are backed by a comprehensive certified limited warranty. The Audi Certified Pre-owned Limited Warranty provides coverage for up to two additional years  or additional 50,000 miles. Whichever comes first.
A Certified Pre-Owned Audi is More Affordable
As soon as you become a certified pre-owned Audi owner, you begin receiving the same quality service and personal attention you'd get if you bought a new vehicle.
For those worried about price, there are options. There are purchasing terms that provide flexibility ranging anywhere from 12 to 48 months.
For some models years, there's even a 72-month purchasing option. Interest rates are reasonable and it's easy to apply.
There are usually no penalties for prepaying and all our payment plans are convenient for most buyers.
It's an Attractive Car
Owning either a new Audi or a pre-owned Audi is quite popular right now. Audi sales grew 4% in 2016. That was coming off of 2015's best annual performance.
In December 2017, they enjoyed their best month of the entire year. People really want to own an Audi vehicle.
Consumers love Audi's because they're attractive and meticulously engineered. An Audi says you have class but don't need to flaunt it.
They also have a conservative design that allows for a broader appeal.
It's not only the outside of a pre-owned Audi that will thrill you. They're known for designing some of the best car interiors in the business.
You'll find every model is ergonomically designed. The controls feel intuitive and they use the best materials to ensure the vehicle interior is both durable and comfortable.
Since Americans spend an average of 17,600 minutes in their cars each year, comfort is a huge priority for most car buyers.
Cutting Edge Technology
Audi is always involved with cutting-edge technology. It's MMI infotainment system is among the best available on the market.
The car itself is easy to use. For a pre-owned Audi owner, you'll find that each model is packed full of features.
For those consumers who love having choices, Audi boasts one of the largest varieties of car models of any car brand.
They make everything from a small compact sedan to a large SUV to a supercar. What's great is you can upgrade to a newer model while enjoying all the features the brand Audi has to offer. Many people feel the Audi brand is worth sticking around for year after year.
They Make Race Cars
Audi doesn't only make normal cars, they make cars for sports performance as well.
Audi endurance racers have been dominating Le Mans for over a decade. What this translates to for the average person is you have an actual racing team at your disposal testing the performance and durability of your next car.
They have a team of drivers racing for 24 hours straight. It's a wonderful opportunity for them to test components and new technologies while discovering how they'll stand up to extreme duress.
Environmentally aware consumers looking for an electric car now stand to gain from Audi switching to Formula E racing.
They've Gone Green
While it's true that Audi is responsible for large SUV models like the Q7 and supercars like the R8, neither of which would be considered green cars, Audi has also been in the forefront of the automobile environmental movement.
You'll find that a pre-owned Audi vehicles with hybrid technology or turbocharged and supercharged engines, have seen fuel economy and performance increase to what was once considered unimaginable levels.
Better efficiency has been the result of developments like their cylinder cut-off in and auto start/stop in gas engine cars. And of course, there are the traditional and plug-in hybrids.
Audi is actually one of the leading car companies currently developing electric cars and plug-in hybrids. They even have e-versions in development for their Q7 and R8 models.
Celebrities and Superheroes
As if there's not already plenty of reasons to buy a used Audi, if you buy one, you'll be like some of your favorite celebrities.
Actors, and musicians routinely ride in Audi vehicles to attend awards ceremonies. During their ride, they realize how amazing the car is and end up buying one for themselves.
Many people have ended up buying an Audi to be like their favorite celebrity like Gwenyth Paltrow, Don Cheadle, and Chris Evans. Even Iron Man drives one.
The Cons of Owning an Audi
If you're going to buy a certified pre-owned Audi, make sure to continue coming back to the dealership for regular maintenance and check-ups. It's not always easy to find qualified mechanics otherwise.
Audi's incredible quattro all-wheel drive system makes for great winter weather performance, but it can take a toll on both fuel consumption and purchase price. If money is a concern for you, ask about FrontTrak models and look for the models that have the best gas mileage.
You may find that routine maintenance on an Audi vehicle is slightly more expensive than on a domestic or Asian competitor. The trade-off is that maintenance is only necessary once a year or every 10,00 miles.
Why You Should Buy Your Certified Pre-Owned Audi From Us
Our customers consistently leave us reviews stating how happy they are they made the decision to purchase a car with us.
We have created a great bond with our neighbors, friends, and customers through a series of special events and outreach programs.
Throughout it all, we've made it our mission to provide world-class service and community support to everyone we come in contact with.
There's no need to go any further when you're looking to buy a used car. Our team of dedicated professionals is here to answer all of your questions and help you find the perfect model for your needs and budget.
Get started by checking out our current certified pre-owned Audi inventory.