12 Reasons to Buy a Used Porsche 911 in Colorado
---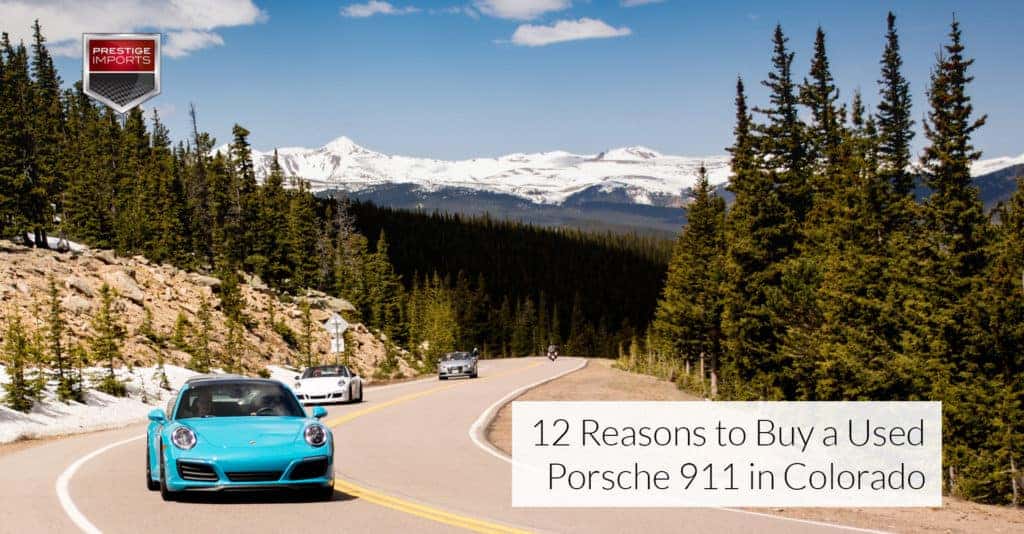 Colorado is a driver's dream. The sun's always shining and long, flat stretches of road with high speed limits make it easy to push the limit and leave it all in the rearview.
Flying down 36 on a warm summer's day is a special privilege reserved only for those lucky enough to live in the Denver area.
If you do live in the Denver area or plan on moving here soon, you need a car worth driving in all this sunshine.
One of our favorites happens to be the fantastically drivable Porsche 911. A car that's truly a classic and a joy to own.
But do you need a brand new Porsche to enjoy Colorado roads? Nope, a used Porsche 911 delivers all the performance you could ever need, plus the classic look that never goes out of style.
Let's take a look at why a used Porsche 911 is perfect for the Colorado sunshine.
The Price
Car shopping breaks down to price for 99 percent of people. Even with a high budget, you'll always find another car or another upgrade that's out of your price range.
A used Porsche 911 fits squarely within the budget of a Denver young professional. From $50,000 dollar classics to $150,000 new releases, there's something for everyone.
Regardless of the model you're after, you'll always end up with a powerful and efficient engine with enough torque to snap your head back.
What's more, there's plenty of used 911 models to go around. With a little effort, you can drive away with a new car this week.
Variety
There is a dizzying array of Porsche 911 models, dating from the early 1960s until modern day. When we said classic, we meant classic.
While shopping around for older Porsche models is admittedly more difficult, newer models are everywhere if you know where to look.
There's something for everyone. From cruising the highways to jaw-clenching speed on the racetrack, Porsche has put out enough 911s over the years to fill every void.
Open Spaces
The Porsche 911 is built for speed. From turbocharged engines that suck your head back to naturally aspirated monsters that rumble when you fire them up, it's almost impossible to avoid driving fast in a 911. As luck would have it, Colorado is the perfect place to do just that.
While half the state is one big mountain (ok, not really just one mountain), the rest is flat prairie with 75mph speed limits as far as the eye can see.
The southern and eastern parts of the state consist of open roads with limited traffic. Pick a destination and let the 911 do what it does best.
Dry Roads
Colorado is known for its snow, but we all know just how long that lasts around the Denver metro. Three hundred plus days of sunshine per year makes sure the snow melts away days, or even hours, after it arrives.
This means the roads around town are dry nearly year round. Sure, we'll have a few icy days, but for the most part, Colorado is a driver's dream.
When you own a 911 you want to get the most out of your driving, and that's only possible with dry roads.
Not to mention, beautiful sunshine just feels like driving weather.
Mountain Driving
In addition to dry roads, Colorado has something else most places don't; mile after mile of exhilarating mountain driving. As powerful as a Porsche 911 is, it handles just as well.
Winding mountain roads outside the Denver metro area are perfect for the 911. Whether you're headed for Georgetown, Nederland, or anywhere else the mountains have to offer, the 911 will take you there in style.
Cornering switchbacks takes on a new meaning thanks to Porsche's precision steering and exceptional braking.
High Performance
Porsche 911s are high-performance vehicles. They're made with racing in mind and commuting second. Every part of the driving experience is pure perfection.
Depending on the model, even an older used Porsche 911 can pull sub 4-second 0-60 times. And modern Turbo models can run 0-60 in 3 seconds, flat.
Performance wise, it doesn't matter which 911 you own, or where you live, this car is all about driving.
Of course, dry, flat prairie roads with high speed limits or winding mountain roads with scenic views don't hurt. Compared to somewhere say on the East Coast, Colorado makes the most of the 911s driving ability.
Superior Acceleration
Whether a new or used Porsche 911, you'll find acceleration that more than holds its own against similar in-class cars. Zero to 60 times guaranteed to snap your head back and make your heart race.
Winding through the mountains or flying down 36 has never felt so good as it does in a Porsche 911.
Even the older used Porsche 911 models more than hold their own. An afternoon drive in a 1960s model 911 is nothing short of impressive.
Leg Room
So far we've touched on the performance aspects of the Porsche 911, but now it's time to check out the intangibles that also set this car apart from the rest.
For a car made to push the limits of speed, there's a surprising amount of legroom across the 911 models. Even the older 911s have room to spare.
Comfort can make all the difference when you're living in Denver and using your 911 as a daily driver. With usable trunk space up front and even a small back seat, the Porsche 911 makes shopping trips to Sprouts manageable, even with a high-performance car.
Room for Life
Where's there's room for your legs, there's also room for your life. Coloradans are active people, and we have the stuff to prove it.
Camping, hiking, and even just coming home with a few new micro brews to try, takes up space in your vehicle.
Whether you are planning a drive through Rocky Mountain National Park or a road trip to the hot springs in Pagosa, feel free to pack heavy, you'll have the room.
The MPG
Porsche engineers are world renowned for their ability to squeeze more horsepower from less displacement. So Porsche 911 models are prized for the efficiency of their engines.
A used Porsche 911 from the 2000s can get around 20 mpg city and 25 mpg highway. Newer models do even better, pushing 25 city and 30 highway.
That's not Prius levels, but then again, you're driving a car built to own the road. We can't expect miracles from the Porsche team.
Though what we can expect, is decent gas mileage for city drivers, and even good gas mileage when you're cruising on the highway. Perfect for the Denver metro and highways alike.
Road Trips
Superior acceleration, high-performance handling, good mpg, leg room, cabin room for extra stuff, good weather…that can only mean one thing. Road trip.
Colorado is home to, and near, some of the most beautiful country in the United States. From Rocky Mountain National Park to Yellowstone, the options are endless.
Having a fun car to take on road trips makes living in Colorado even more enjoyable. There's simply nothing better than hitting the road in your 911.
The Community
Denver's home to a thriving car community. There are clubs for anyone and everyone, with some that push the, er, limits of what's allowed on our city streets.
Though fear not, the tamer (normal?) car clubs offers enthusiasts a place to bond over their cars and talk about the finer points of performance vehicle ownership.
The Rocky Mountain Porsche Club is a great starting point for any new or used Porsche 911 owner. They're welcoming, and it makes a great way to meet like-minded people.
Buying a Used Porsche 911
Colorado is a perfect place to become the new owner of a used Porsche 911. From price to performance to usability, driving a Porsche in Denver is simply sublime.
If you're in the market for a used Porsche 911, don't hesitate to get in contact with us.
Our experts know Porsche vehicles and have spent years getting to know the local market. We carry a wide range of Porsche 911 models and can even help you track down specific models from out of state.
From classics to new releases, whatever you're in the market for, we have you covered. Our cars are top of the line, and we're excited to share them with you.
Let us put you in your dream car today.
***
Did you find this article helpful? Did we miss anything? If you have questions or comments, just click the button below. We are here to help!

Questions or Comments >>