The Top 9 Reasons to Buy an Audi Sedan
---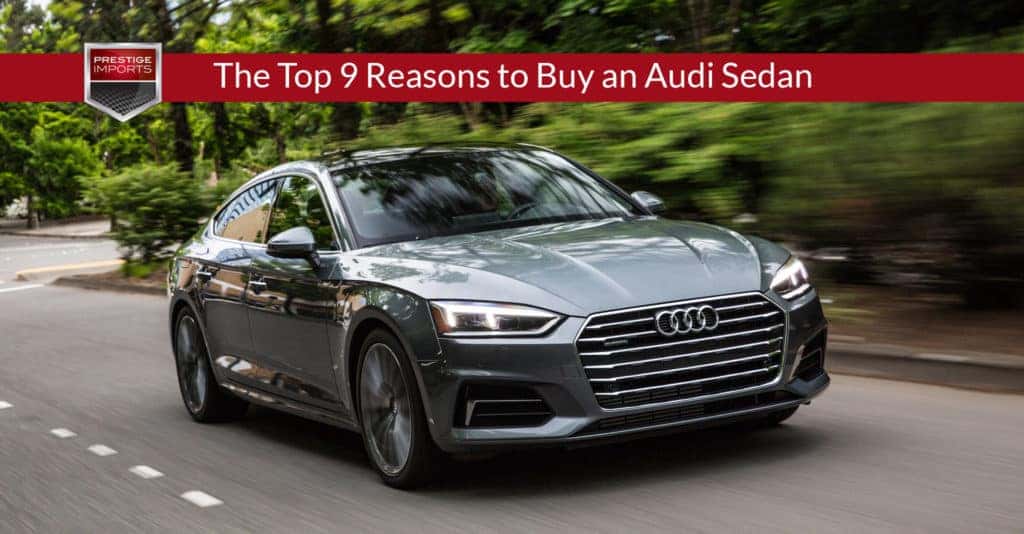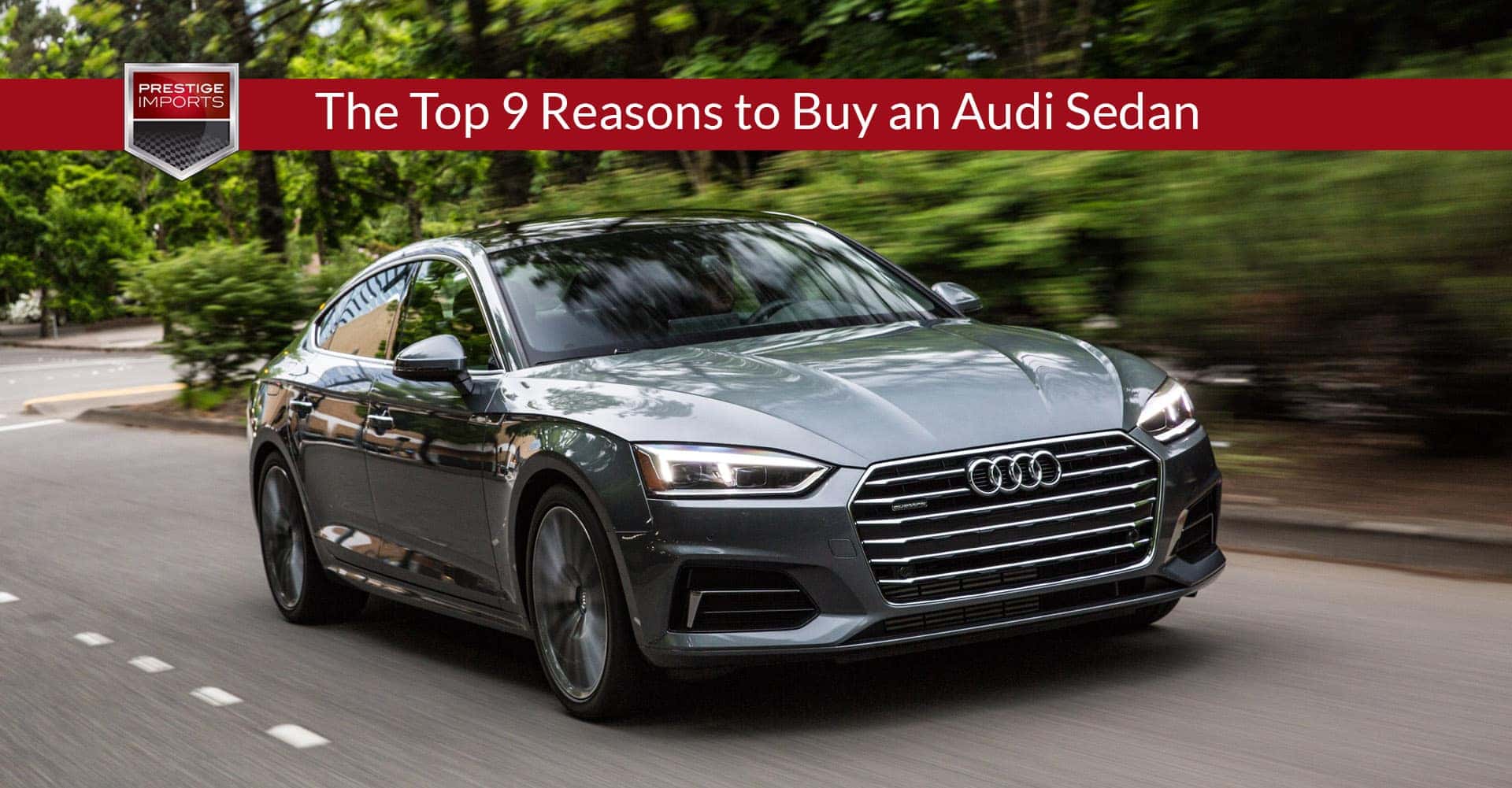 Are you searching for the perfect sedan?
Sedans are classy, affordable, and plentiful. These vehicles can prove to be a better choice than SUVs because they get better mileage, provide a comfortable ride, and are cheaper to service.
It can be tough to decide on the best sedan out there considering the variety of models available, but no matter where you're looking you can't go wrong with an Audi sedan.
Read on to learn more about why an Audi sedan may be the perfect vehicle for you!
1. Audi Is a Reliable Brand
When you're searching for a new vehicle, it's imperative to check out the most reliable brands that meet your needs. More reliable vehicles mean fewer maintenance issues in the future, higher safety scores, and models you can trust.
Browse reliability reports and you'll note that Audi rises to the top of these charts. For 2018, it clocks in as the fourth most reliable brand out there, achieving a 68 out of a 100 point scoring system.
The good news is that Audi has held this high standard for a while. The 2018 rating is the same as its 2017 rating.
Audi is known as a luxury brand that brings high-quality technology to the market. But it's also one of those rare brands that pairs luxury with reliability.
Choose an Audi sedan, and invest in a vehicle that will not let you down.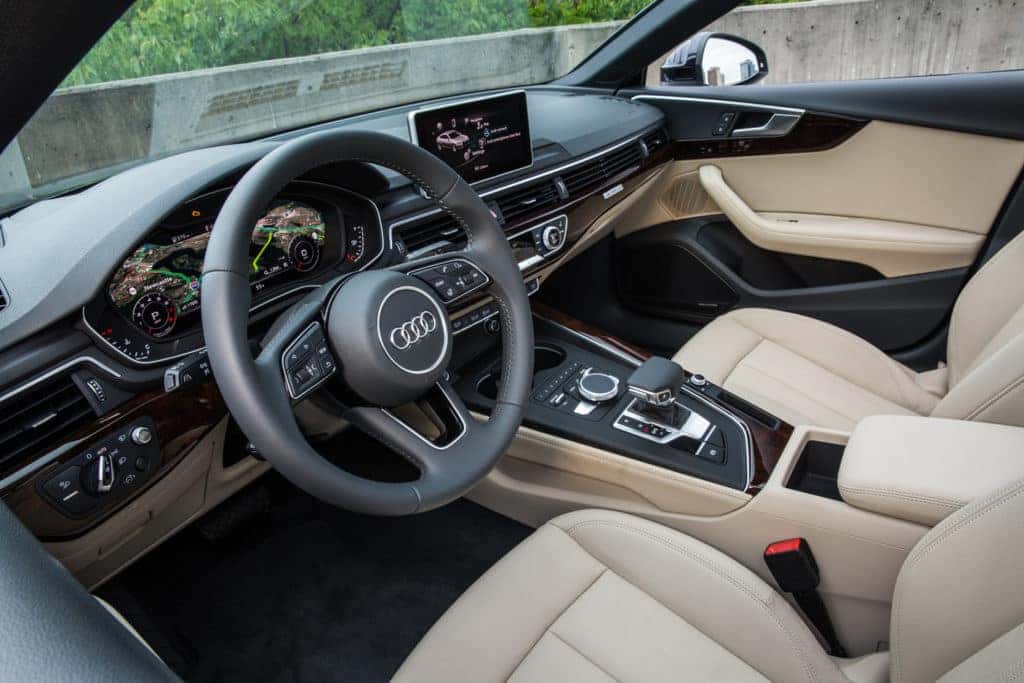 2. The Interior Is Hard to Beat
Did we mention that Audi is a luxury brand? The company specializes in luxurious interiors that are comfortable, beautiful, and extremely well-designed.
Audi's sedan models, in particular, have an aesthetically appealing, streamlined cabin design. The interiors are always more spacious than they appear on the outside, accommodating up to five passengers in most models.
Taller drivers will appreciate Audi's roomy driver's seat and the ability to comfortably stretch out their legs to reach a perfectly situated gas pedal.
All Audi sedans have luxurious interiors, designed to gleam and please.
Depending on the model, you'll experience an interior replete with shining wood inlays and/or metal finishes. All Audi sedans feature leather interior seating, so you can slide back into deeply comfortable, molded seats – there's no upgrade necessary.
Audi sedan's are well know for their sleek lighting systems with illuminated locking glove box, fading interior lights, and illuminated cargo storage. These vehicles are ideal for night driving in this regard. You'll never feel as if you are gazing into harsh light, or struggling to see something in the dark.
Finally, drivers will appreciate the quiet interior of these sporty luxury cars. You can rattle down nearly any road, and an Audi sedan will muffle most noises. Your ride is going to be smooth and quiet.
Given the incredible interior alone, any Audi sedan is perfect for people looking for a comfortable and well-designed four-door vehicle.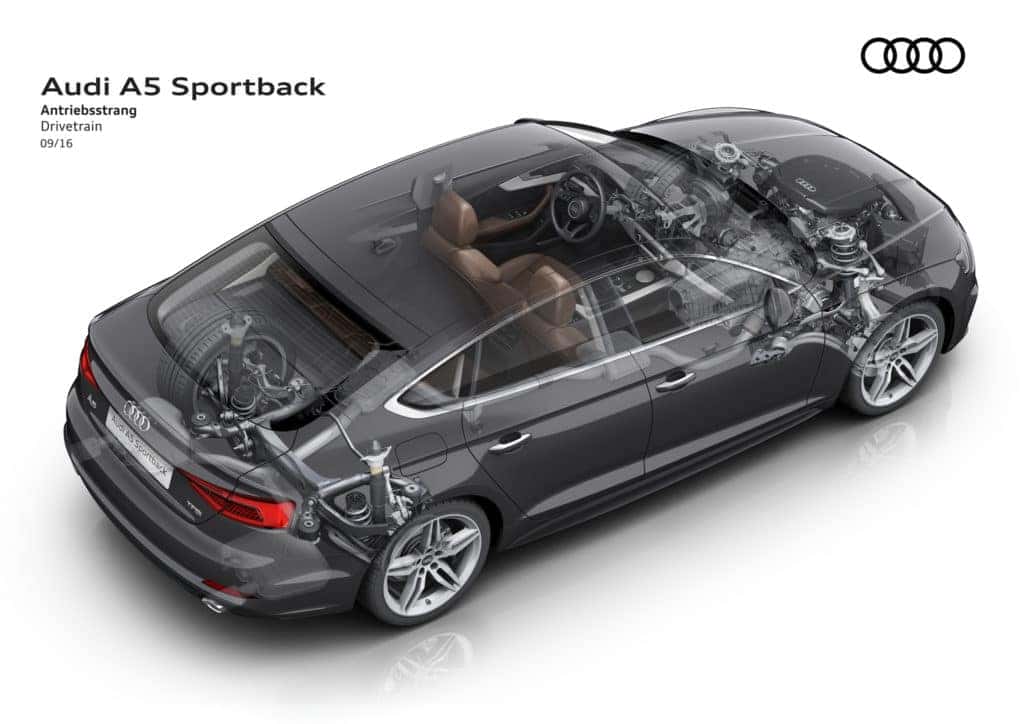 3. It Handles Beautifully
Reliability and comfort are one thing. Handling is another. It's important to choose a sedan that handles seamlessly.
Audi sedans match smooth interior refinement with exceptional handling ability. With an Audi sedan's ability to make tight turns gracefully at a moment's notice, you'll feel nimble in any model.
If you anticipate a lot of highway driving, don't worry about merging. Audi sedans are powered by turbo-charged or super-charged engines that deliver horsepower that will allow you to comfortably merge onto any highway at any speed. Some of the sportier models can get you from zero to sixty in just four seconds.
For drivers who live in wintry or icy areas, there really is no substitute for Audi's famous quattro all-wheel drive system. The incredible handling provided by the optional quattro system can make any Audi sedan exceptionally well suited to a variety of environments, drivers, and purposes.
4. Bring Your Music with You
Let's not forget about on-road entertainment! The ideal car will integrate seamlessly with your entertainment and music needs. Audi sedans don't fail in this regard.
In most models, built-in power outlets will enable you to charge any devices you have at any time. In addition to the usual radio access you'll have with every sedan, you can also play CDs or hook up your iPhone, and enjoy music through a high performance sound system with at least 10 speakers.
You'll also be able to navigate music choices easily through Audi's award winning MMI system. Many models will even allow you to upgrade to premium entertainment features.
5. Prioritize Safety
We've covered luxury, reliability, stellar handling, and incredible entertainment. Vehicle safety should also be a high priority on your list of standards as you're browsing for the right sedan.
Audi sedans prioritize safety at every rev of the engine. You can feel confident when you're purchasing one of these vehicles that you'll be investing in a secure ride, no matter where you are headed.
In addition to the standard lineup of safety features, every Audi sedan can be equipped with premium safety features like pre-sense front forward collision sensor, backup camera, fog lamps, a side assist feature that helps monitor blind spots, and even cruise control that adapts to the situation and speed.
Of course, safety features will vary depending upon the Audi model you choose, but rest assured, every sedan will offer you the security you need.
In terms of safety and collision ratings, the Audi scores very well across the board. The Audi A3 even received the 2017 IIHS Top Safety Pick!
If you're looking for an ultra-safe vehicle that is also powered by the best all-wheel drive system on the market, look no further.
6. Achieve Competitive Mileage
With gas prices back on the climb, it's important to choose a vehicle that is as efficient as possible when it comes to mileage.
Just because Audi is a luxury brand, it doesn't mean it falls behind in this regard.
With the prodigious use of light weight materials, turbo-chargers, super-chargers, and revolutionary electric technologies, this brand offers highly competitive mileage rates.
Most Audi sedans average 20-26 miles per gallon in an urban area, and can reach up to 35 miles per gallon or more on highway stretches. In this sense, an Audi sedan gives drivers some of the best mileage numbers available–while still looking beautiful, sporty, and elegant.
7. Choose from Several Models and Designs
We're not just talking about one model here. If you're seeking out an Audi vehicle, you've got an extensive selection of models and styles to choose from. Check out the performance of the RS 7 sedan if you're wanting to turn heads with looks and speed. Or experience the nimble and sporty S4. If luxury is your thing, look no further than the stunning A8. The newest addition to Audi's sedan lineup is the stunning A5 Sportback (pictured throughout this article). And if you looking to make your first move into the luxury segment, you can't go wrong with the A3, Audi's class redefining entry level sedan.
When it comes to Audi, you also have your pick of color ranges, interior finishes, and beyond. Versatility in design and model makes the Audi one of the biggest crowd pleasers when it comes to sedans.
If you want to get a sense of what the Audi marketplace looks like right now, browse our collection of Audi vehicles today.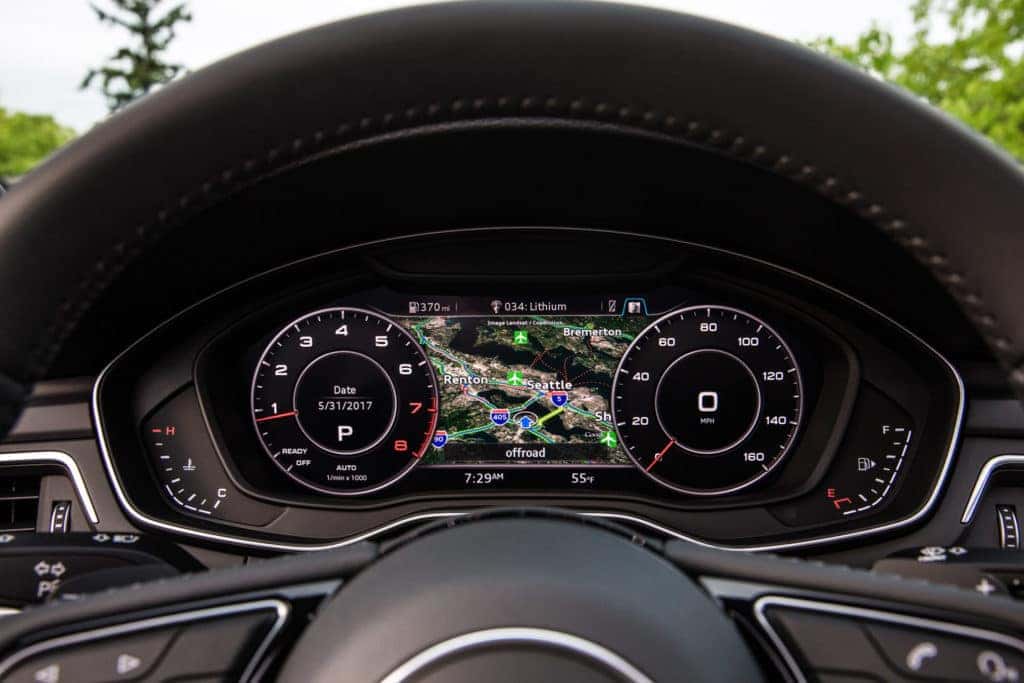 8. Enjoy a User-Friendly Vehicle
A lot of people get anxious about how to navigate new buttons and steering systems in a new car. When it comes to any sedan by Audi, however, you're in for a user-friendly driving experience.
This is because Audi designs their driver technology with the user in mind. You won't struggle to figure out what to press when navigating an Audi dashboard. The brand really does pride itself on offering cutting-edge technology that's easy to use.
If you do need help deciphering the myriad of warning lights that pop up in your driver display, be sure to check out our handy guide.
9. Finance Your Sedan Easily
Some people may balk at the price tag of some Audi sedans. Certainly, some come in toward the higher end of the pricing spectrum. But models like the A3 and A4 deliver exceptional value at a very competitive price point.
Keep in mind this is a luxury brand that delivers high-quality technology, performance, and safety throughout their line of vehicles.
At Prestige Imports, we make it easy to finance these vehicles. We offer a team of financing experts ready and able to assist you in managing this financial investment.
If you find the cost of a new Audi sedan to be just beyond your comfort zone, you can also consider purchasing a used one. Although this means investing in an older model, you will find lower prices that align with your budget, and an exceptional Certified Pre-Owned warranty. CPO Audi sedans are some of the hottest vehicles on the market.
When you are ready to purchase your new vehicle, get in touch with one of our Audi Brand Specialists, they  will be able to help you with special discounts and promotions as well as Audi-specific sales.
Curious about how you can finance your sedan through Prestige Imports? Get more information at our comprehensive financing center today.
Why You Need an Audi Sedan
Sedans are ideal for people seeking an affordable, streamlined, and comfortable driving experience. As outlined above, Audi offers one of the most competitive vehicles on the current market with its line of luxury sedans.
A typical Audi sedan matches the performance of a high horsepower engine with incredible handling, a luxurious interior, class leading technology, and high scores on consumer and national safety surveys. In short, an Audi sedan is the car for you.
At Prestige Imports, we're here to help you identify the Audi of your dreams. Reach out to us today to learn more about your next vehicle purchase!
***
Did you find this article helpful? Did we miss anything? If you have questions or comments, just click the button below. We are here to help!

Questions or Comments >>