Audi Dashboard Warning Lights: A comprehensive visual guide
---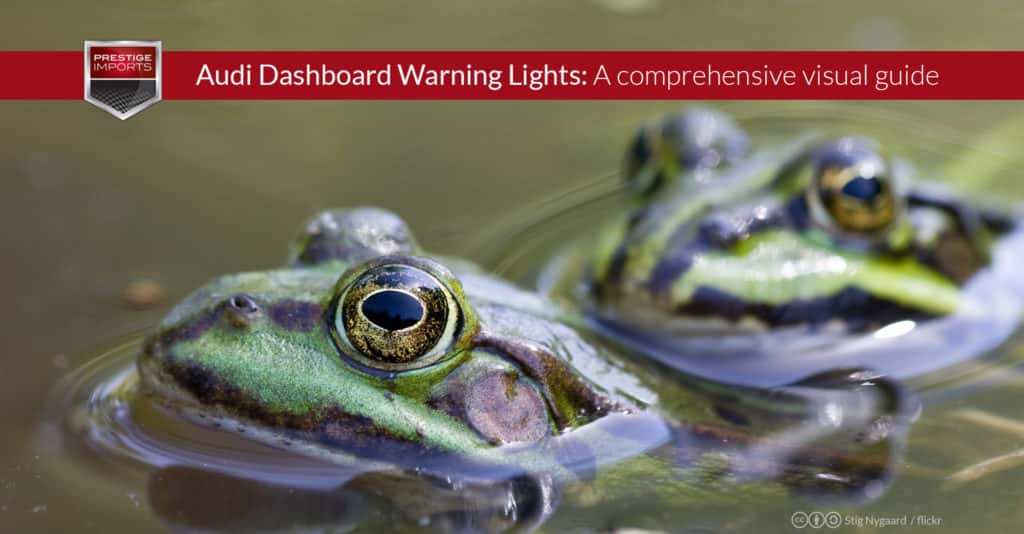 Audi Dashboard Warning Lights
If you're like most people, you probably freak the frak out when lights start flashing, buzzers start buzzing, or frogs rain down upon you from the firmament. And freaking out, certainly, is a reasonable reaction to any of those changes in your otherwise benign life, which, typically, is devoid of The Unknown.
Of course, if you want to mitigate (if not totally eliminate) some of the freak outs in your life, knowing the cause of certain external stimuli can be rather helpful. Scientists can only speculate as to why small amphibious creatures fall from the heavens, but I, my friend, can inform you of why certain lights appear and/or flash on the dashboard of your Audi. This, obviously, demonstrates that I am a much better and smarter person than the "scientists."
While every generation and model of Audi will have slightly different dashboard warning lights, I have chosen to create a comprehensive guide to one of our newest and most technologically advanced models, the 2017 Audi Q7. The extensive chart below illustrates every warning light that you are likely to see, as well as a thorough description of what that light (and accompanying message) actually means. While this information was taken directly from the owner's manual of a 2017 Q7, this guide is no substitute for your Audi's actual owner's manual. Keep that manual handy to double check the answers you find below.
Obviously, not all the lights listed below are "warning" lights, per se; some of them are, merely, "indicator" lights (i.e. informing the driver that a particular system has been engaged). As a general rule, the white and green lights connote such an indication. The yellow warning lights mean that an action should be taken in the near future, and red lights inform you that action needs to be taken immediately.
So, without further ado, Prestige Imports is pleased to present …
A Comprehensive Visual Guide to Audi Dashboard Warning Lights
I hope you found this visual guide to Audi dashboard warning lights instructive. If you are out driving around the Denver metro area and any of the above warning lights (yellow or red) appear on your dashboard, and the situation cannot be self-remedied quickly and safely, I would strongly suggest making an appointment with our Audi Service Department so they can work their magic and get you back on the road as quickly as possible.
To schedule an appointment with an Audi certified-technician, simply call (833) 825-5423 to make arrangements with a Service Advisor. Remember, Prestige Imports is conveniently located near downtown Denver at 9201 West Colfax Avenue between Wadsworth and Kipling.
***
Frog photo courtesy of Stig Nygaard / flickr
Did you find this article helpful? Did we miss anything? If you have questions or comments, just click the button below. We are here to help!

Questions or Comments >>