2017 Porsche Panamera Redesign: "Slow it down, speed it up"
---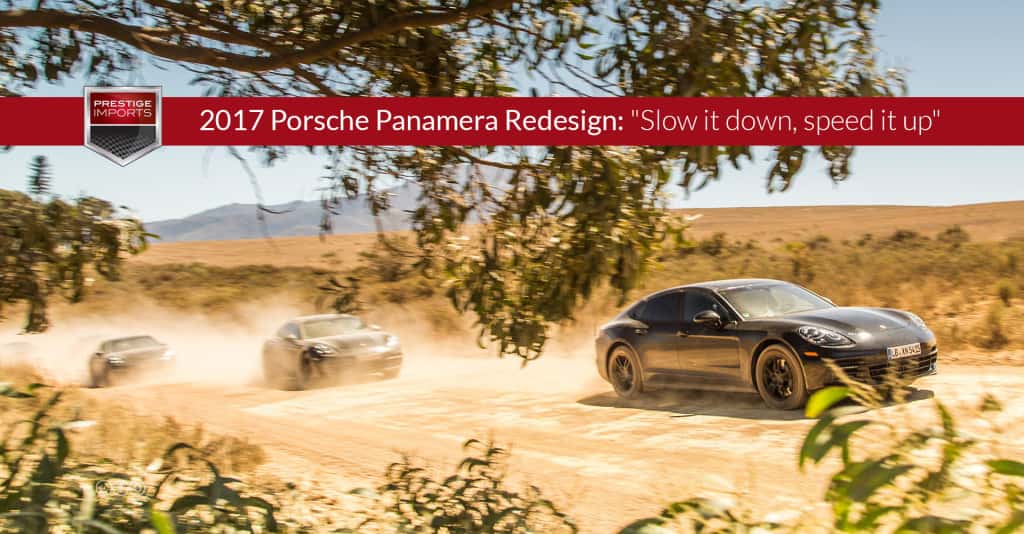 2017 Porsche Panamera: An Anticipated Redesign
According to a recent Car & Driver article, "Porsche will officially unveil the next generation Panamera" (i.e. the 2017 model) on 28 June of this year. While Road and Track claims that it "will make its official debut at the Paris Motor Show this September," the exact release date, ultimately, is a trivial matter. What is important, though, is that the German automaker overhauled their luxury sedan; and, not surprisingly, it's one of the most anticipated Porsche redesigns in recent memory.
Most of the chatter regarding the 2017 Porsche Panamera redesign has to do with the fact that Porsche markedly altered the vehicle's contours. As enthusiasts and owners are well aware, many critics claim that the current Panamera is "slightly bulbous and awkward." To this extent, these haters have awaited an exterior retooling for quite some time.
[Although, I'd like to note that I'm a fan of the 2016 Panamera models. Check out my recent review of when I drove one down to Parker, CO. The post includes some gorgeous photographs of the car, which, to my mind, contribute to the argument that this vehicle is a beauty.]
In addition to the aesthetic changes, the 2017 Porsche Panamera will flat out cook!
Some lucky schmucks at Auotmobile Magazine received an early test drive in Cape Town, South Africa. The article's author notes that the Turbo version of the new Panamera bested the 7:28 lap-time set by the 911 Carrera GT at Nürburging. Yes, that means its faster than a lot of 911s!
If you'd like to read a full overview of the differences between the 2016 and 2017 models (and view some hot pics), I recommend checking out the lengthy but informative Cape Town article.
Hip-Hop and the Porsche Panamera
In honor of this soon-to-debut beauty, I'd like to return to a topic that's near-and-dear to my heart: the hip-hop community's love of the Porsche brand and, specifically, the Panamera.
Since I've posted a couple of articles in the past about songs that name-drop the German automaker, I'd like to add a few more gems to the list. The first two songs listed below have accompanying "official" videos that feature visual cameos of the Porsche Panamera.
It also should go without saying that all these videos contain explicit, NSFW language:
Future, "Tony Montana" (featuring Drake):
A Porsche Carrera, Panamera, 911
I do the whole dash, dropping all cash
---
YG, "Who Do You Love?" (featuring Drake):
Porsche sittin' on Forgi's
N***** can't afford these
The Panamera s****** on the 9-11
I call my homies, not 911
---
Future, "Karate Chop" Remix (featuring Lil Wayne):
Got a Panamera round a young n**** neck
Got a young b**** pulling up in a vet
---
Rick Ross, "Mine Games" (featuring Kelly Rowland):
Slow it down, speed it up, I'm just being me
Panamera here's the keys, that's just the g in me
---
Young Thug, "Danny Glover" Remix (featuring Nicki Minaj):
Panamera with the tinted roof
All the n***** dogs goin' "roof"
---
If you'd like to test drive a Porsche Panamera, visit Prestige Imports. We're located at 9201 West Colfax Avenue. You can also call (833) 825-5423 to schedule an appointment with one of our Porsche Brand Ambassadors. Likewise, you can check out our online inventory to see what we have in-stock.
***
Did you find this article helpful? Did we miss anything? If you have questions or comments, just click the button below. We are here to help!

Questions or Comments >>