It's Great that the 1979 Porsche 911 Turbo is Still Alive!
---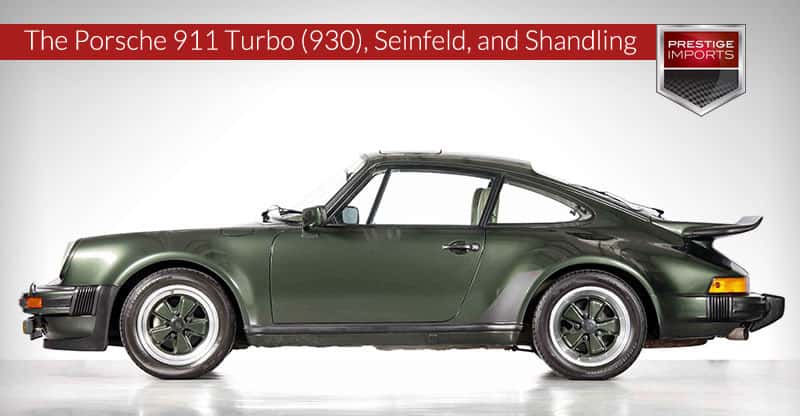 It's Great that Jerry Seinfeld is Still Alive
For many people, Jerry Seinfeld initiated his slow slide into obscurity the moment his eponymous, situational comedy program signed-off the National Broadcasting Company on 14 May 1998.
Of course, for those of you who enjoy vintage cars and vintage comedians, you're well aware that he's kept himself busy with the sometimes wonderful, sometimes problematic Comedians in Cars Getting Coffee. Now in its seventh season, the show's title reads as a literal description of its basic premise.
Recently, Seinfeld teamed up with fellow, ancient Jewish comedian Garry Shandling for an episode dripping with nostalgia. Shandling, as Seinfeld mentions in the introduction, had a career that paralleled his own, which culminated in the critically-acclaimed programs It's Garry Shandling's Show and The Larry Sanders Show.
(Sadly, Shandling passed away shortly after filming the episode, making their meditations on death all the more poingant. It also makes the episode's title "It's Great that Gary Shandling's Still Alive" painfully ironic.)
It's Great that the 1979 Porsche 911 Turbo (930) is Still Alive
For the fourth episode of the seventh season of Comedians in Cars Getting Coffee, Seinfeld cruises around Los Angeles with Shandling in a 1979 Porsche 911 Turbo, whose internal, factory designation was the 930. Seinfeld provides all the juice on the vehicle during the video's opening segment:
Okay, okay. This is my kind of car. This is a 1979 Porsche 930 Turbo in cashmere beige with cork interior. It has a flat-6, 3.3-liter engine mounted at the extreme rear of the car: the worst possible place, for the most possible fun. It has a KKK-turbo (no relation to the racist, southern Klu Klux Klan organization), giving it 265-horsepower. It has a 4-speed, manual gearbox. It has cross-drilled ventilated disc-brakes. It goes 162 miles per hour. This is technical car for technical guys who like technical things…I love this car. I love the colors. I love the fenders. I love the stance. I love the accordion, rubber bumpers. I love the upright cooling fan. I love the big tach. And the five-spoke fuchs wheels.
All specifications (which are impressive) aside, this car is F****** GORGEOUS. It's not surprising, then, that these air-cooled beauties are fetching top dollar on the open market.
You can view a small excerpt from the episode below:
If you'd like to check out the entire video, featuring a beautiful vehicle wending its way through the sun drenched streets of Southern California whilst two classic personalities wax nostalgic about Ye Olden Days, then head over to Crackle's proprietary site. I lol'd several times in the office while watching it, so this is more than a tepid recommendation.
In other news, Seinfeld just signed-on for an eighth season of Comedians in Cars Getting Coffee.
It's Great that Prestige Imports is Still Alive
If you'd like to test drive a Porsche 911 and drive through the sunny streets of Denver, stop by Prestige Imports. We're located at 9201 Colfax Avenue. Conversely, you can schedule an appointment with one of our Porsche Brand Ambassadors by calling (833) 825-5423.
***
Did you find this article helpful? Did we miss anything? If you have questions or comments, just click the button below. We are here to help!

Questions or Comments >>