The Key to Keys – A guide to replacement keys for your Audi or Porsche
---
Editor's note: This guide will step you through the process of purchasing replacement keys for your Audi or Porsche. It was a collaboration between our content creation team and John Bunn, our Parts Manager.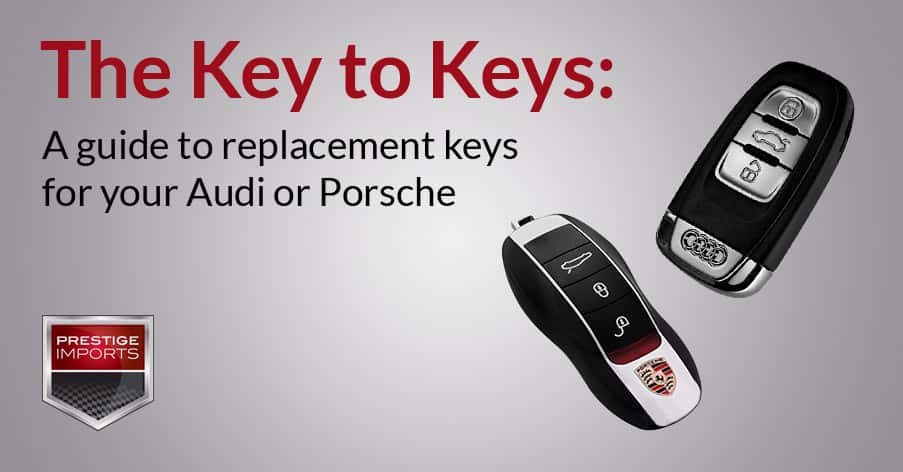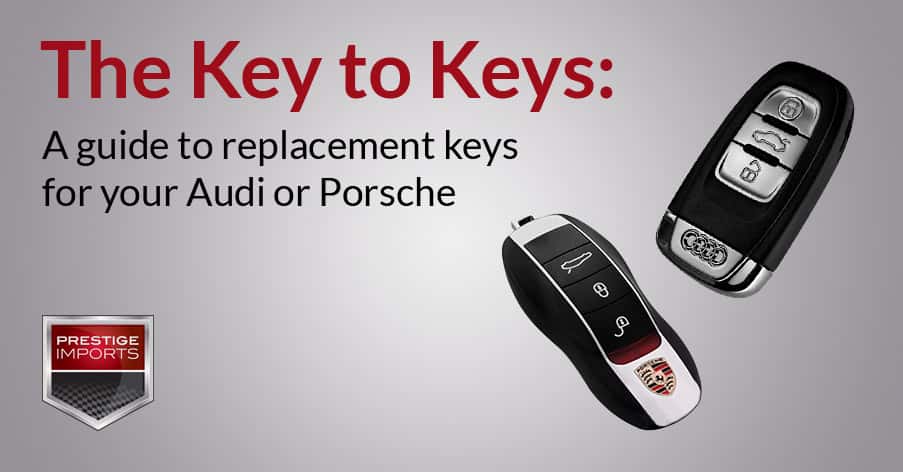 Lost your key? Buying replacement keys for your Audi or Porsche can be complicated, but Prestige Imports is here to help.
It's likely at some point we are going to misplace our keys. Sometimes we even misplace the keys in our own vehicle and then lock the doors! Regardless of what events lead us astray, we end up standing outside our car with no keys in hand.
If your spouse, child, grandmother, or Aunt Sally has your spare key, they should be your first call. If you don't have a spare key, things get a little more complicated; you see, we absolutely have to have both the key and the vehicle in our shop in order to complete the the programming process and get your car up and running again. We cannot just program a replacement key and bring it to you. So in order to get back on the road, a new key will need to be ordered and your vehicle will need to be towed to the Prestige Imports Porsche and Audi Service Center near Denver, CO. But before actually having your vehicle towed in, please be sure that the Porsche or Audi replacement key has been delivered to our Parts Department, this can sometimes take a couple of days.
Note: This article is intended for those living in the Denver Metro area. The practices described are pretty standard across all Porsche and Audi dealers, so the basic information will likely be applicable to everyone. If you do live outside the Denver area, you will need to get in touch with your local dealer to learn about their specific processes. They should be able to help you order your new key and get it programmed. Unfortunately, if you are not able to physically bring your vehicle to Prestige Imports, we will not be able to help you.
Ordering a replacement key for your Porsche or Audi is not like ordering an oil filter or a set of brake pads. It must be a highly secure process. You do not want just anyone ordering a key for your car, for obvious reasons. To ensure security, we ask for a number of items when you request a new key. We will need proof of ownership (registration, title) and we will need a photo ID (Colorado Driver's License, passport). Very important note- the names on both documents must match, meaning we cannot accept a drivers license from a husband if the wife's name is on the proof of ownership. We can only order a key for the person that appears on the proof of ownership.
We will need to process payment before we can order the replacement key for your Audi or Porsche. Prices vary based on whether the key has a remote or not and the year, make and model of the vehicle. It can take up to two days for us to receive the key. When your key arrives, it will unlock the vehicle doors; however, if your vehicle is newer than 2001, the new key will not start the engine. Both Porsche and Audi keys contain a microchip that requires programming to the vehicle in order for it to start.
The programming process can take up to two hours and requires us to have ALL existing keys, as well as the new key, so they can all be programmed at the same time. There is an additional charge for programming the key (it is not built into the price of the key), and the cost will vary depending on the year, model and make of your vehicle. The good news is that there is only one charge for programming all the keys. Note: It is highly recommended that you always have at least 1 spare key, because if you lose the only key for the car, you will also have to pay for the vehicle to be towed and it will not be drive-able until a new key arrives and is programmed.
If you do not have a spare key and you have had to call for a tow, while the truck is on its way to your location, go ahead and give our Service Department a call. You can reach us at (833) 825-5423. We will set an appointment to program the key. Please note that we can only schedule key programming appointments for Monday through Friday.
Once your vehicle is in our shop and the new key arrives, we can program the anti-theft chip hidden inside. Remember, if you have additional keys, please bring them all in so we can program them at the same time. Keys that are not present during the time of programming will no longer work once the new keys have been programmed. The key programming process can take up to two hours. If you'd like, you can wait in our customer lounge, or you can take advantage of any of the alternate transportation options that we have available.
I have my key, but the remote is not working
If your key remote is not working, check to see if the remote battery is dead. If your primary remote is not working, but your spare key does work, most likely your primary remote's battery is dead. You can purchase a new battery for your Porsche or Audi remote in our parts department for $10, and our helpful parts consultants will install the remote battery for you.
Another possibility could be that your remote needs to be reset. You can reset your remote by pressing lock or unlock one time and within one minute putting the master key in the driver door and either locking or unlocking the door manually. If you'd like assistance with re-setting your remote please ask someone on the service drive, or call the Service Department and we'll be happy to assist you.
A few final key tips
Your key and remote are vital to the security of your vehicle, but it can be a painful ordeal if they are lost, damaged or stolen. Here are a few tips for key maintenance and security:
Always have a spare key/remote
Store your spare key in a memorable, safe and secure location. You might need to have a friend, neighbor, or spouse find it and bring it to you, so we would NOT recommend the bottom of your junk drawer!
Always store your primary key in a consistent location when it is not on your person. A key-box, hook, or bowl near your door works well.
Always carry your key in the same place when it is on your person. If you normally carry your key in your right front pants pocket, but you inadvertently put it in your left jacket pocket, you could be in trouble when you drop the jacket off at the dry cleaners.
If the remote stops working, or it is working intermittently, first try the reset process mentioned above. If that doesn't help, try your spare key, if the spare key works, it's time for a new battery.
***
Did you find this article helpful? Did we miss anything? If you have questions or comments, just click the button below. We are here to help!

Questions or Comments >>