The Check Engine Light Checklist for Porsche and Audi Owners
---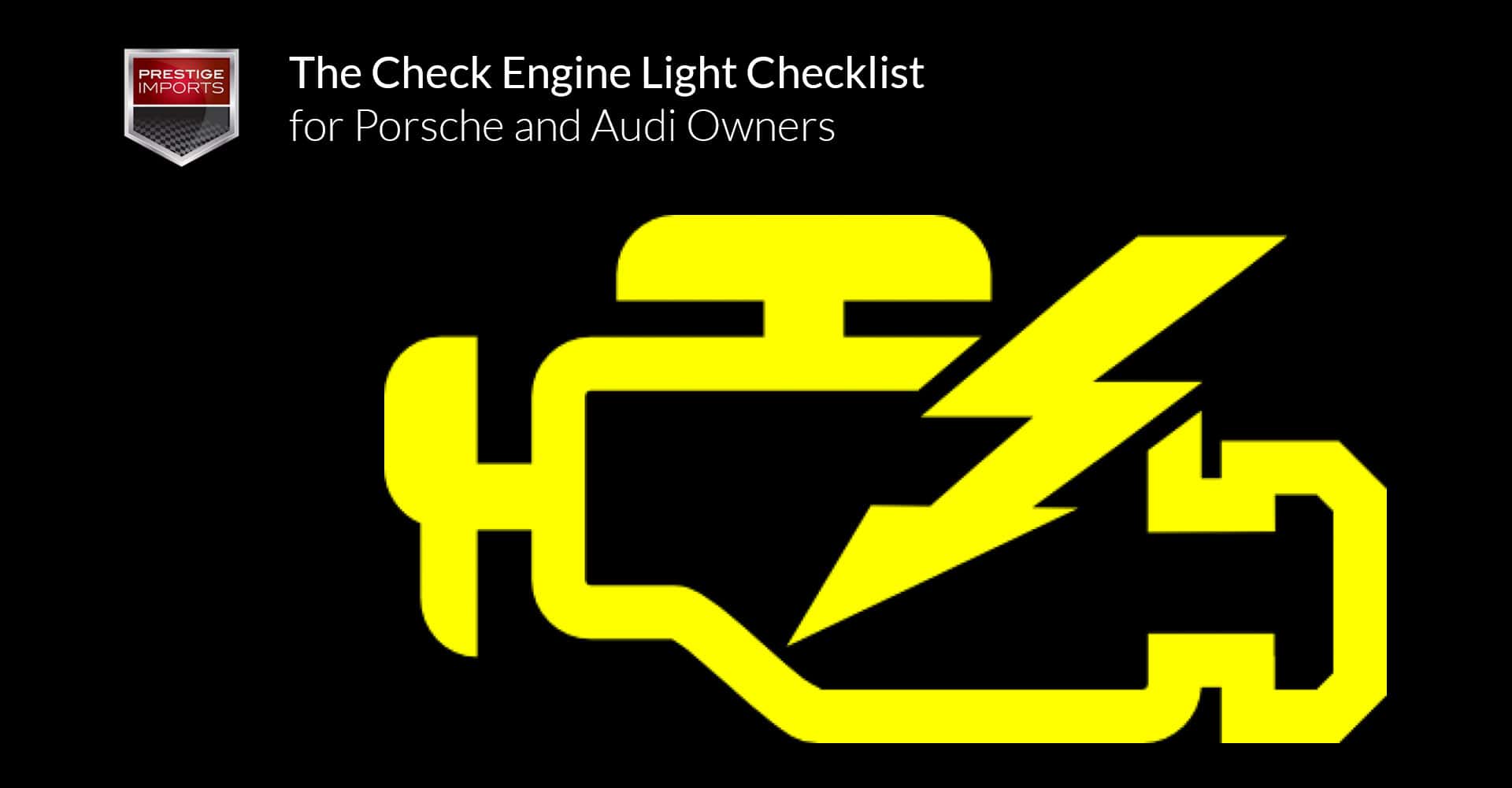 When we are driving, a Check Engine Light or Malfunction Indicator Lamp can throw an unsettling wrench into our day. Often our minds start racing and we assume we're in for the worst. Stop! Don't worry! We're here to help. Following these quick steps can turn a stressful situation into a simple solution…
Does it need to be towed in?
Is the light red or flashing? Is the engine idling rough or making a strange noise? If so, make sure to pull over as soon as it's safe. We would definitely recommend that you have your vehicle towed in.
Here are some options for towing:
Under factory warranty (Within four years of purchase date) or Certified Pre-Owned warranty (Within six years of purchase date) contact your Manufacturer's Roadside Assistance
Audi – 1(800) 411-9988
Porsche – 1(800) 767-7243
Not covered under warranty?
If you have AAA Roadside Assistance contact them fist – (800) AAA-HELP
Call your insurance company to see if the cost of towing is covered.
Call Denver West Towing and let them know that you are a Prestige Imports Customer – (303) 279-3434
Is the check engine light solid? Is your vehicle driving normally? Keep calm and drive on. The CEL can indicate such a large variety of things that we cannot say exactly what is going on until we see the vehicle, but here are a couple of possible reasons why the CEL has decided to pop up:
Did you recently fuel your vehicle? Sometimes when re-attaching the gas cap we don't quiet get it screwed on tight enough. Your Audi or Porsche will pick up on this right away and the CEL is simply a notification to pull over and try again. After securing your gas cap correctly, it can take up to 48 hours for the light to turn off.
MISC? The CEL can mean so many things we simply have to see it to know what's going on. We may be able to find out what's going on with your vehicle in a matter of minutes, or it can take most of the day to diagnose. Either way, it is important to get the situation resolved as soon as possible.
My check engine light is on. Do I need an appointment?
Yes! Regardless of whether you're able to drive the vehicle in or you're having it towed in, a service appointment is required. This is simply to help us help you. Once an appointment is set, we will know to keep an eye out for your vehicle being towed in on the service drive. We can check your service records to better understand your vehicle. And we can check with Audi of America or Porsche of North America to see if there is an open campaign on your vehicle. So give us a call and we'll be happy to answer any questions we can over the phone, and get you set up with an appointment.
We understand that having your check engine light come on can be stressful and unnerving. We are here to help!
***
Did you find this article helpful? Did we miss anything? If you have questions or comments, just click the button below. We are here to help!

Questions or Comments >>

This article was written by Jackie Neal. Learn more about Jackie on her Google+ page.