Prestige Imports Print Ad – The very best care for your vehicle
---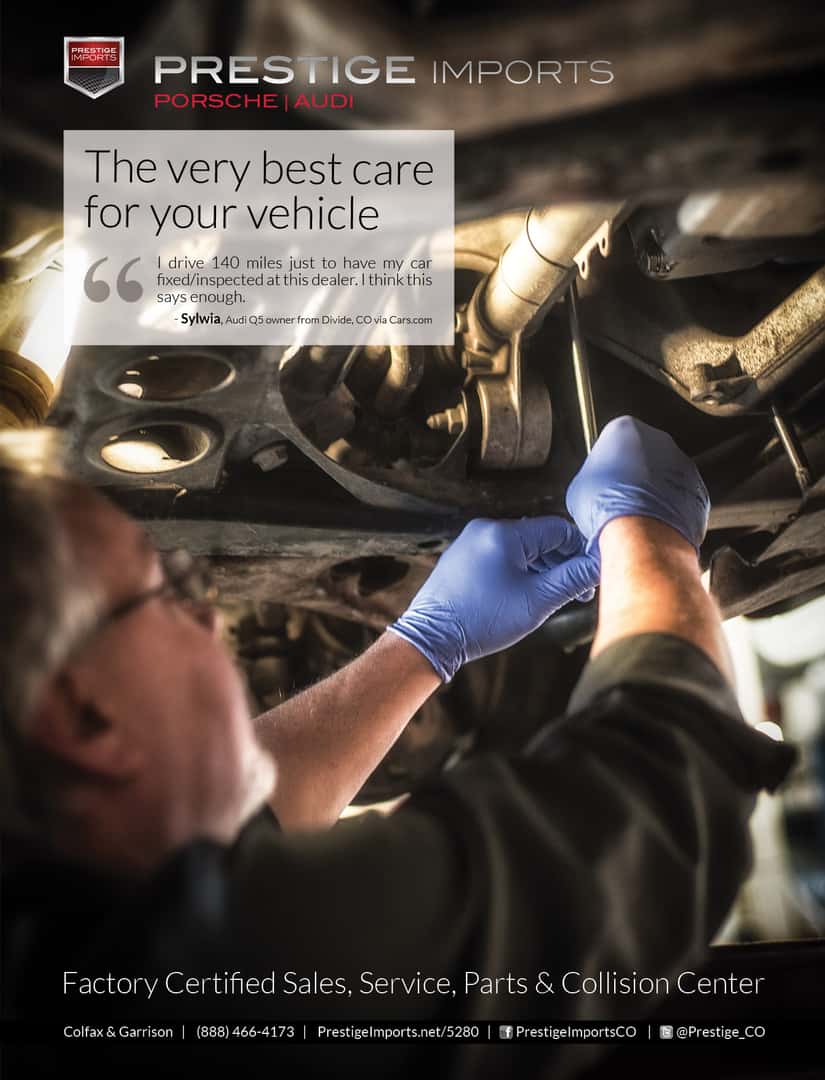 For the August issue of 5280 magazine, the Marketing Team here at Prestige Imports decided to put together an ad to go along with the overall theme of the issue – "Top Docs – Our Annual Must-Have List of Denver's Top Doctors". In sorting through our catalog of photos, we came across a picture of an Audi Technician working on the undercarriage of a vehicle while wearing bright blue nitrile gloves. These gloves are very similar to the gloves that doctors and nurses wear when performing procedures, and we thought the photo would tie in nicely with the theme of the magazine. Additionally, the photo has interesting light, with the inclusion of a light source in the shot, and out of focus areas at the top and bottom for easy placement of text. In short, it had just what we were looking for.
Many of us here in the marketing department are photographers or photography enthusiasts, and we love the power of a strong visual. To avoid diluting that power, we decided to keep the text in the ad to a bare minimum – a logo, a one-line description of the services we offer, some contact information, and most importantly a headline that ties to the theme of the magazine – "The very best care for your vehicle" – and an on-point quote from one of our awesome customers – "I drive 140 miles just to have my car fixed/inspected at this dealer. I think this says enough. " – Sylwia, an Audi Q5 owner from Divide, CO via Cars.com.
Our hope is that the ad will really grab the attention of the 5280 readership and implant our name and what we do in their collective psyches. If the ad also drives them to to our special landing page – PrestigeImports.net/5280 – so much the better. 5280 is our hometown Denver magazine, and it is great to be able to support them while spreading the word about the fine work we are doing here at Prestige Imports.
If you come across our ad in the magazine, it would be great if you could drop us a line and let us know what you think.
***
Did you find this article helpful? Did we miss anything? If you have questions, or ideas for future articles, hit us up in the comments. We are here to help!

This article was written by Jason Noffsinger, Marketing Communications Specialist at Prestige Imports. Learn more about Jason on his Google+ page.