Porsche Pairings: A Cocktail for Every Car
---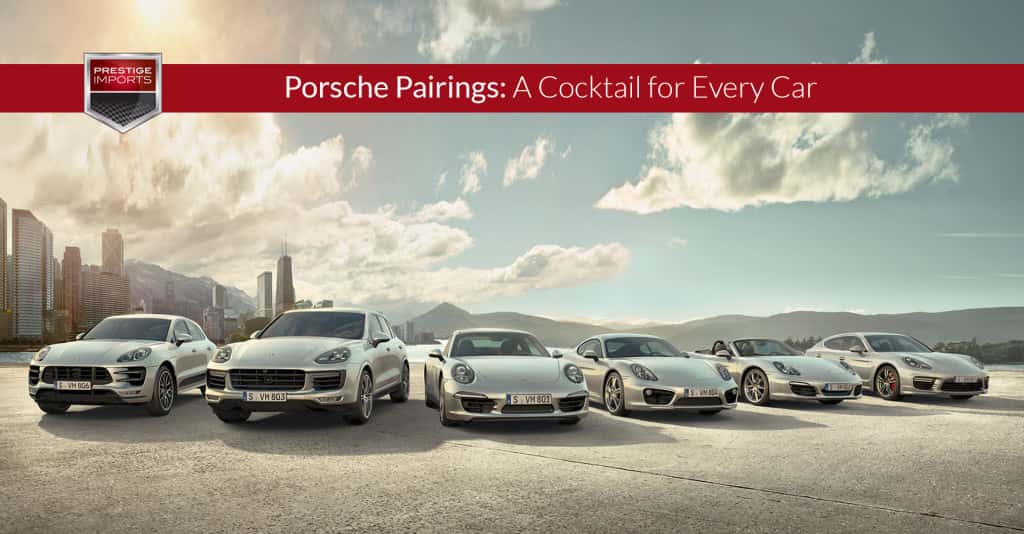 An Evening at Bar Fausto in Denver's Rino Art District
A few nights ago, I walked from my downtown apartment to Bar Fausto in Denver's RiNo Art District. Bar Fausto is a proper cocktail club, serving both classic offerings and improvisational concoctions by the folks tending bar. When I was there, I ordered house drink #4, whose base is rye whiskey and includes Green Chartreuse, cognac, and Amaro. Yes, it was delicious.
Inspired by Fausto's fabulous cocktail menu, I thought it might be an interesting exercise to pair a traditional cocktail with each Porsche model. If you own one of these Porsche vehicles (or if you're reading this and simply enjoy a well-crafted cocktail), I suggest ordering the drink that best corresponds to your model on your next night out. Of course, you'll want to make sure you have a designated driver; but, I suppose, that goes without saying.
Porsche Pairings
Porsche 718 // Jean Harlow
The origin of the Porsche Cayman's name (recently rebranded as the 718) is rife with conflict. Wikipedia claims that it is "an alternative spelling of caiman, a reptile in the same family as the alligator. The car is not named after the Cayman Islands." On the one hand, that the German automaker celebrated the Cayman's debut by adopting "a group of four caimans at Stuttgart's Wilhelma Zoo" appears to corroborate this fact. On the other hand, the first press release for the mid-engine coupe notes that the interior "provides an environment as calm and comfortable as a chic Caribbean resort." Fear not; the Jean Harlow bridges this nominal divide. The cocktail uses rum as its base, so the flavor profile roots itself in an island liquor; but it's cut only with sweet vermouth and a lemon peel, so it retains the bite of a reptilian beast.
Porsche 911 // Old Fashioned
Given the 911's affiliation with the Martini Racing Team, one might expect that the Porsche's flagship vehicle might couple nicely with, well, a martini. But rather than settling on the most evident combination of car and cocktail, the 911 and an Old Fashioned make more conceptual sense. If Slate's story about the origin of the Old Fashioned is true, the cocktail received its name when a gentlemen, calling himself "Old Timer," sent a badgering letter to the New York Times editorial staff regarding bartenders' post-Prohibition lack of precision and skill. Stemming from that rant, the Old Fashioned was born: a classic, "manly," yet complex beverage. Indeed, this is an ideal pairing for the timeless beauty and unrivaled power of the 911. Make sure your bartender crafts you the original recipe, though: sugar cube, Angostura bitters, rye whiskey, lemon peel, and ice. That's it. Absolutely, positively no muddling of oranges and maraschino cherries.
Porsche Panamera // Paloma
Porsche has a history of naming its vehicles after international races. For example, the Porsche 911 Targa's namesake is the Targa Florio. Likewise, Porsche found inspiration for their 911 Carrera from La Carrera Panamericana, which is an endurance race that vertically bisects Mexico. What already should be evident, then, is that the German automaker adopted the second half of the race's title when naming their luxury sedan. With a handle derived from a competition that runs north-to-south through Mexico, it's common sense to pair the Panamera with a tequila-based drink. And what better beverage than the classic Paloma. Made with tequila, grapefruit, simple syrup, and soda, this is a terrific summer drink with a kick. And, in case you were wondering, The Washington Post claims that "In Mexico, Paloma cocktails are more popular than margaritas." In other words, don't be gauche and order a sugary, Americanized drink; those are for twenty-year-old sorority girls looking to get Girl Drink Drunk.
Porsche Macan // Sazerac
When the Porsche Macan debuted at the Los Angeles Auto Show in 2013, the corresponding press materials stated:
The name Macan comes from the Indonesian word for tiger. And the Macan really does live up to its name: powerful and ready to pounce at any time, yet light-footed and tenacious on off-road terrain
Before Inglostadt branded their compact crossover as a Big Cat skulking Indonesian grasslands for unsuspecting prey, though, the vehicle bore another moniker: the Cajun (a portmanteau fusing the words "Cayenne" and "Junior"). In honor of its original name, the Macan pairs perfectly with Sazerac, which is the official drink of the Cajun metropolis New Orleans. Somewhat similar to an Old Fashion, the Sazerac features rye whiskey, a sugar cube, Anostura bitters, and a lemon peel. To provide it a unique flair, though, it also contains absinthe and Peychaud's bitters. Finally, while we're addressing nominal origins, legend has it that the Sazerac's inventor, Antoine Amedie Peychaud, coined the term "cocktail" for her now famous concoction (which, subsequently, was applied to all liquor-based drinks).
Porsche Cayenne // Bloody Mary
Porsche first announced that it would enter the crossover market in 2000, unveiling their imminent plans to manufacture the Cayenne (the first generation eventually debuted in 2002). In the initial press release, the German automaker noted that:
The name Cayenne is understood worldwide as synonymous for spiciness, adventure and joie de vivre. These attributes perfectly describe the characteristics of the upcoming off-road sport utility vehicle
What better drink to harness the spiciness of Cayenne pepper, then, than a Bloody Mary. Forbes, for example, lists cayenne pepper as a key ingredient in three of their "10 Delicious Bloody Mary" recipes. French émigré Ferdinand Petiot developed the tomato juice and vodka mixture at Harry's Bar in New York City during the 1920s. For nearly one hundred years, our brunches have been indebted to him.
Prestige Imports: A Perfect Pairing for Porsche and Denver Drivers
If you're looking to get behind the wheel of a Porsche vehicle (sober, of course), then stop by Prestige Imports at 9201 West Colfax Avenue and check out all the cars we have in-stock. Likewise, you can call one of our Porsche Brand Ambassadors at (833) 825-5423 to schedule an appointment.
***
Did you find this article helpful? Did we miss anything? If you have questions or comments, just click the button below. We are here to help!

Questions or Comments >>