West Colfax and Prestige Imports: A 30 Year Partnership
---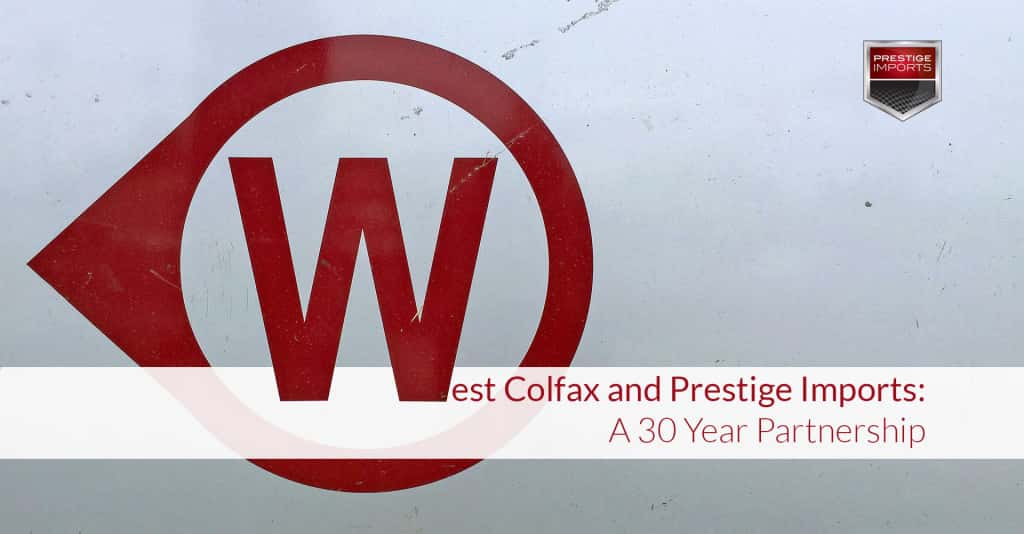 Prestige Imports' Commitment to West Colfax
Prestige Imports is the Rocky Mountain Region's oldest Porsche and Audi dealership, providing luxury German automobiles to the area since 1984. During those thirty-two years, Prestige has become a mainstay of the Lakewood and West Colfax neighborhoods.
As I previously noted on our community page, Denver's West Corridor suffered for many years from a lagging economy and dilapidated infrastructure. Although Prestige Imports was presented with the opportunity to change locations, management chose to remain at the same address and support the local community.
Prestige Imports' commitment to the neighborhood paid off, though, as developers and city planners recently ushered in an era of urban revitalization. With new businesses, city projects, and homeowners popping up everywhere in the area, the West Corridor and east Lakewood have transformed into destination spots for citizens of both Denver and the Front Range.
A Closer Look at West Colfax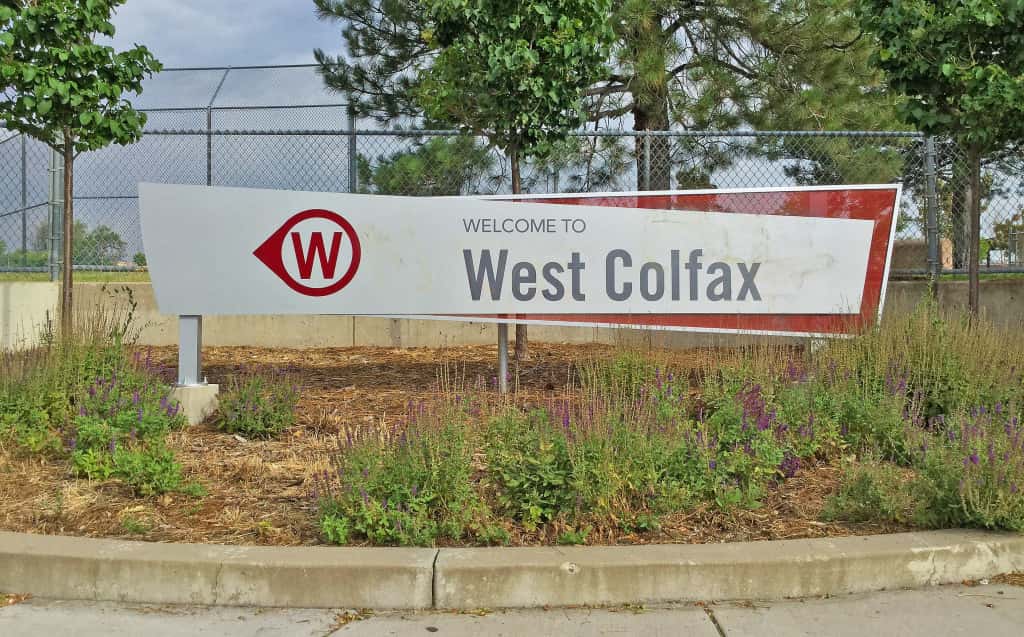 In order to get a better sense of the neighborhood that surrounds Prestige Imports, I drove down West Colfax last week on an overcast day to explore what the area has to offer, periodically stopping to snap some photographs. I began my trip at Irving Street in Denver, worked my way through Lakewood, and then concluded in Golden just past Welch Street.
Rodolfo "Corky" Gonzales Library
In 2007, Denver passed the Better Denver Bond fund. The initiative afforded the city the opportunity to construct three new libraries. On 28 February 2015, the last of these buildings opened. Named after the Denver-born Civil Rights advocate, the Rodolfo "Corky" Gonzales Branch serves as both a reminder and emblem of racial equality, as well as a celebration of Latinx heritage.
Studiotrope Design Collective designed the two-story, 27,000-square-foot library. The building acts as a colorful and architecturally adventurous gateway into and out of the West Colfax Corridor.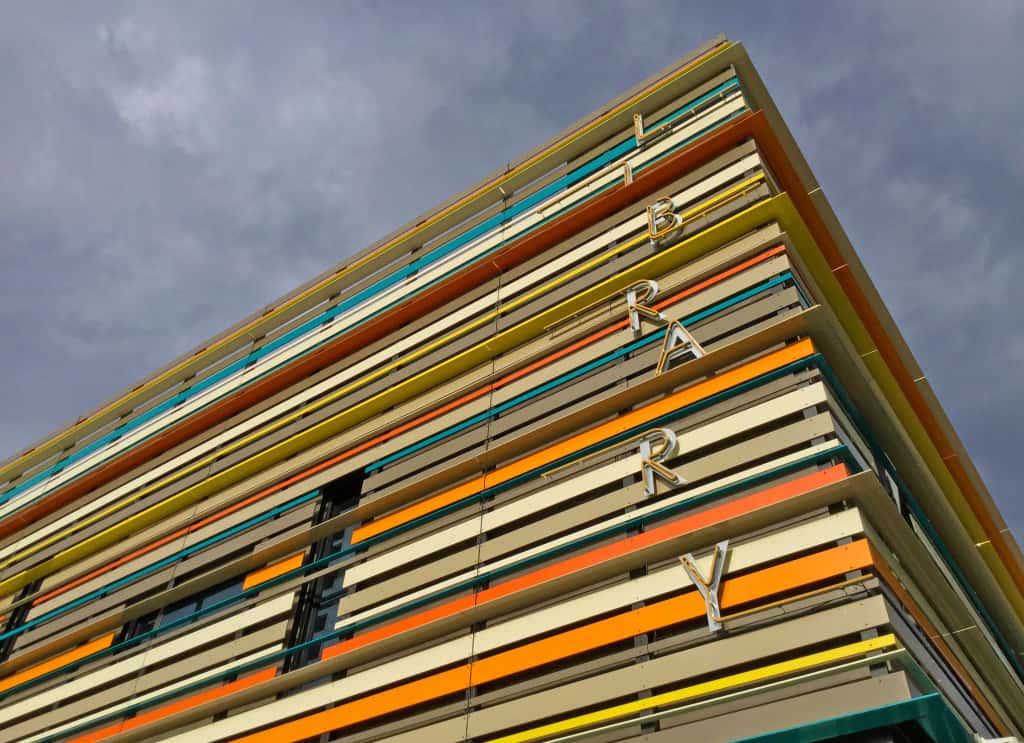 Joseph Riche's "Typha"
Joseph Riche's sculpture "Typha" bookends the section of West Colfax that extends through Denver-proper (i.e. Irving to Sheridan). The artist built these two, twenty-foot tall pieces from stainless steel and resin at Demiurge Fabrication. The blue tires that encircle the top of the sculpture, it would appear, pay homage to the abundance of dealerships, auto parts stores, and service stations that line West Colfax.
As for Riche, he's lived in Denver since the late-90s when he moved to the Mile High City in order to pursue an MFA at the University of Denver. In 2013, Westword ranked Riche as one of their 100 Colorado Creatives. In an interview with the magazine, the artist praises "Denver's strong public art program" that enabled him to display "Typha."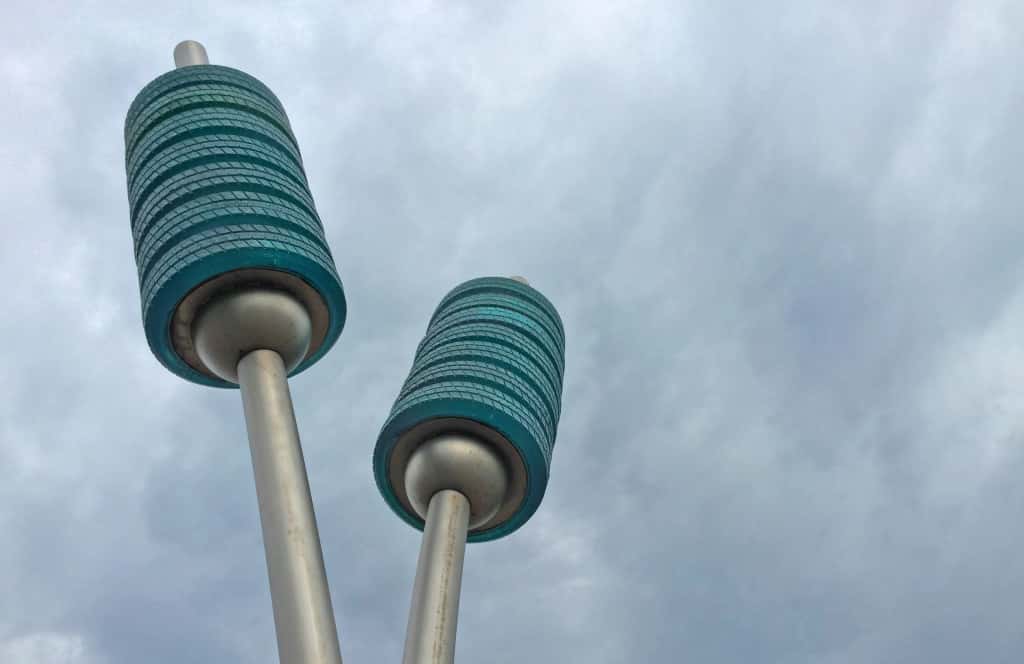 Seedstock Brewery
In the introduction to their "West Colfax Corridor Project Transportation Study," city planners argued that the area "holds unique opportunities. Perhaps most important is broad, robust support for growth and change on the part of property and business owners in the corridor." Since then, new businesses have sprouted up along the corridor, while older establishments have begun to flourish once again.
One example of growth along the corridor is Seedstock Brewery. Located at the intersection of Lowell and West Colfax, its bright yellow facade, angular contours, and large windows are difficult to miss. The brewery creates beers that are, in their own words, "rustic and unique."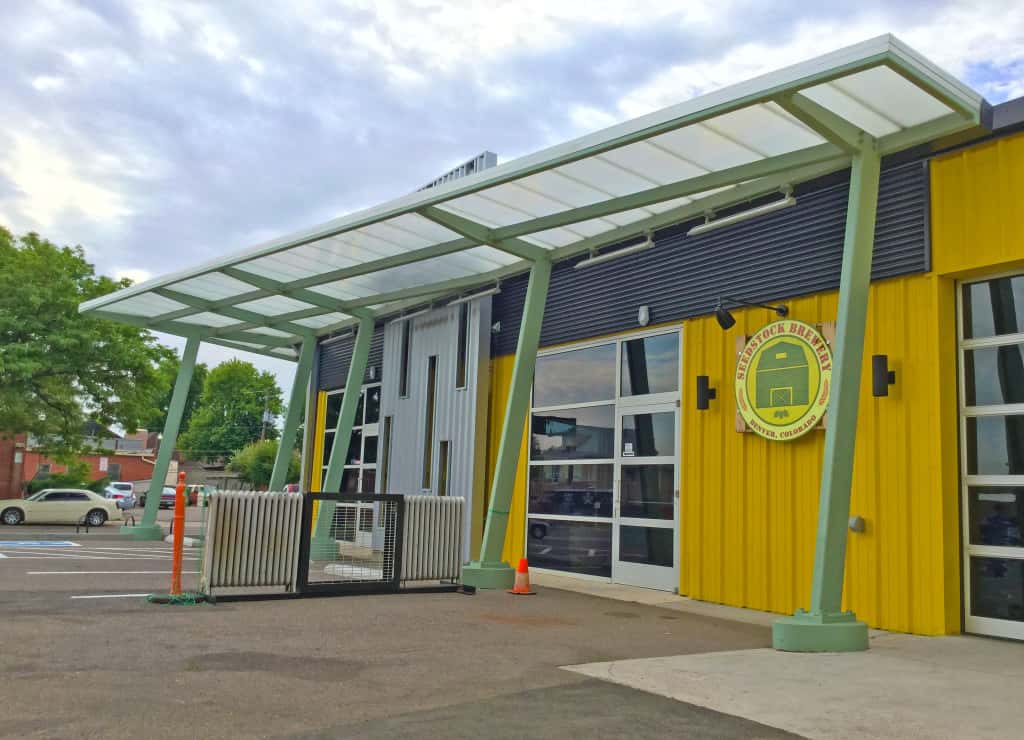 Sheridan Boulevard
Sheridan Boulevard acts as the official boundary between Denver and Lakewood. If you've driven down West Colfax, then you've certainly noticed the large pink and green pillars on the northwest and southwest corners of the intersection.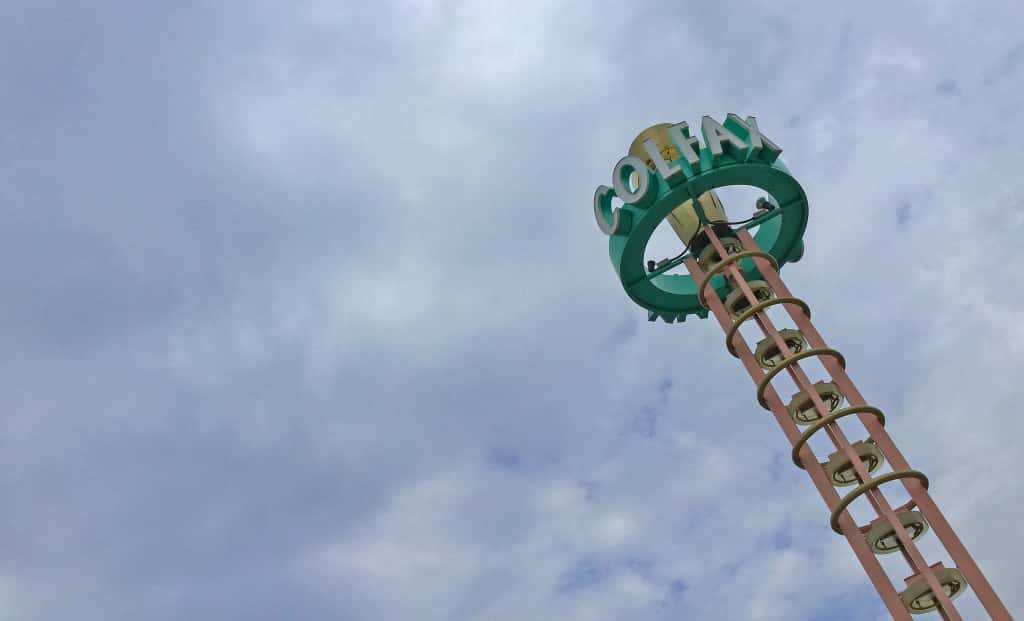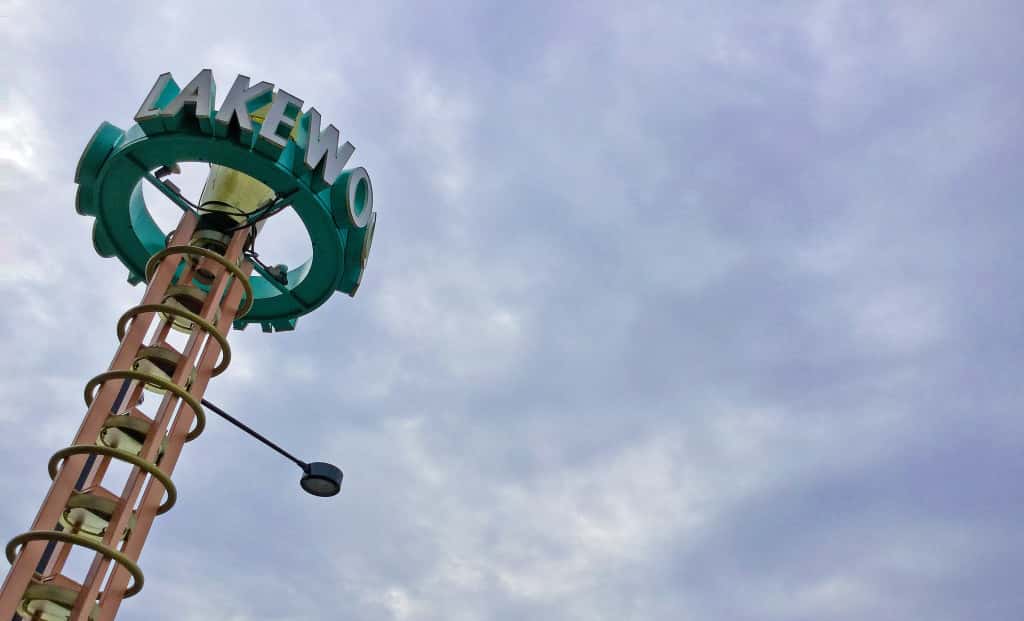 Casa Bonita
The Lakewood-based restaurant Casa Bonita has achieved a level of notoriety rarely attained by local businesses. To begin with, the building's bright pink, 85-foot facade towers over the rest of the stores in Lamar Station Plaza. According to their website, the fountain in front of the building was shipped directly from Mexico, the tower's "dome is covered with 22-karat gold leaf and features a statue of the last Aztec emperor–Quahuatomec," and the indoor waterfall resembles the cliffs of Acapulco. Indeed, the owners of Casa Bonita make every attempt to infuse their establishment with a Mexican-tinged aura.
If you've never visited Casa Bonita, Westword describes it as what would happen if "Disney had sex with Tijuana and left the goofy-looking bastard to fend for itself in a random strip mall on Colfax." While I can't necessarily vouch for that assessment, the restaurant boasts an assortment of curiosities, such as "cliff divers, fire jugglers, strolling mariachi bands, a pirate cave, magicians, puppet shows, [and] skee-ball machines."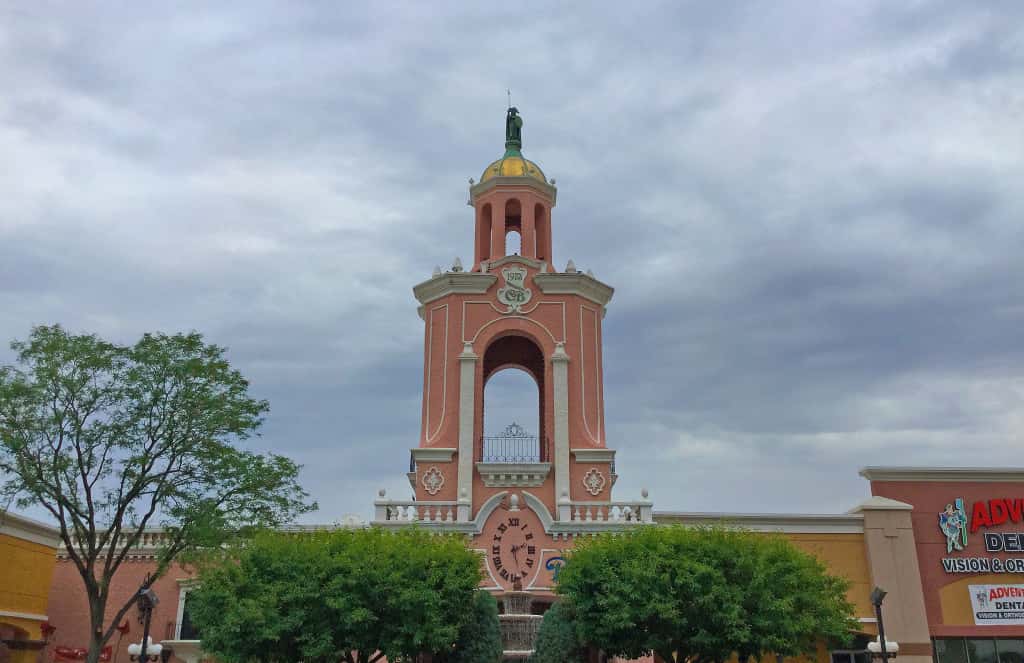 40 West Arts District
When driving eastward on West Colfax, it's difficult not to notice the bright yellow mural with a large pink hummingbird painted on a wall near the intersection of Teller Street. Members of the 40 West Arts District painted the mural in order to promote their organization, which is "focused on delivering direct, positive impact to help catalyze the resurgence of the West Colfax Corridor–the historic heart of Lakewood—-through the energy of arts and culture and the inspiration of creative enterprises."
According to their website, the organization (comprised of Lakewood artists, neighbors, and business owners), seeks to spearhead a "renaissance of Lakewood's historic West Colfax Avenue as a memorable destination and a vibrant corridor anchored by arts and culture." Members work toward their goal by "creating community arts spaces and…events and by supporting creative enterprises and activities."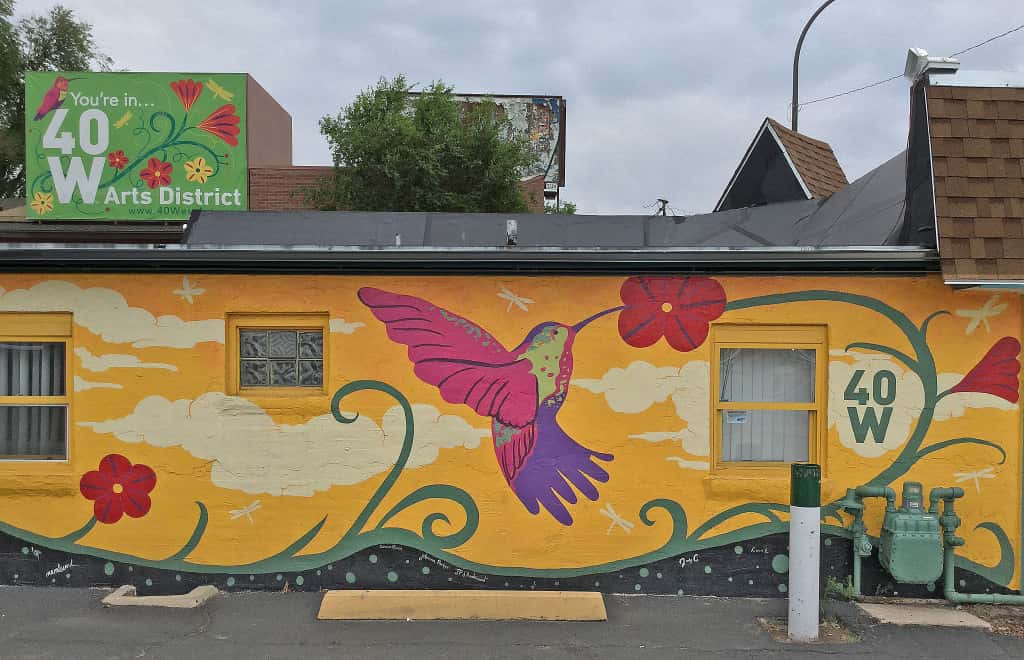 Prestige Imports Collision Center
The Prestige Imports Collision Center is located on Dover Street, just off of West Colfax. It is a fully-equipped auto body repair shop that operates closely with insurance companies in order to ensure the return of your vehicle to a like-new state as quickly as possible. In fact, Prestige's Collision Center is the only Audi, Porsche, Mercedes-Benz, Bentley, and Volkswagen Repair Facility in the Rocky Mountain Region.
Although the Collision Center has been located at its Dover Street location for over twenty-five years, it has experienced its fair share of changes. During the mid-90s, the original building underwent a major remodel and expansion in order to offer customers more robust and timely service. In 2008, an additional paint booth was added. Most recently, a 10,000 square foot facility was added in September 2014 for specialized, aluminum repairs.
You can make an appointment with the Collision Center by calling (303)238-7391 or visit us at 1590 Dover St., Lakewood, CO 80215.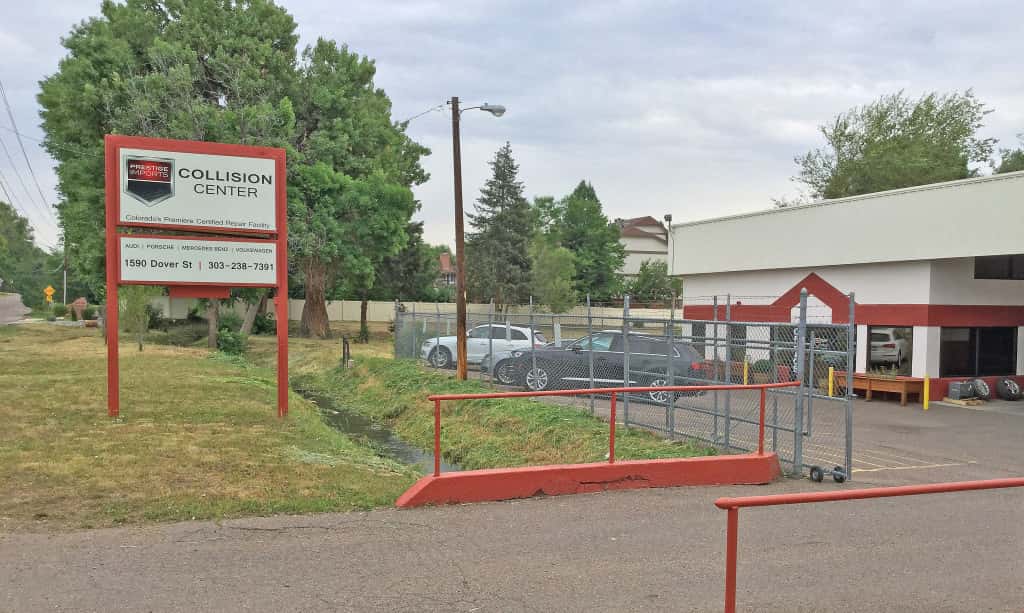 Prestige Imports
At Prestige Imports, we offer new Porsche and Audi vehicles, along with pre-owned luxury vehicles from various manufacturers. We invite you to stop by our beautiful facility to check out a wide variety of brand new Porsche and Audi models. We maintain a large selection of exceptional vehicles, and our experienced staff of Audi Brand Specialists and Certified Porsche Sales Specialists can guide you through the automotive purchasing experience.
Customers from the Denver metro area, and throughout Colorado, come in to take advantage of our team of dedicated service advisors and knowledgeable Porsche and Audi certified repair technicians. Additionally, the Prestige Imports Parts Department maintains one of the country's largest Porsche and Audi parts inventories, along side a curated selection of beautiful Audi and Porsche boutique items.
We're located at 9201 West Colfax Avenue, Lakewood, CO, 80215. You can also call us at (833) 825-5423 to schedule an appointment.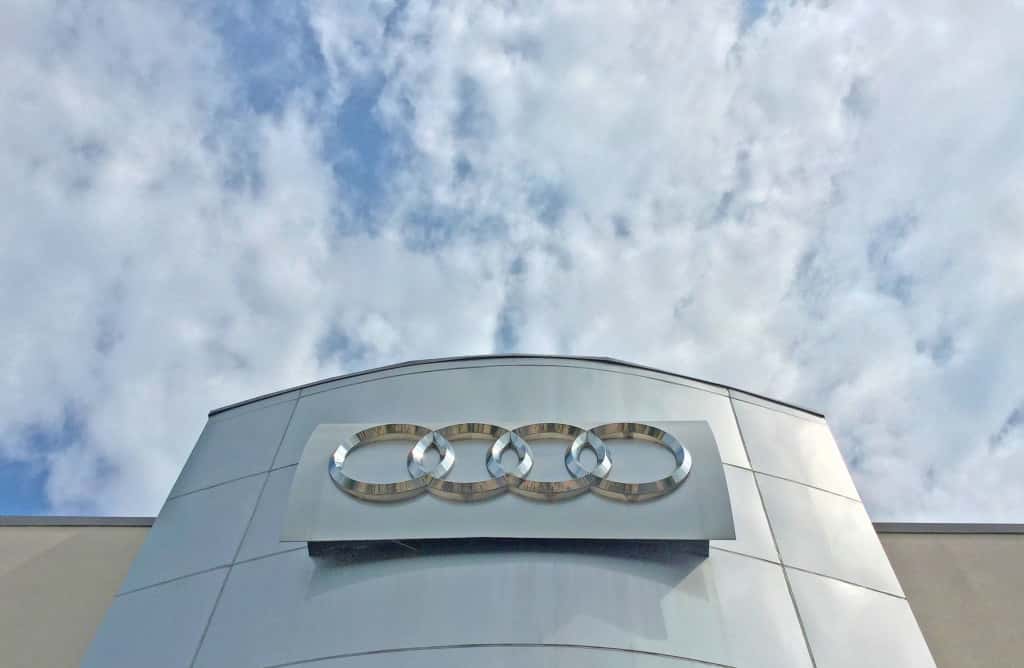 Davies' Chuck Wagon Diner
While creating new business opportunities and developing infrastructure along the corridor, the cities of Denver and Lakewood have helped mainstays in their respective communities to thrive. One such example is Davies' Chuck Wagon Diner at the Hoyt Street intersection. Originally founded in 1957, the United States Department of the Interior placed the restaurant on its National Register of Historic Places in 1997.
But Davies' is not a museum to times gone by. It still serves up delicious, greasy spoon-style meals everyday. Of course, it's the unique signage along the roadside that fosters an incomparable aura and provides both tourists and residents with a one of a kind photo opportunity. Other notable businesses that have remained in operation on West Colfax include Frank's Bar-B-Que and Lake Steam Baths.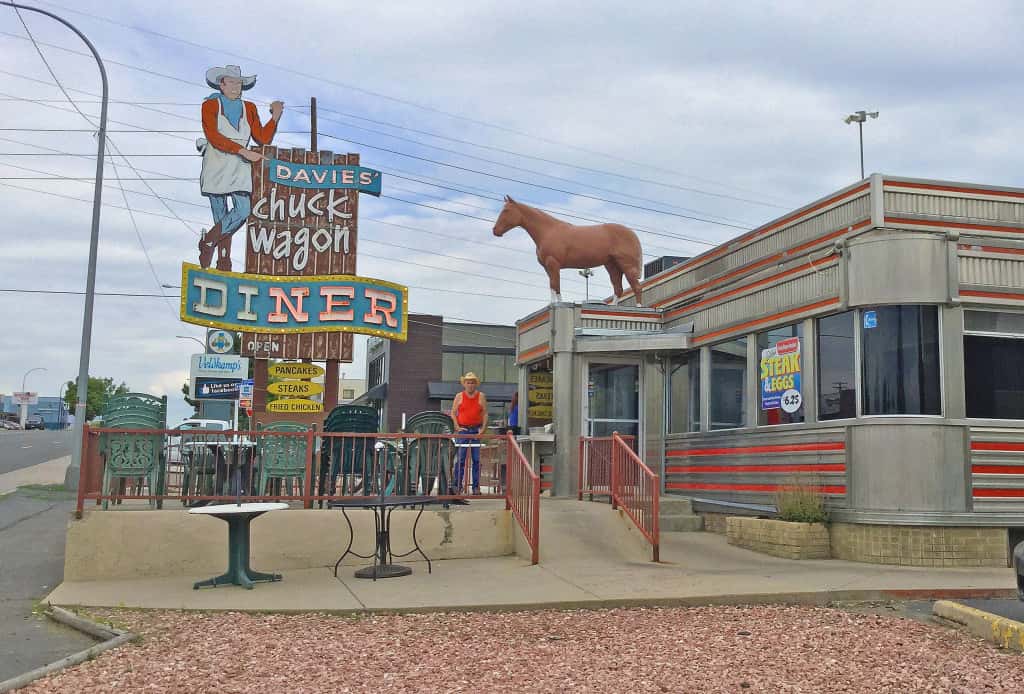 Golden Hill Cemetery
Davies' is not the only address on West Colfax that's listed on the National Register of Historic Places. Just two miles down the road is Golden Hill Cemetery, which also received the rarefied status by The Department of the Interior. Situated near the intersection of Welch and Colfax, Golden Hill Cemetery is the final resting place for "Jewish immigrants with tuberculosis who fled the crowded living conditions of the East Coast to regain strength and health at one of two regional Jewish sanatoriums."
Denver's Jewish community built the cemetery during the early-1900s. According to the Golden Hill Cemetery's website, folks who entered "advanced stages [of tuberculosis] or near death ended up at the Jewish Consumptives Relief Society in the area of the shopping center that now houses Casa Bonita on West Colfax Avenue." Because of its proximity, "many of the dead from the relief society were buried at Golden Hill with help from benevolent groups, which raised money for the treatment and burial of indigent people."
Although weeds and grass have overrun the cemetery of late, several community members are leading an effort to preserve and maintain the grounds.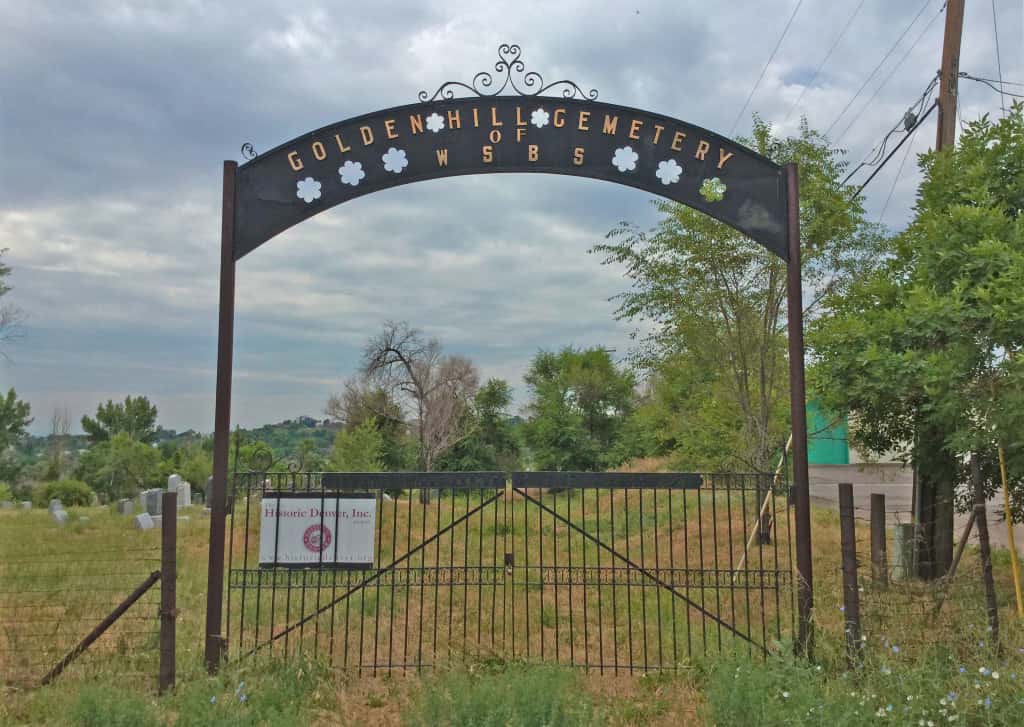 Abbie Duston Roadside Park
Near the Lakewood / Golden border on West Colfax Avenue, the Abbie Duston Roadside Park is nestled just off the north side of the street. From this vantage point, drivers and pedestrians can glimpse a clear view of the Rocky Mountain's foothills. Indeed, this is a visual reminder that Denver, the Front Range, and Colorado's greatest natural asset is but 30 minutes away from the downtown area.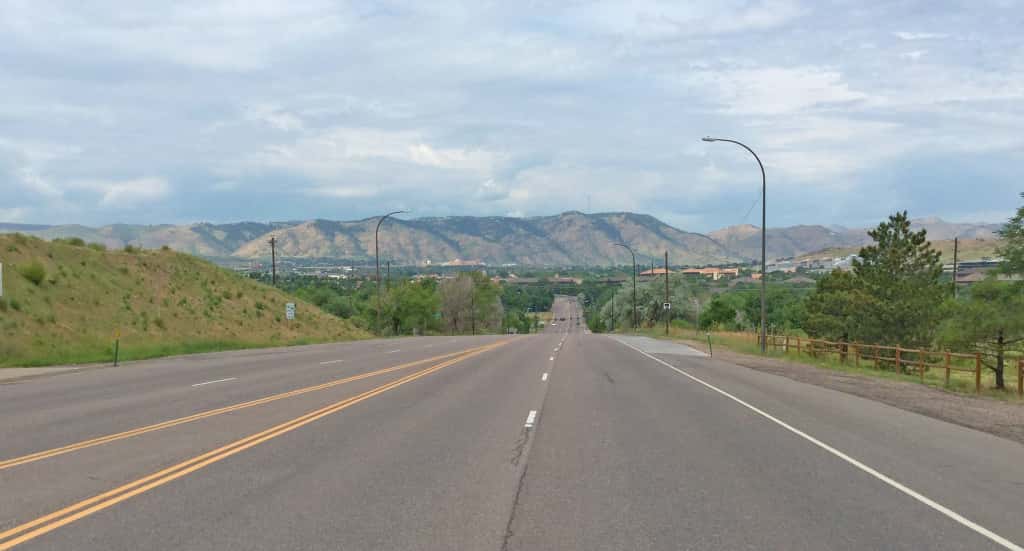 Prestige Imports looks forward to another thirty years on West Colfax Avenue. If there's a West Corridor or Colfax marker that you believe should be acknowledged, please comment on this post.

***
Did you find this article helpful? Did we miss anything? If you have questions or comments, just click the button below. We are here to help!

Questions or Comments >>