Audi Stuff on the Internet: A Video Round-Up
---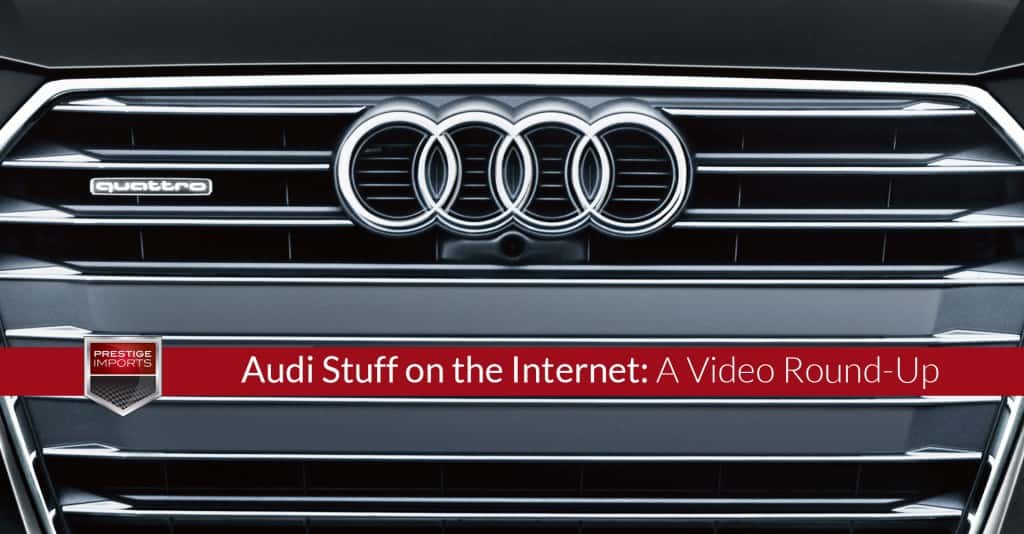 Equal-Opporunity Promoter of Stuff
The other day, I posted a series of Porsche videos that recently popped up online, offering a brief commentary on each one of them. Since Prestige Imports is both a Porsche and Audi dealership, I figured that I would spread the content-love around to both brands.
To this end, I once again combed through the avalanche of content on YouTube and selected what I think to be the most compelling or relevant videos uploaded to the internet last week. So, without futher ado, here's some cool Audi stuff from the internet.
New and Cool Audi Stuff on the Internet
Road Show: "The wailing engine of the Audi R8 Plus"
Who doesn't enjoy a well-produced super car video? I'm sure there's someone out there in the world that doesn't like them, but you can't help those who sustain their life-force through the warmth generated by an overwhelming hatred for that which is exceptional. Of course, there's more than just super car luxuriousness in this video; there's also Emme Hall. Hall, which is evident from the video, is a female Reviews Editor. This fact is marked because, as anyone who watches an excess of online automotive videos will know, the car review world is dominated by male hosts. Of course, the automotive industry is "not just a man's world," as last year's "Women of Prestige" feature made clear. So it's good to see Road Show, at very least, embracing the idea of female hosts:
Car TV: "2017 Audi A5 Coupe: Exterior, Interior, and Drive"
The 2017 models of the A4, Q7, TT, and R8 have all been released and are available for purchase; meanwhile, the forthcoming year's allroad stands on the precipice of public consumption with its anticipated summer roll out. One vehicle in the Audi fleet that has yet to make its official, 2017 debut is the A5. While I have yet to receive any release information about the vehicle, Car TV, apparently, received a sneak peek of the two-door coupe. There's no commentary or specifications, but the video does provide some images of the exterior and interior, in addition to a few minutes of drive footage. As always, the A5 looks sporty and stylish. From this short clip, it looks as though the exterior side panels received some new line work; and the interior takes its design cues from the 2017 A4:
Autogefühl: "Audi Q2 S-Line Review (Long)"
While state-side drivers await the arrival of the aforementioned 2017 Audi A5, there's one model that won't make it across the pond: the 2017 Audi Q2. Slated for a Europe-only release, the Q2 is Audi's smallest crossover to-date, built upon the frame of the A3. The video's host notes that the first-generation Q2 "will be very polarizing: love or hate. You get to decide." Indeed, the designers at Inglostadt have added some interesting flourishes to the new vehicle. For consumers who find the classic Audi aesthetic tiresome, much joy will accompany the alterations; although, those who appreciate Audi's visual stability might be turned-off. Nonetheless, it's interesting to see the launch of a new model into Audi's fleet and imagine how it might act as a harbinger for the coming years' design language:
Siemens: "Increased energy efficiency at Audi AG in Neckarsulm"
Over the course of the past year, I've composed several posts that relate to the production and process of building an automobile. To my mind, there's something fascinating about the material history of an object, especially one that's as ubiquitous and large-scale as a car. The following Siemens-produced video features several Audi engineers addressing the energy-efficient benefits of factory-line components created by Siemens. Basically, this is a video about things (i.e. component parts) built for inclusion in bigger things (i.e. Audi's assembly line), which are used to make more things (i.e. cars) so consumers can buy them. And, on an even more basic level, it's super cool to watch a gigantic robot arm pick up a car frame and twist it sideways in a fluid and effortless manner.
Prestige Imports: Denver's Home of Cool Audi Stuff IRL
Does watching cool Audi stuff online whet your appetite for cool Audi stuff IRL? Well, if that's the case, then visit Prestige Imports at 9201 West Cofax Avenue. We're the Rocky Mountain Region's oldest Porsche and Audi dealership, servicing the Denver and Front Range areas for over 32 years. You can also call us at (833) 825-5423 to speak with one of our Audi Brand Specialists so as to schedule an appointment.
***
Did you find this article helpful? Did we miss anything? If you have questions or comments, just click the button below. We are here to help!

Questions or Comments >>