Scenic Colorado Detours for Porsche and Audi Drivers
---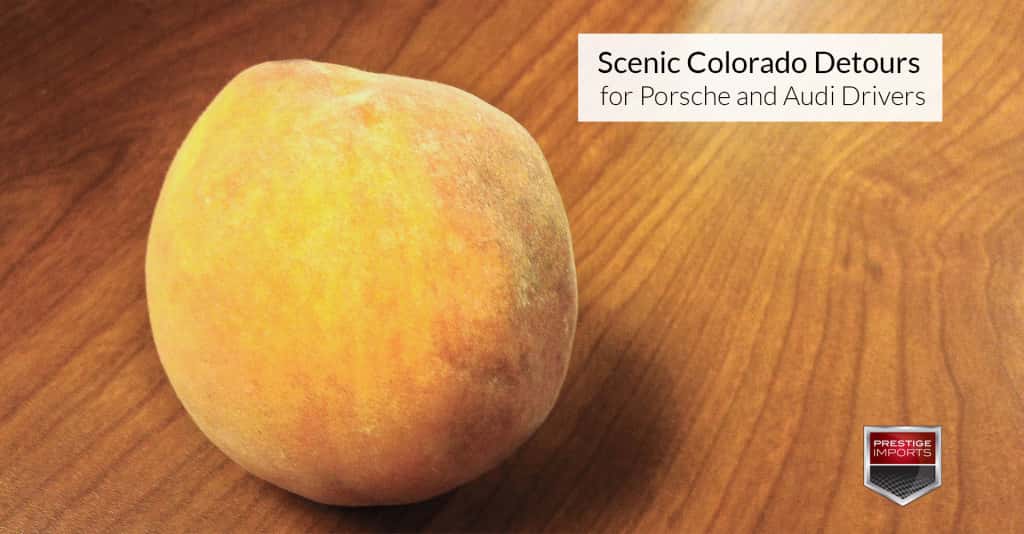 Eat a Palisade Peach
Earlier this week, I went to King Soopers in Capitol Hill and purchased a couple of pounds of Palisade Peaches. We're nearing that time of year in which these delicious fruits from the Western Slope achieve peak ripeness (From what I've gathered from personal experience, the last two weeks of August seem to be the best time to enjoy them.)
That also means that the Palisade Peach Festival is right around the corner. The organizers promote the festival as "one of the original agricultural festivals in Colorado honoring our rich bounty and history." The celebration includes "great food, entertainment, contests, activities for kids, and opportunities to explore Palisade via outdoor recreation." It begins the night of Thursday, August 18 and runs through the evening of Saturday, August 20,
Drive to the Palisade Peach Festival in your Porsche or Audi Vehicle
If you're a Porsche or Audi owner living in the Denver or Front Range area, the Palisade Peach Festival is the perfect excuse for you to hop in your vehicle, leave the Mile High City, and take a scenic tour across the state of Colorado. Not that you need an excuse; but it certainly doesn't hurt.
While heading straight down I-70W is the quickest and most direct route to Palisade from the Front Range, it's always more interesting to drive your Porsche or Audi vehicle through detours or back roads in order to witness some of Colorado's more spectacular views or, for that matter, just to get lost with your fellow road-trippers.
What follows, then, are a variety of scenic attractions you can visit when heading to Palisade for the Peach Festival. I would suggest leaving early Friday morning so that you can drag your feet and make a pit stop or two before rolling into Palisade, Grand Junction, Clifton, or wherever you intend on staying.
Scenic Colorado Detours enroute to the Palisade Peach Festival
Hanging Lake Park: According to Glenwood Springs' website, Hanging Lake Park is a "geologic wonder…popular with travelers for it's awe-inspiring beauty. Suspended on the edge of Glenwood Canyon Cliffs, the clear turquoise lake and the waterfalls that spill into it are a breathtaking sight after a rigorous uphill climb." If you want to partake in a classic, Rocky Mountain hike and then be rewarded with a spectacular natural vision, you definitely should check out Hanging Lake Park. Just take I-70W to the Exit 125.
Glenwood Hot Springs Pool: If climbing up steep cliffs to view waterfalls isn't your cup of tea, as the octogenarians say, one only has to drive a few more miles and take Exit 116 to arrive at Glenwood Hot Springs Pool. As stated on the Pool's website, it is the "World's Largest Hot Springs Pool," which offers you the chance to relax in its "soothing mineral waters." In addition to the pool, one can also use the facility's luxury spa, premier athletic club, resort boutique, and restaurant.
Grand Mesa: While Glenwood Hot Spring Pool might be the world's largest hot springs pool, it's not the only attraction in the area that boasts the "world's largest" label. In fact, if you continue down I-70W, then take Exit 62 to 45 ½ Road, you'll eventually arrive at Grand Mesa National Forest. Grand Mesa bears the distinction of being the "largest flattop mountain in the world, encompassing hundreds of square miles and standing more than 10,000 feet above sea level." In addition to gorgeous views, lakes, wildlife, and geological features, you can view the entire Western Slope from above and in a panoramic fashion.
Colorado National Monument: If you decide to drive all the way to Palisade before stopping at a roadside attraction, you might want to unpack your car, then head over to Colorado National Monument. According to the National Park Service, Colorado National Monument "preserves one the of the grand landscapes of the American West." That landscape contains "towering monoliths…a vast plateau," as well as a "canyon panorama." Indeed, driving through the park will enable you and your passengers to view "sheer-walled, red rock canyons along the twists and turns of Rim Rock Drive." If you haven't checked out the geological formations before, you'll definitely want to pay them a visit. The park is just 30 minutes west of Palisade on I-70.
Arches National Park: Of course, the geological excitement doesn't stop at National Monument and the Colorado border. For those willing to push on a bit further into Utah, you'll be rewarded with Arches National Park. Located off Exit 182 on US-191S, Arches boasts over "2,000 natural stone arches…soaring pinnacles, massive fins, and giant balanced rocks." Although radically different landforms populate this park, it's just as impressive as National Monument in its uniqueness and awe-inspiring views. You might need to pencil an extra day into your trip to visit this park; but as someone who recently stopped at the Arches, I would highly recommend it.
Prestige Imports: Denver's Premier Location for Porsche and Audi Service
If you already own a Porsche or Audi vehicle, you'll want to schedule an appointment with the Service Department at Prestige Imports before setting out on the open road. You can speak with one of our Service Advisors by calling (833) 825-5424. If you don't own a Porsche or Audi vehicle, find out why driving one of these beauties will enhance your driving experience by visiting our dealership. Prestige Imports is located at 9201 West Colfax Avenue, between Wadsworth and Kipling in Lakewood.
***
Did you find this article helpful? Did we miss anything? If you have questions or comments, just click the button below. We are here to help!

Questions or Comments >>