Audi R8 V10 Plus: A Video Review Round-Up
---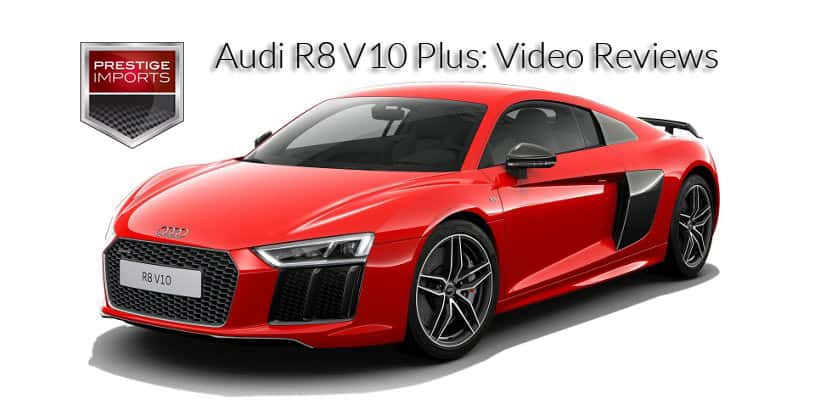 Audi R8 V10 Plus: A Video Review Round-Up
The new 2017 Audi R8 V10 Plus made it's debut at the L.A. Auto Show a couple weeks ago. Audi plans on releasing the vehicle in spring of 2016. As you might remember, the car just experienced a major overhaul with the release 2016 model. In preparation for next year's model, I thought I'd share some video reviews from a few months of the 2016 model. If you'd like to read the specifications, check out Audi's main site. Otherwise, check out the videos below with representative quotes from the reviewer.
XCAR
"The Audi R8 not only feels good, but looks good. From my brief time with it, [I conclude that] the old R8 was good, but the new one is better."
Auto Express
"The new R8 proves that Audi still knows how to make a great sports cars. This thing is loud, powerful, and playful…but still a pussy cat if you want to drive it at normal speeds.
Driver.com.au
"Why would you bother with a Lamborghini when the R8 does most of what the Huracan does. And unlike the Lamborghini, it is an everyday car—a daily driver."
Autogefühl
"The all new Audi R8 [has] a refined exterior…the interior is one of the best we've seen in the super car segment so far…[and] hardly any car can match the driving experience."
YouCar
"I don't get this intense motor sports sensation in any other road car. It's simply a driver's dream."
Car Videos
If you want to watch Tom Kristensen of YouCar test drive the R8 drive around a track that's set against a snow capped mountain horizon and listen to the sound of its naturally-aspirated V10 engine, check out the video below:
While you wait on the new 2017 Audi R8 V10 Plus, you can stop by Prestige Imports and test drive any of the Audis in our inventory. Alternatively, you can schedule an appointment with someone in our Sales Department by calling (833) 825-5423.