Audi and 3D-Printing
---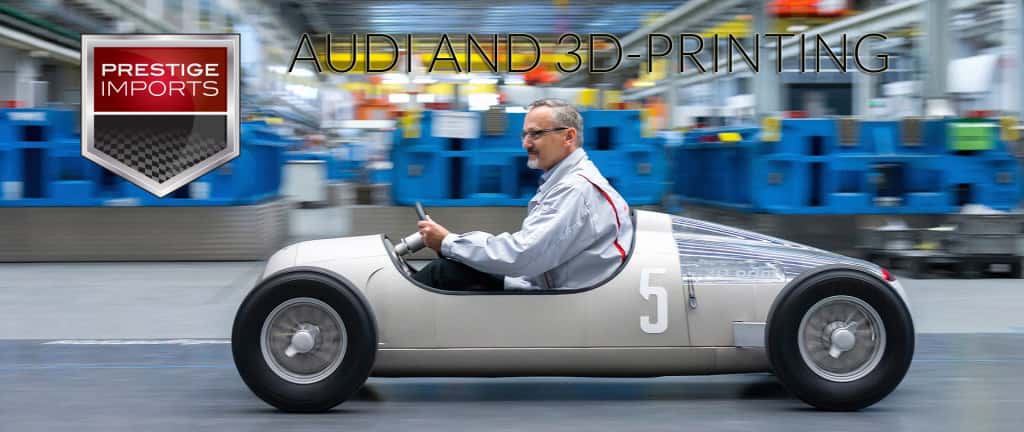 Auto Union, the predecessor to modern day Audi, manufactured a series of grand prix race cars during the 1930s, endearingly called Silver Arrows. These long, tubular vehicles leveraged their superior technology into twenty-five victories between 1935 and 1937, dominating the racing scene.
The design legacy of the Silver Arrow serves as an emblem to the origins of the Audi brand. In fact, here at Prestige Imports, we have no less than ten images and posters of either the Silver Arrow or Auto Union (such as the two examples below) adorning our showroom and dealership walls.
As designs improved though, newer and more practical models replaced it; the fuselage-shaped vehicle soon faded into perpetuity. Unfortunately, most of the original Silver Arrows were scavenged for scrap, leaving few (if any) examples intact for historical purposes.
What a surprise, then, to see engineers driving around the Audi Toolmaking facility in a car that looks remarkably similar to a 1936 Auto Union Typ C racer. Well, it's only a surprise if you're unfamiliar with 3D-printing technology or unaware that the automotive industry has become and active player in researching its manufacturing possibilities.
As you may or may not know, 3D-printing has begun to revolutionize the way we think about manufacturing and design. In the most basic terms, 3D-printing takes digital files and, through an additive process of layering, constructs a material object from the digital blueprint. While most current 3D-printing uses plastic, some innovators have begun to experiment with carbon fiber and metallic substances. The below video does a decent job at describing the process more thoroughly:
In an effort to streamline their processes and create a more efficient production cycle, the engineers at Audi's Toolmaking Center have embraced 3D-printing, developing ways in which to integrate the technology into automotive products. According to a recent press release, Audi engineers use:
a selective-sintering laser melted layers of metallic powder with a grain size of 15 to 40 thousandths of a millimeter, roughly half of the diameter of a human hair. The process therefore allows the production of components with complex geometries, which with conventional methods could either not be produced or only with great difficulties. Audi Toolmaking is currently using 3D printing to produce components out of aluminum and steel. At present, this process can be used to produce shapes and objects with a length of 240 millimeters and a height of up to 200 millimeters. These printed components achieved a higher density than components made by die casting or hot forming.
In order to test out the efficacy of their methods, engineers reconstructed the 1936 Auto Union Typ C racer at a 1:2 scale. By all accounts, it was a success. The next step, obviously, is to create full-sized automobiles implementing the same technology. The below video provides a closer look at the Toolmaking Center's advancements:
Indeed, Audi remains at the forefront of the automotive industry, leveraging new technologies in ways that other manufacturers have yet to capitalize upon. Of course, Audi's parent company Volkswagen Group has also embraced trends in 3D-printing technology. In partnership with the Polish-based 3DGence, VW released the following commercial earlier in the year that promoted their foray into the field:
If you want to experience Audi's cutting-edge innovations that have already found their way into production-line vehicles, visit Prestige Imports and test drive a car from our robust inventory today. You can also schedule an appointment with someone in our Sales Department by calling (833) 825-5423.