2017 Audi Q2 "Baby" Crossover SUV: A First Look
---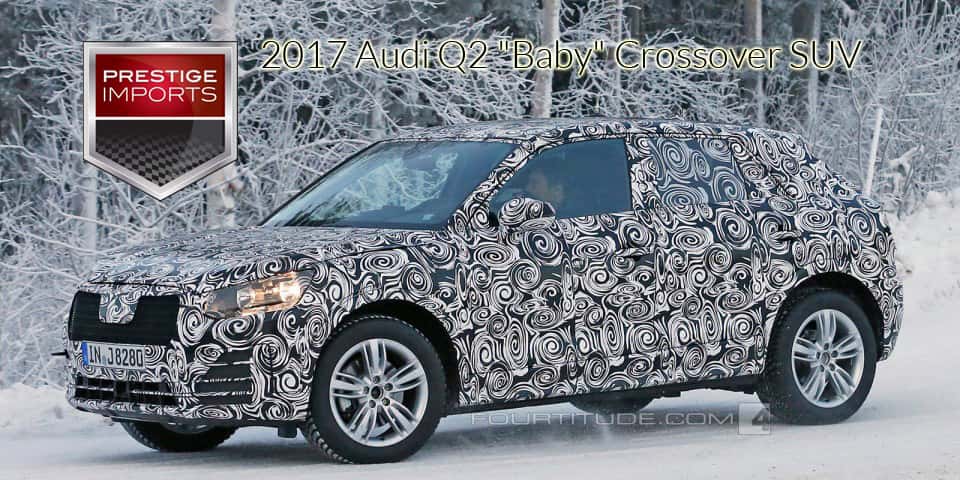 2017 Audi Q2 "Baby" Crossover SUV
As crossovers continue to dominate the automotive industry, it's no surprise that vehicle manufacturers have responded by developing evermore variations on this winning combination. That's why it shouldn't be too shocking to find out that Audi is adding another SUV model to its fleet: the Q2.
The Q2 will be the pint-sized sibling to the Q3, Q5, and Q7. While the new crossover isn't slated to debut until sometime during the 2016 release cycle, stealthy smart dudes with cameras recently captured the Q2 during a cold weather testing drive. You can check out some rather scant articles online at Fortitude and World Car Fans. Or, you can just check out the some additional pictures below:
While it's always exciting to get sneak-peaks of new models, it is, frankly, a damn shame that Audi most likely won't release a version with that amazing zebra tornado mask.
As you wait pensively for the next or two for this crossover to drop, swing by Prestige Imports to check out our full inventory of Audi and Porsche vehicles. You can also call (833) 825-5423 to schedule an appointment with someone in our Sales Department.