The Porsche Performance Check – an introduction
---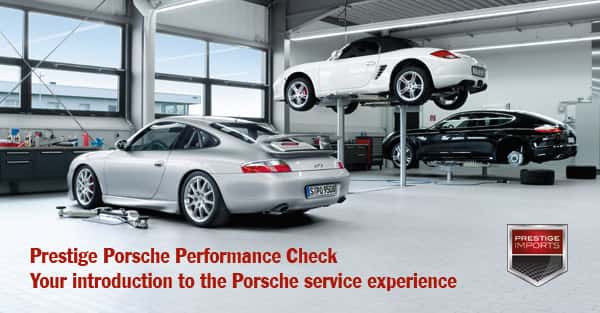 Congratulations on the purchase of your new or pre-owned Porsche! You are now the owner of an elite, timeless vehicle many only dream of owning. You've successfully emerged from a drowning sea of boring sedans and less than satisfied car owners. We know you take pride in your new Porsche, and here at Prestige Imports we strive to keep your new baby in pristine condition. We would love to see your vehicle in for a Porsche Performance Check at no cost to you.
A Customer Care Representative will be calling you approximately 30 days after you purchase your new or pre-owned Porsche. We would like to schedule you for a performance check 30-45 days after the initial purchase. The performance check will take roughly 30-40 minutes.
While your vehicle is here in the Porsche Service Bay, we will:
Check for any fault codes
Check computer for performance readings
Visually inspect all fluid levels and top off if necessary
Check tire pressure and fill to proper PSI
Wash and vacuum the vehicle
While you wait for the inspection to be completed we encourage you to visit our customer lounge area and enjoy complimentary baked treats and fruit, a variety of beverages and WiFi access. Our Porsche Service Team is very knowledgeable and shares your passion for the brand, be sure to get acquainted with them during your visit – at Prestige Imports we love to make new friends.
Service Manager- Dave Stribling
Porsche Service Advisor– Ethan Valurez
Porsche Service Assistant – Trace Paulson
Porsche Certified Technicians – Chad Goering, Mitch Hart, Kyle Marshall, Lucus Zinn
Your next scheduled maintenance:
Regular Fuel: Please set up an appointment at 10,000 miles or one year from purchasing your Porsche.
Diesel: Please set an appointment for 5,000 miles or 6 months from purchasing your Porsche.
We hope you continue to enjoy your new Porsche and we look forward to helping you with all of your Porsche service needs!
***
Did you find this article helpful? Did we miss anything? If you have questions, or ideas for future articles, hit us up in the comments. We are here to help!

This article was written by Jackie Neal. Learn more about Jackie on her Google+ page.