Audi 5000 mile scheduled maintenance – new owner introduction
---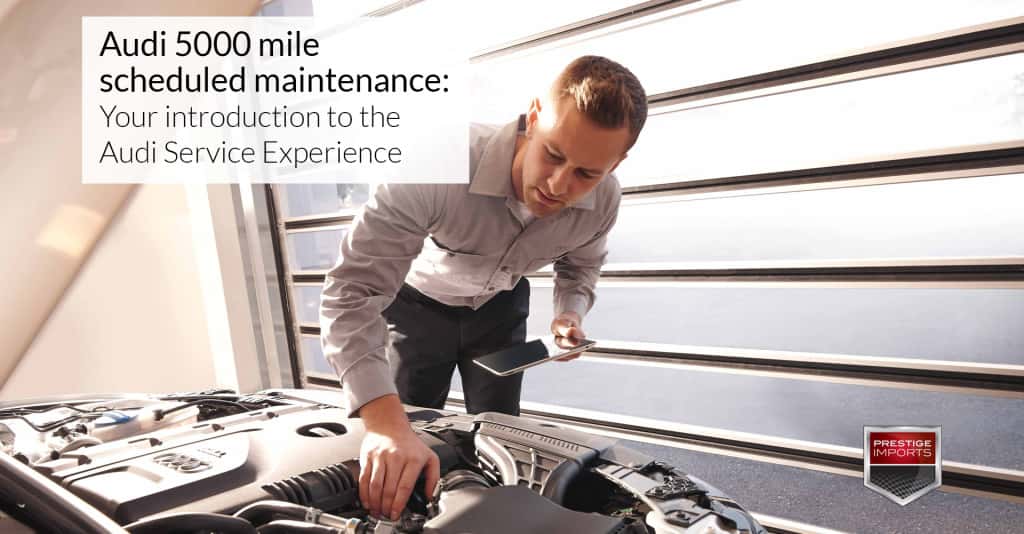 Welcome to the wonderful world of Audi Maintenance
Congratulations on the purchase of your new Audi! We hope you are still enjoying the truly exceptional driving experience that the Audi provides. The paint still shimmers and the leather still shines, and chances are you're still turning heads as you drive down the street. Cosmetics aside, we want to make sure all the cogs are still turning smoothly.
What's happens at the Audi 5000 mile scheduled maintenance visit?
Your first Audi scheduled maintenance, often called a "5K", is recommended at 5,000 miles or 6 months to a year after taking delivery of your new Audi. This first scheduled maintenance is on Audi's tab, so be sure to get your vehicle in before that first year is up. When you come in for your Audi 5000 mile scheduled maintenance, one of our Audi Certified Technicians will see to:
Engine Oil/ Oil Filter- Change oil and replace filter. Your vehicle still has factory oil so we want to get that swapped out and freshened up to the Castrol 5W-40 full synthetic motor oil we use here at Prestige Imports.
Ad Blue Fluid (TDI vehicles only) – Fill completely with fresh fluid (maximum capacity 23 liters) and adapt vehicles for Ad Blue tank after filling fluid.
Brake System – Check for damage and leaks. Check brake pads and brake fluid level, adding brake fluid if necessary.
TPMS (tire pressure monitoring system) – check tire pressure, air up to proper PSI and reset the light if necessary.
Rotate tires.
Reset service reminder light to your next Audi recommended maintenance at 15,000 miles or one year from the date of your 5,000 mile maintenance.
Tires (including spare) – Check for wear and damage.
Windshield and Headlight Washer – verify adjustment and check for proper function, top off washer fluid if necessary.
Wiper Blades – check function and replace if necessary.
Warranty & Maintenance Booklet – Audi Certified Stamp.
What do I need to know before bringing my vehicle in for the Audi 5000 mile scheduled maintenance?
If you are planning on waiting in our customer lounge, the Audi 5000 mile scheduled maintenance visit typically takes up to two hours with paper work and a car wash (vehicles dropped off for service get rotated through the shop throughout the day, once in the shop the service will take approximately two hours, but it may not go in to see a technician as soon as it arrives). We would be happy to provide alternate transportation if you do not want to wait. We offer complimentary loaner vehicles, shuttle rides and valet service. Just bring in a valid credit card, drivers license and proof of insurance if you are needing another vehicle to drive. If you are too busy to get out of the office, we highly recommend you try our valet service. We would be happy to pick your vehicle up from your location, and return it once the service is completed.
To work out all the details and schedule your 5,000 mile service appointment please call the Customer Care Department at (833) 825-5423. We look forward to helping you keep your Audi in tip-top condition!
***
Did you find this article helpful? Did we miss anything? If you have questions or comments, just click the button below. We are here to help!

Questions or Comments >>

This article was written by Jackie Neal. Learn more about Jackie on her Google+ page.